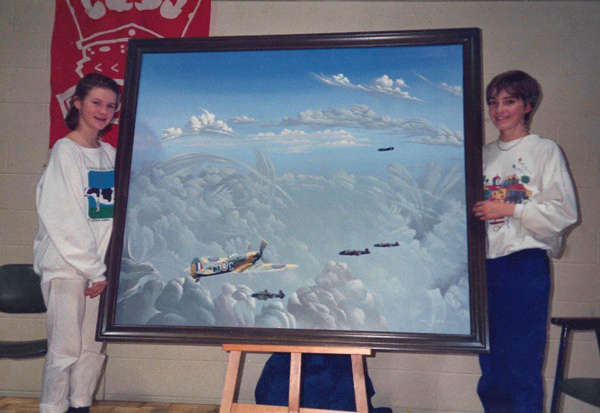 The rediscovery of an old photograph of 432 (Leaside) Bomber Squadron tucked away in a boardroom in Leaside Memorial Gardens has sparked renewed interest in this important part of Leaside's history in World War II.
Although the photo and other related memorabilia were once on prominent display in the mid 1980s in the Bessborough School library, the collection is currently locked away in the Sprucegrove Room in the Gardens.
It was rediscovered when Alan Redway, former mayor of EastYork and prominent commuity activist, came upon an exact copy of the photograph among his own papers.
He believed the photograph had disappeared from the community until he heard from Ray White, a member of the board of the Memorial Gardens Centre, who told him about the collection's location in the Sprucegrove Room.
Redway is hopeful that the collection can be seen by all Leasiders: "I do hope that the board will consider displaying them in a prominent, publicly accessible place such as the William Lea Room where present and future generations of Leasiders and their visitors can understand and appreciate Leaside's role in World War II."
The Bessborough School connection is an important one for the association which decided in 1985, with the help of one of their art teachers whose father had been a pilot with 432 Squadron, to commission a painting of the squadron. John Leonard, noted Canadian artist, accepted the commission.
The photograph is of his large painting of four Halifax bombers with a Spitfire escort returning from a mission over Europe.
There was an official unveiling of the painting on Nov. 18, 1986, attended by the students, three veterans representing the squadron, parents, school trustees, local councilors and press. Veterans presented the squadron crest and history to the school.
They also established a history prize (a plaque representative of the squadron) to be given annually for the next 20 years to the top history student of the graduating class.
No. 432 (Leaside) Squadron was the 12th RCAF bomber squadron formed overseas at Skipton-on-Swale, Yorkshire, on May 1, 1943 with No. 6 (RCAF) Group of Bomber Command.
Originally flying Wellingtons, later converting to Lancasters and Halifaxes, the squadron's first operation was the night of the May 23/24, 1943, and by the end of the war in Europe it had flown 3,100 sorties with the loss of 71 aircraft.