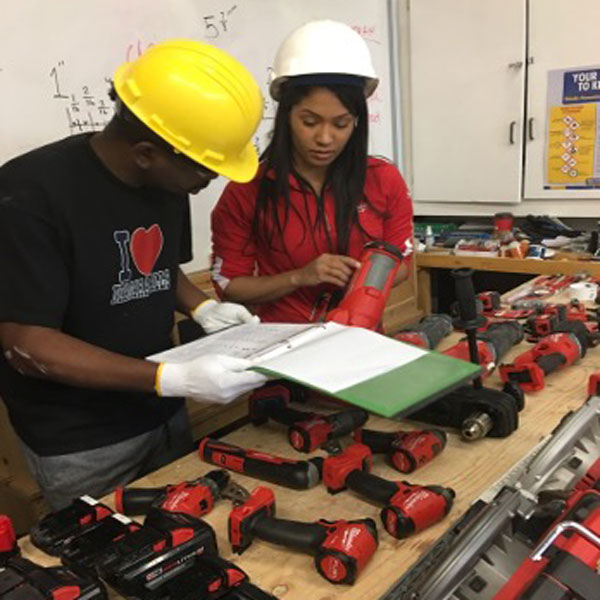 Twenty months ago, I wrote there was "something special" going on at 2 Thorncliffe Park Drive in the Leaside Business Park. Today, I'm happy to report that Aamir Sukhera, Shukria Dualeh and the entire team operating The Neighbourhood Organization (TNO) Trades Connect program have proven my original assessment correct. In fact, so correct that the team was excited to share the welcome news that their program just received TNO board approval to dramatically expand its offer starting this month. Acknowledging the pilot's initial success, Immigration Refugees Citizenship Canada (IRCC) confirmed the successful delivery model will be rolled out across Canada, effectively leading the drive to improve not only the lives of individual participants, but also the lives of the people around them. How's that for impactful homegrown innovation, Leaside!
The Trades Connect Program assists newcomers to Canada with their employment goals. The aim of the program is to bridge the gap between the workforce demand in these trades by providing: (1) knowledge and insight into careers; (2) hands-on training and certifications required to improve job readiness; (3) the soft skills needed to successfully engage in the workplace; (4) networking opportunities that build the social capital which leads to potential job opportunities; and (5) linking of graduates with industry employers and unions. In a nutshell, the program provides newcomers with a pathway to a career by supporting the transition from settlement to tax-paying employment.
"We make a living by what we get, but we make a life by what we give." — Winston Churchill
Since its inception in September 2018, progress has been remarkable. The program has served 635 individuals in the community – successfully securing 155 career paths in information technology, 191 in construction, 120 in industrial transportation, and 169 in other pathways including healthcare. In addition, it has helped earn 226 construction safety certificates, 47 trucking licences and 38 apprenticeships, while putting 73 in advanced training programs and supporting 19 others to pursue further education. 
So, what can we expect from the expansion? In the near term, we'll see all Trades Connect programs move into a much larger 11,500 sq. ft. facility located at street level in the East York Town Centre. Aamir explained, "The facility will house all available services under one roof and we are moving to create a 'hub' called the Toronto Workforce Development Centre. The hub is exciting because more space will allow the program to invite businesses that have workforce development needs to co-create training programs together with us. Where we or a member of your team can deliver training workshops in our new space which will include a workroom, classroom and a growing tool library."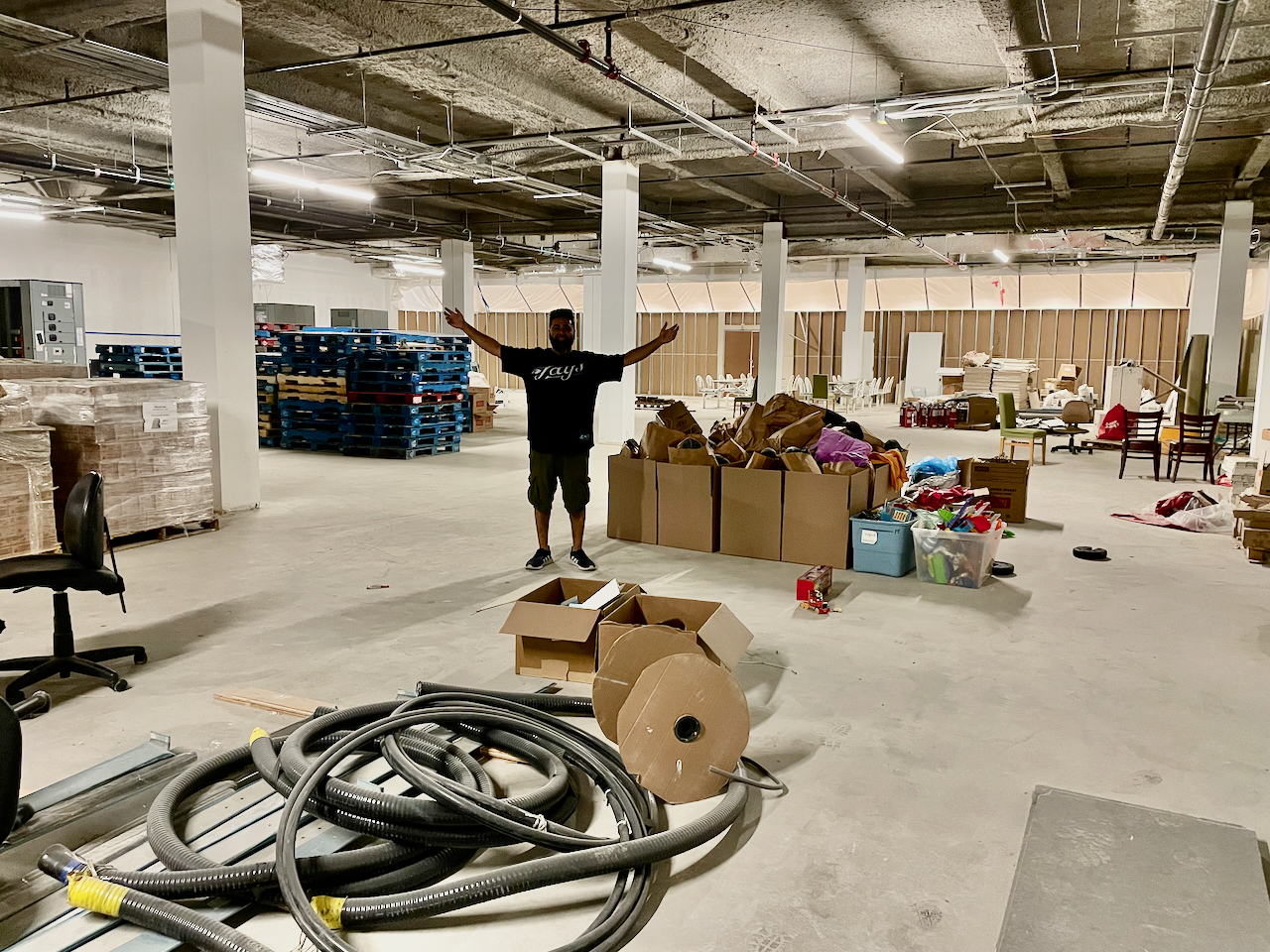 Wondering how you can get involved? Here are three suggestions: (1) consider reaching out to the Trades Connect team to review your firm's related training requirements to discuss opportunities to co-create mutually beneficial programs; (2) consider committing to employ program candidates; and (3) consider donating a few hours of time per month to participate in a newly forming mentorship group whose purpose is to match external "experts" with Workforce Development Centre candidates to support early professional and career development, especially for the IT and healthcare career paths as these new areas of focus are where Aamir indicated there would be a shortage of mentors.
"When one person mentors, two lives are changed" — Kevin Sessums
Today, more than ever, having access to a mentor can make a world of difference for individuals plotting a new career path, let alone in a new country. Aamir shared with me his own personal journey, growing up in Thorncliffe Park and opting for a career dedicated to serving others in situations similar to those he faced. He is quick to mention the number of Leasiders who have made a difference in his life, simply because they made themselves available as advisors or mentors. One such individual is Bill Pashby, who served the TNO board for 10 years until he stepped down as chair in 2018. Bill is credited with helping to bring the communities of Leaside and Thorncliffe closer together. Aamir was quick to note, "When Bill Pashby joined the TNO board things began to change, and for the first time I actually thought real progress could be made, that there was hope. His presence really made a difference for me then and we've all been strengthening the links ever since."
I believe both Leaside residents and our business community benefit from strengthening ties to our surrounding neighbours. The benefits of mentorship for recipients are obvious, but oftentimes the benefits for the actual mentors go under-reported. While communicating with Bill he wrote this: "I lived in Leaside for 50 years before I ever spent any time with anyone from Thorncliffe Park…Getting to know the issues, problems, challenges and good people of Thorncliffe Park through my 10 years on the TNO board was very rewarding for me." 
Hey Leasiders, I know your time is precious, but if you can spare a bit of time and see a possible fit (especially if you come from IT or healthcare), then please reach out to Leaside Life or Aamir at the Trades Connect program to offer your support as a mentor or an advisor. You won't regret it. 
Have you benefited from having mentors provide support in your career path? Would you like to become a mentor to support local programs created by TNO Trades Connect or the Leaside Business Park Association to help people get jobs and local business grow? Let us know at .
Leasider Glenn Asano is a partner and principal consultant for the strategy and business development practice at Centred Performance. He is also an Instructor with the Ted Rogers School of Management at Ryerson University. 
24 reasons mentorship is important

Benefits of being a mentor:

Why having a mentor is important:

Boosts interpersonal skills

Support growth

Strengthens your knowledge

Serve as a source of knowledge

Expands your network

Help set goals

Helps you receive recognition

Maintain accountability

Establishes leadership skills 

Offer encouragement

Adds to your qualifications

Make connections

Serves as a learning opportunity

Willing to listen

Builds confidence

Serve as a trusted ally

Helps you gain new perspectives

Offer constructive feedback

Provides a sense of fulfillment

Provide guidelines

Offers self-reflection opportunities

Bring relevant experience

Help strengthen your company

Cost effective resource

Source: https://www.indeed.com/career-advice/career-development/why-is-a-mentor-important