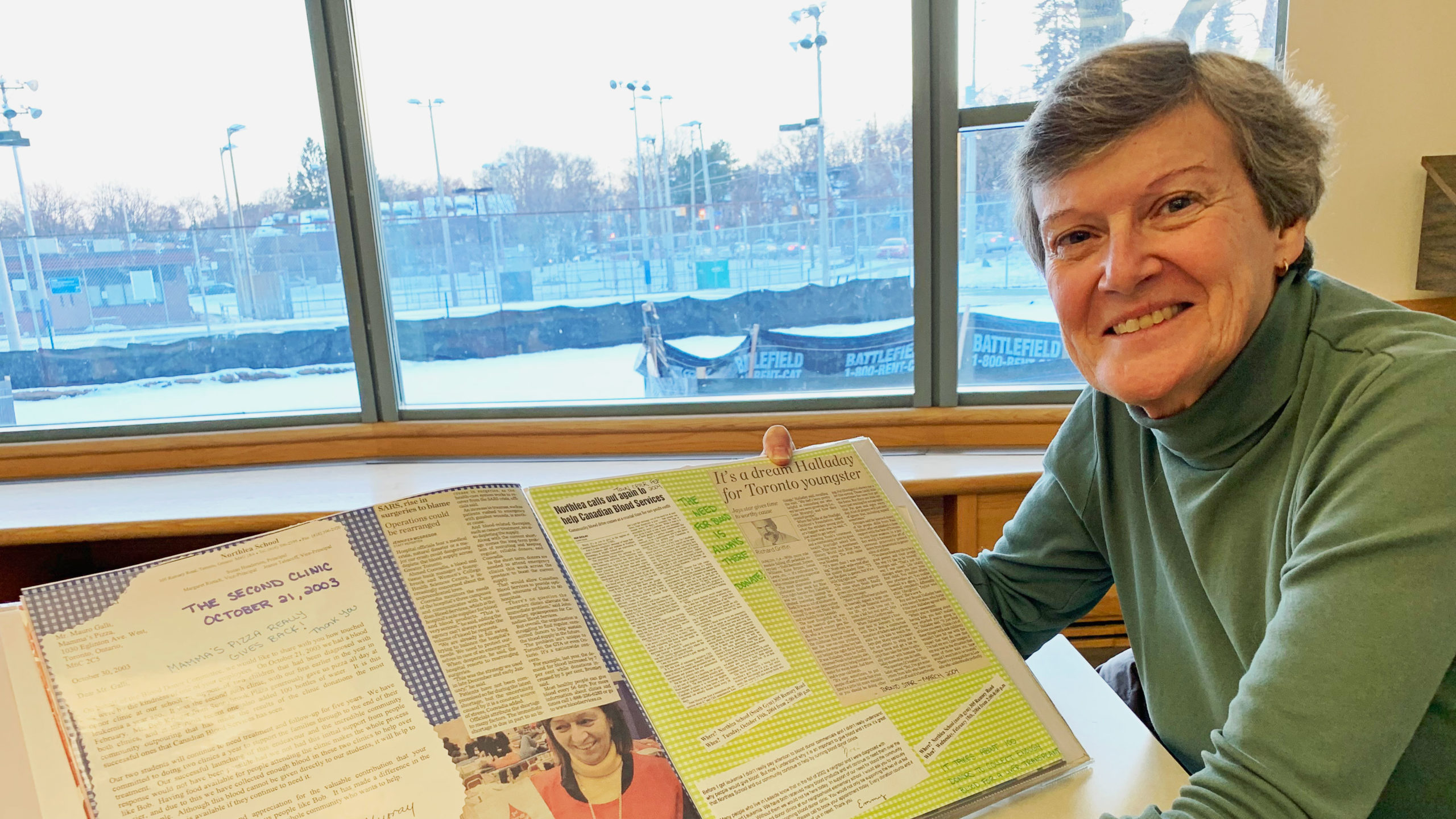 Would you give a priceless gift to a complete stranger? Over the last 17 years thousands in our community have done just that.
Since its inception, in February 2003, Leasiders have donated thousands of units of blood to the Canadian Blood Services during the twice annual Northlea Blood Donor Clinic.
The first clinic was organized by a group of 10 Leaside parents and neighbours led by Anne Murray, whose current day job is Ontario master trainer with The Psychology Foundation of Canada.
In November, 2002, Anne's neighbour, Northlea student Emmy Duff (who died in 2012), was diagnosed with leukemia. Within days a second student, now a thriving adult, was also diagnosed with the disease.
Anne visited her young neighbour, Emmy, in the hospital where this wise young girl said to her, "I can't donate blood, but adults can." Anne was moved to act fast. She soon rallied an efficient team of 10 Leasiders committed to organizing a local blood donor clinic at Northlea public school. It was a formidable task as the Canadian Blood Services has very strict requirements that must be met before approval is given to host a community clinic. Yet this mighty team prevailed. They met all the requirements in record time.
They secured and organized everything. The gym, donated by the school, was converted to accommodate reception and check-in, a waiting area, a safe comfortable blood donation space, and a lounge to relax afterwards. Plus, the space had to be able to accommodate the needs of the professional staff and their equipment as well as the volunteers welcoming donors, staffing food stations and a daycare. The team and many volunteers and community businesses also provided the clinic with food and beverages. Students made signs advertising the clinic, welcoming and thanking the donors. The wider marketing effort had the cooperation of local schools, churches and businesses that sent letters, posted signs and highlighted the clinic in their advertisements and newsletters.
A few days after that first clinic, Anne commented, "This was truly a community event with wide reach, and it was so important to involve the children as two of their classmates are suddenly not in school."
Continued success
Both the clinic and Anne's involvement have built on that early success, and in 2004 the Canadian Blood Services honoured the Northlea clinic team for organizing and hosting the most successful community clinic in Canadian blood system history. Renee Naiman, the regional director at the time, said, "This first clinic was an overwhelming success as they collected 172 units of blood more than double the 60-70-unit average per clinic."
As spring approaches, in Emmy's memory may her words shared in a 2004 note to donors inspire us to donate this precious gift to a stranger.
"When I receive blood, I take for granted it will always be there for me. The reality is that someday it may not be. Thank you for helping to make sure that everyone who needs blood will receive it. Your donation is greatly appreciated and will help many of us who are in need. Thank you. Emmy."
Date & Time: Tues., May 5, from 2-7 p.m. Northlea Public School, 305 Rumsey Rd. Walk-ins are encouraged. Register/Book a time: Call 1-888-236-6283, www.blood.ca. Subject to change. Visit the website for the latest updates. ■