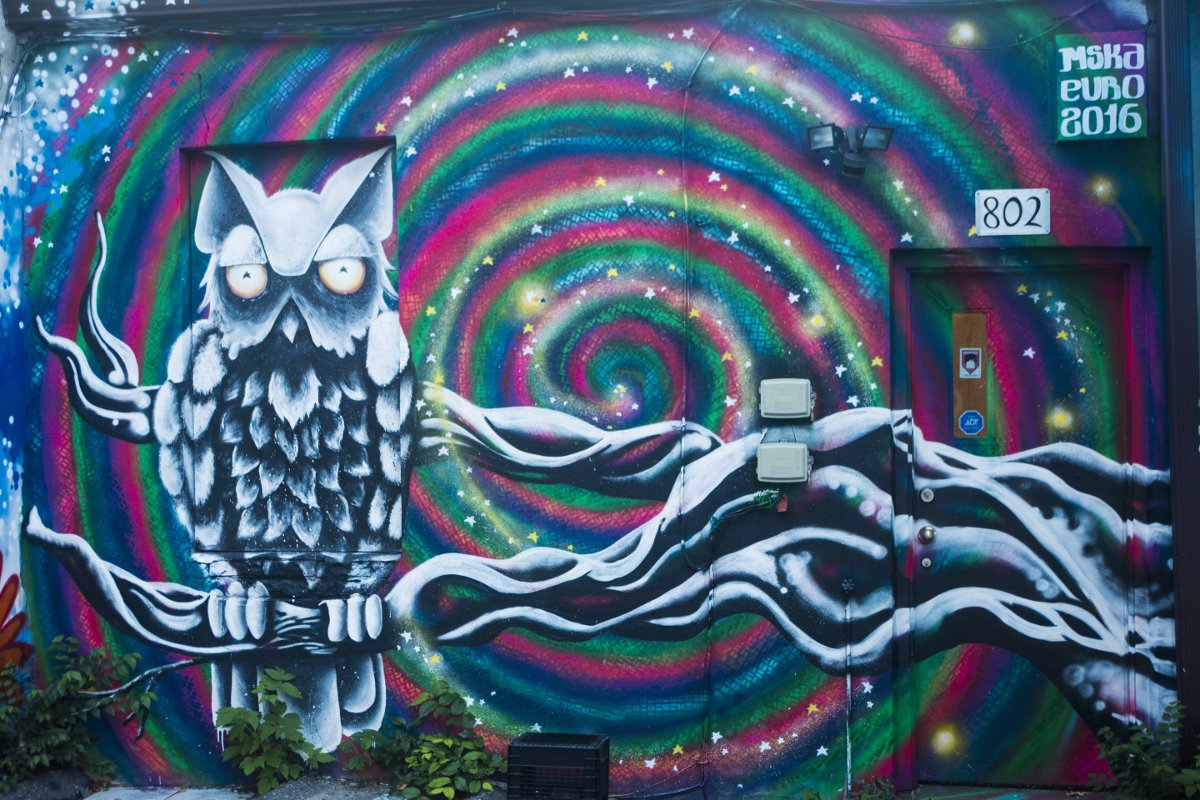 There are two kinds of graffiti, one less appealing than the other. Throw-ups, tags or "bombing" refers to quick work in a jumble of graphic lettering, usually the artist's name. This is the illegal side of graffiti art as it's unsanctioned by property owners and tends to be unattractive and messy. The other kind of graffiti appears as a more thought-out final image and is aptly called pieces or "piecing." Pieces are commissioned by the city or property owner and take hours, sometimes days to complete, unlike tags, which take minutes and are often done on the fly.
Tags, not the more artistic version of graffiti, were the problem in an area of North Leaside. Brenda Dolenc, 53 Division's Graffiti Liaison Officer, learned of the defaced alley behind Sutherland Drive a few years ago. Despite her many efforts to repaint, taggers retagged within days, proving clean walls were just blank canvasses. Dolenc works with Jodi Callan, project manager from the City of Toronto, who also runs the StART (Street ART Toronto) Program. Together they hatched project "Go Big or Go Home".
Enlisting the help of Toronto graffiti pro SpudBomb and Team SpudBomb manager Brooke Somerleigh, they put out a call for graffiti help and garnered a huge team for the 8,000 sq. ft. task. Despite the record heat in the first week of August, 48 graffiti artists came out to volunteer.
Retired graffiti artist and current tattoo artist Trevor Goodwin (Tuffy Tats) got onboard when Team SpudBomb put out the word for Go Big or Go Home. Goodwin said now that graffiti's become mainstream, it's unstoppable as an art form. He also said legal projects like Go Big or Go Home are great ways to create exposure and opportunities for up-and-coming artists to showcase their art to new audiences.
Signarama General Manager Rich Soujah is not surprised to see graffiti in Leaside. "As long as there are people wanting to express their opinion who don't have another outlet, you will see graffiti, no matter where you live," said Soujah. He added that his staff and others who back onto the alley are happy because, "it's colourful, it's art. Every time we come to work we have something beautiful to look at."
Local high school volunteers prepped the walls for painting while the City of Toronto supplied 700 pounds of spray paint, and Stephenson's Rental donated ladders and lifts. Eglinton and Sutherland locals Mt. Everest Restaurant, Domino's Pizza and the Toronto Police provided food for all volunteers throughout the week.
Officer Dolenc said the overall response to Go Big or Go Home has been "extremely positive and welcomed in the neighbourhood. Officer Dolenc reports she hasn't seen any unwanted tags in the alley since project completion. This is due to a code among graffiti artists who generally won't tag over finished pieces out of respect for the art form.
"It looks great back there," said Bonavista Leisurescapes sales manager Rob Irvine. "We have a really cool raccoon and opossum on the back of our building. The customers like it, too."
Long-time Leasider Jane Russell said she especially liked the garage doors' graffiti pieces because "they were like a single presentation on each panel, so they were particularly attractive."
Mt. Everest Restaurant owner Niraj Adhikari said the project is giving artists a place to show their talent rather than vandalizing someone's property. Adhikari added, "It's beautifying in a way. You can't please everyone, but as far as I'm concerned it's bringing people in." Officer Dolenc agreed. "There are a couple of residents that don't like the 'alien theme' (mural) and want it removed." But these complaints are few.
Future projects include the remainder of the alley on Sutherland in the spring of 2017, the Firestone Tire and Automotive Centre at 2128 Yonge Street, and Blythwood Ravine Park.
For business owners or residents interested in having work done, there are city-based programs like StART or street art supply stores like Collective or Homebase with connections in the community. Otherwise, Goodwin suggests approaching an artist when he or she is painting in public. "If you like what you see, tell us and start the conversation there."
Officer Dolenc said it was an incredible experience seeing the camaraderie between artists during the alley's transformation. In a show of partnership, SpudBomb wanted to leave something to commemorate the officer's efforts, so he painted a pair of handcuffs with two badge numbers marked on the links: Dolenc's and those of her father, who passed away earlier this year. "It was a very thoughtful touch that literally brought me to tears," she said.