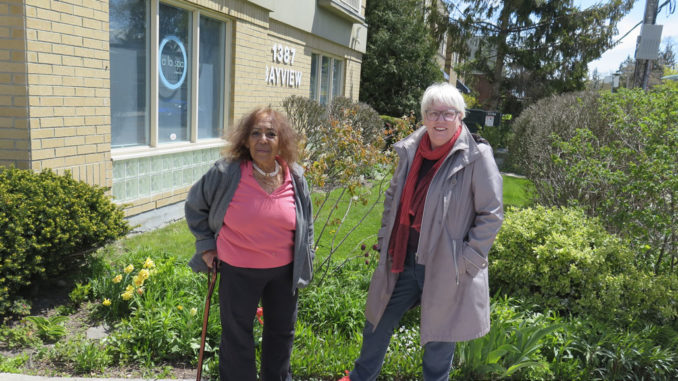 This is what I say to people about my apartment building. You see I moved to 1387 Bayview Ave. in July, 2015. My building is called SAHIL, which stands for Stay At Home in Leaside. It is for people over 60 years old.
A few years ago, I said to my husband, "We need to think about giving up the house. It's going to cost us money to stay here. You hate snow shovelling and lawn mowing. We could free up some cash and start doing some serious travelling. Maybe it's time to consider moving to an apartment?"
I heard that my favourite apartment was for sale at SAHIL. I was on the committee that developed the project from 1995 to completion in 1999. Other volunteers included Geoff Kettel and Edna Beange.
I never really wanted to move to a multi-unit building. But SAHIL seemed perfect. It is only four storeys high and has 18 lovely well designed apartments. Our spacious apartment is 1250 sq. ft., much bigger than our tiny Leaside house. My husband has developed serious knee problems (all that Covid walking) and living on one floor has saved him. Even if I eventually need a walker or a wheelchair, I can still live here. And, we have an underground parking spot.
Moving to an apartment means giving up control and I struggled with this. I have to rely on other people making decisions about how my money is spent to maintain and operate my home. I solved that problem by becoming a volunteer on the finance committee. It took a bit of time, but I do trust the board to make good decisions that will keep SAHIL safe and fully operational for years to come.
What I did not expect was the sense of community at SAHIL. We all know each others' names. We have a phone list. We send out monthly newsletters. And we watch out for each other if there is an emergency. Cat sitting is also available from pet loving neighbours. An added and unexpected bonus was making new friends.
Before Covid those who wanted to would gather in the common room – whether it was for tea, a celebratory dinner, Friday night BBQ or a birthday. Covid restrictions have presented some challenges and some of my neighbours are having a tougher time coping than others. Even though the back patio is available for open air conversations, some are still fearful of making any contact with others. We've had the occasional Trivial Pursuit game by Zoom.
I don't feel I'm living with "old folks" (look in the mirror, Barb). Most days everyone is able to shop, volunteer, tend our award-winning garden, work in the well-equipped workshop. A couple of us still work part time. Community living means respecting each other's privacy and space and being prepared to compromise at times. I love Staying At Home in Leaside.
This article was guest contributed by Barb Carter.