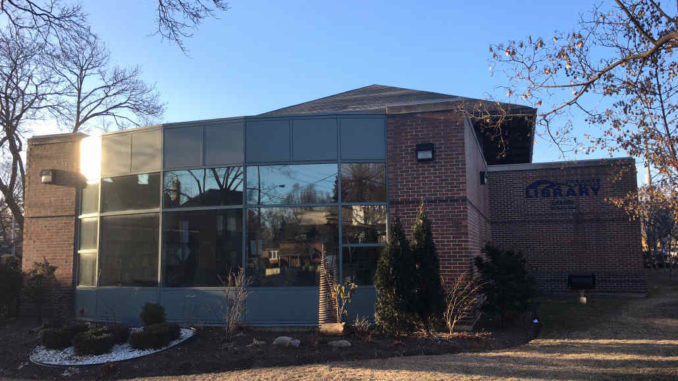 Friday mornings at the Leaside Library: Usually about 10 women around the tables in the Community Room – knitting, crocheting, rug hooking, whatever, something crafty and portable they've brought with them. No men in this group, although we know there are some who do this sort of thing and they would be welcome to join us.
Ida, Maureen, Raila, Angela, Carolyn… all coming because being with this group is an important part of the week. The words may be different, but the sentiment is similar – "a great mix of people", "supportive", "great way to bounce ideas around and see what others are doing", "good for my brain", "everyone welcome".
About a year ago staff at the Leaside Library brainstormed about new program possibilities and thought of needlework as one. A sign-up sheet followed, and the first group assembled.
Since this is a library program, there is a staff member assigned to work with us:  Sangeetha, who recently transferred into the branch, is looking forward to completing a turquoise scarf.
A milliner, several primary school special education teachers, a high school guidance counsellor, a corporate interior designer, a risk management specialist, several librarians, an archivist, a child protection worker, professional food writer, children's book author… a group with many working-life skills. They also teach Zumba, sing in church choirs or with a volunteer choir, paint, travel, cook for fun and read.
Some are life-long Torontonians. Others arrived here via Italy, United Arab Emirates, Finland, northern England, northern Ontario or Niagara Falls. So, the chatting is not only about where to shop for yarn, good websites for patterns or techniques, resources in the library or which kind of needles work best.
One morning a topic was where to buy and use Presto cards. Often there are critiques of the latest debates from the U.S. presidential races. Or good trails in the Don Valley system, and cleaning up the debris in the valley. Travellers head off on trips and return a few weeks later to pick up where they left off, both with the conversations and with their needlework.
A couple of crocheted lap robes are in progress, one for Cynthia's adult daughter in a wheelchair, another to go to Pam's family cottage using only wool from her late mother's collection. Linda just learned to knit, and now is on hat #3.
Among the experienced knitters there are many pairs of socks being made. Some on four needles, some on a circular needle, some from the heel down, some from the toe up. Who knew?  And now that spring is supposed to be here, the lacy, summer creations are starting to appear – shawls and intricate knit tops in bright summer colours.
Care to join us?