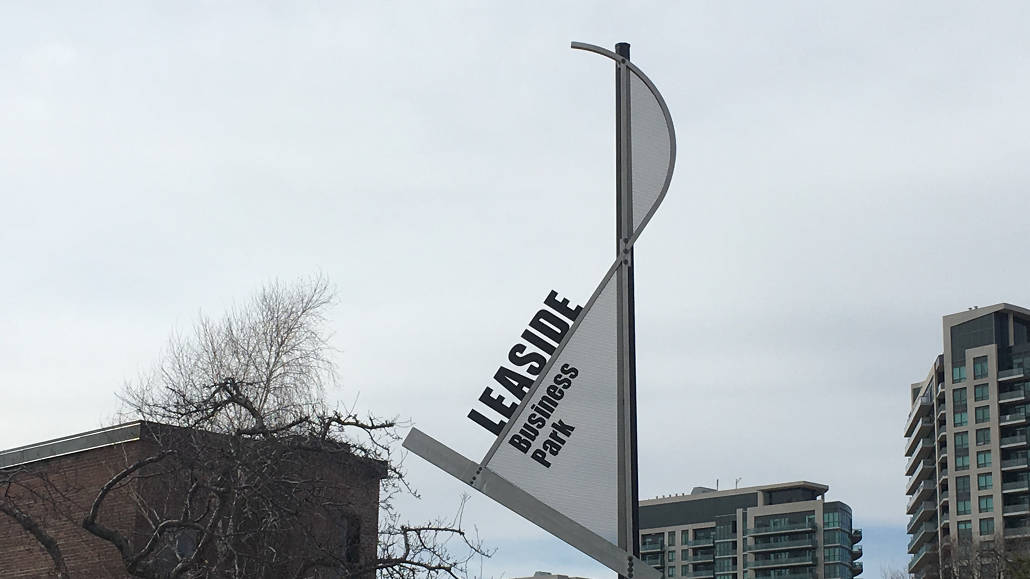 Two new projects proposed for the Leaside Business Park appear to reflect quite different visions for its future. One Leaside Business Park becomes an innovation centre where innovative knowledge workers, working in flexible modern workspaces, set in an innovative "mass timber" building, walk or bike to work from their homes in East Leaside or from the Laird or Leslie LRT stations. The other Leaside Business Park is a magnet for retail shopping from mass market vendors, spreading east from its initial beachhead on Laird Drive. Of course, both of these visions are a departure from the manufacturing industry (including chemicals, mechanical equipment, cement mixing, and the like) that still continues to occupy much space and provide thousands of well-paying jobs in the interior of the Park.
Both the applications are at an early stage, each with a preliminary staff report that headed to North York Community Council on January 15. The 154 Wicksteed application proposes the construction of a six-storey office building containing 7,128 sq. m. GFA (Gross Floor Area) with two levels of underground parking. The 11-19, 25 and 29 Industrial Street application proposes the expansion of the adjacent Leaside Village Shopping Centre through the introduction of three new commercial (retail use) buildings.
Both projects are located in areas designated in the Official Plan as "Core" Employment Lands. While the core designation permits office uses only as subsidiary to the core uses, the 154 Wicksteed project appears to reflect a desirable evolution of the Employment Lands, and Leaside's industrial history and heritage, maintaining technically skilled and well-paying jobs. The Industrial Street project, on the other hand, is disappointing in that it represents increased incursion of retail uses into the Employment Lands, beyond the City's intent, and without any apparent countervailing benefits for the community or the city. In fact, the project will be negative in attracting additional traffic to an area where traffic congestion and flow-through traffic in the residential section of Leaside are already a problem.
What do you think? You'll have an opportunity to let City Planning staff and the Councillor know. The City will be scheduling community meetings for these projects shortly (no date confirmed).
Historic court win for Moore Park residents – what it means to Leaside
You may have read about the recent court win for Friends of Toronto Cemeteries against the Mount Pleasant Group of Cemeteries (MPGC). Justice Sean Dunphy of Ontario's Superior Court sided with Moore Park residents who sued MPGC, which has grown from a pre-Confederation burial site, bought with public donations, to 10 cemeteries, including "The Simple Alternative" chain, and four crematoria. Justice Dunphy determined that Mount Pleasant Group of Cemeteries is a charitable trust, not a private corporation, and its board, controlling 500 hectares of green space in the Greater Toronto Area, and more than a half-billion dollars in assets, must be open to outsiders. Crucially, Justice Dunphy found that the Special Act creating this historic public trust has not been complied with since 1987. All of the current directors of MPGC have been appointed since that time. It follows that none of the current directors of MPGC has been validly appointed!
So what relevance does this have to Leasiders? Sure, Mount Pleasant Cemetery is across Bayview from Leaside, and Moore Park is just west of Bennington Heights (and home of Terry Fallis – maybe that's why?!) No, it's what the decision says about accountability and governance in the public interest, and how we need active citizens to monitor public institutions, and ensure that decisions (like in this case, where to site crematoria) are made in ways that respect stakeholder interests and protect the environment.
Finally, let's hope that the Dunphy decision holds, as it will likely be appealed. We recall the recent case of Bill 5 reducing the number of councillors in Toronto from 47 to 25; on appeal the Divisional Court stayed the lower court decision, and the 25-ward council has gone ahead (at least for now).