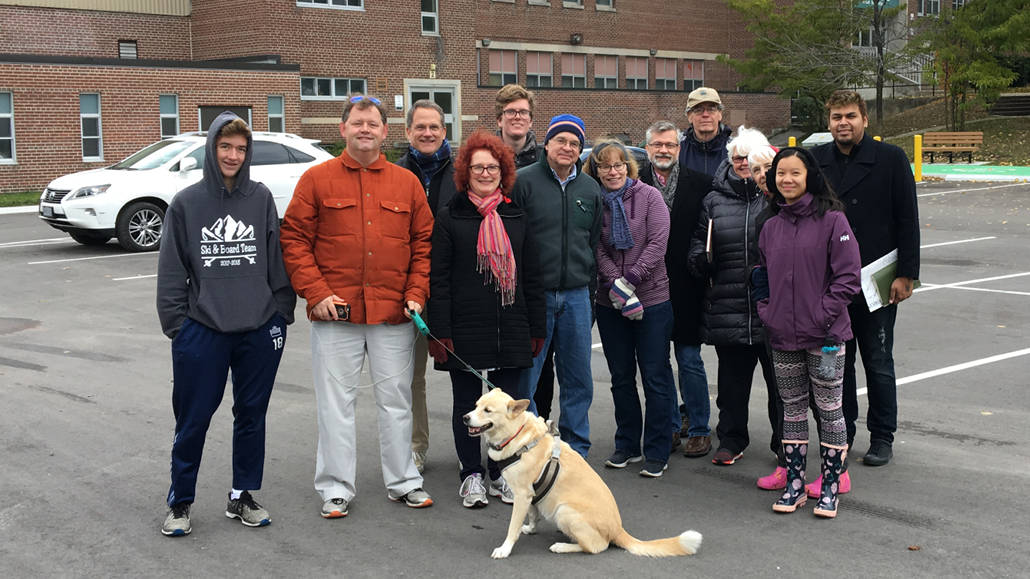 On a blustery cold Saturday in early November, a dozen north and south Leasiders gathered in Leaside High's parking lot intent on exploring Walmsley Brook, a hidden river that runs under the school.
The group's guides during the exploratory walk were Helen Mills, the founder of Lost River Walks, and Reno King, a Rivers Rising ambassador. Both have shared their wealth of knowledge on many Lost River Walks in the GTA.Rivers Rising is a new social enterprise being incubated by Toronto Green Community, Lost Rivers, Toronto Urban Growers and First Story. Rivers Rising features a treasure trove of stories about lost rivers, local ecosystems and community history on its website. And the group is always happy to host walks.
Near the start of our distinctly Leaside walk, Helen honoured the territory and lands we were walking: "We honour and thank the Huron-Wendat Nation, Métis Nation of Ontario, Mississauga of the New Credit First Nation, Mississauga of Scugog Island First Nations and Six Nations of the Grand River as our community partners and traditional inhabitants of the lands of the City of Toronto and surrounding areas."
Leaving Leaside High's parking lot, the group headed east along Parklea Drive. Where Parklea meets Rumsey Road, we headed south to Vanderhoof Avenue east, then to Sutherland Drive south and turned onto Parkhurst Boulevard east. The group enjoyed Helen's commentary along the way and took her at her word that we were following Walmsley Brook's meandering path, as there wasn't even a puddle within sight.
On Parkhurst, Helen gathered the group and surprised everyone when she announced, "On this spot 12,000 years ago we'd be at the bottom of a lagoon created when a sandbar, along what is now Danforth Avenue, cut the Leaside area off from the glacial Lake Iroquois."
As the wind was not letting up, Helen suggested we move on and the group continued east on Parkhurst until we were stopped by the fence surrounding what is referred to locally – and affectionately – as Lake Leaside. Here Helen observed, "Many of the plants growing wild around this ponding water aren't native. For instance, this lamb's quarters plant, which is also found in many Toronto gardens, is edible and originally from Europe." Two group members, tasting a leaf, declared it slightly spinach-like.
Next the group headed south along Laird Drive to Commercial Drive. Walking east half a block on Commercial, Helen stopped and pointed out, "That tower off in the distance near the hydro towers is where Walmsley Brook surfaces and can be seen as it heads southeast and meets the Don River in Ernest Thompson Seton Park, just north of Overlea Boulevard. It's very treacherous walking to get to the location, so given the cold I suggest we call it a day and stop for tea and cookies before heading home." No one argued, but we were awed by learning about this hidden piece of Leaside's rich life.
Find out more at www.torontogreen.ca and check out monthly free walks at http://lostrivers.ca/content/WalkSchd.html. or email: .