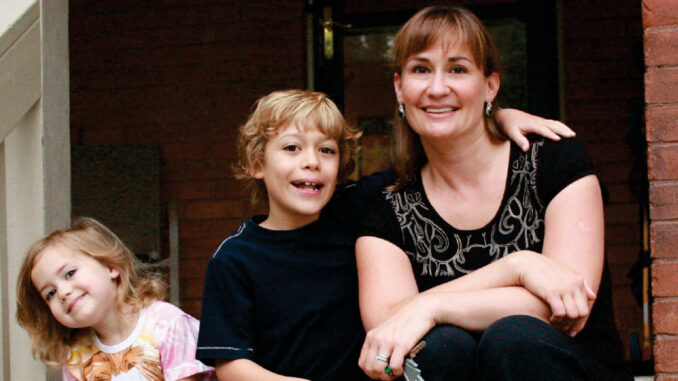 My family arrived in Leaside in 1977, the year I turned 8. My mother had just married my beloved stepfather, and we began our life as a new family that year. My father lived close by, in what we then just referred to as Davisville, and we saw him often, as it was an easy walk after school.
My sister and I attended Rolph Road School and went to Brownies and Guides at St. Cuthbert's Church. We took swimming lessons at the Leaside Pool and skated at the (old) rink during the winter. Our evening walks became a ritual during the first summer we lived here, and one of the things that kept my sister and me motivated to join our parents was counting the number of houses whose front doors had leaded glass in the shape of a spider's web!
We lived at the top of the hill, at Sutherland Drive and Hanna Road, which was very handy for catching the Leaside 88 bus, but not so great for not catching a ball, when it starts to roll down the hill, gaining speed.
Whenever we drove anywhere towards the east end of the city, we would always drive down Sutherland to Millwood. My stepfather hated waiting for that interminable light to turn green for us to cross, so we always turned right onto Millwood, and then left at Becker's, onto Randolph Rd. We would drive by my good friend's house, at number 77, and then pass the unusual row of semi-detached houses with big boulevards and large front porches close to Lea Ave. I loved those houses for some reason, as they were so different from the usual semis in Leaside.
We bought bikes (and some books) from Sandy's Cycle Shop down on Laird Dr. We ate at the Red Caboose Restaurant (an old red caboose turned into a diner), which is where the Esso is now, by the train tracks over Millwood. We saw movies like King Kong at Trace Manes on Saturday afternoons. We shopped at Thorncliffe's K-Mart, then Kresge's, then Woolworth, for clothes and toys, and had birthday parties at Bowlerama. If we were lucky, we would get a new dress from Heather Anderson, on Millwood, near where the Little Dollhouse Company lives now.
During our lunch break at school, a group of friends and I would walk down to Millwood, buy shoestring licorice at the corner store across from Trace Manes, and then visit the strange "Endangered Animal Sanctuary," where a rather odd man kept abused and abandoned tigers, leopards, albino skunks, and many kinds of snakes… in quiet little Leaside!
We loved it when our parents took us to Kuzin's Restaurant, located, briefly, on top of the Coffee Time at the northeast corner of Bayview and Moore. It was like a Swiss Chalet ripoff, but our favourite babysitter was a waitress there, so we often begged our parents to go and say hello to her. We shopped at the Loblaws across the street from Kuzin's, where we would see Dave Nichols (founder of President's Choice brand) every Saturday morning, when he was the manager of that store. We had bank accounts at the TD Bank in the plaza, and shopped at, first Tamblyn's Drug Store, then Boots, and then Pharma Plus. Now, I believe it's a Rexall Pharmacy. We walked to Bayview on Saturday mornings, shopped at Badali's Fruit Market, and if we were lucky, we would go to Claire's Smoke Shop and buy bubblegum for the Star Wars collector cards inside. Our favourite summer tradition was to walk up to Baskin Robbins after dinner to get ice cream for dessert. We loved going to Consumers Distributing in the Sunnybrook Plaza and tobogganing down the hills in Talbot Park.
When we drove along Eglinton East, towards Brentcliffe, we would pass the offices of Schlumberger Ltd., just east of where the Mercedes dealership is now. My dad would always call out to us in the back seat, "Anyone want a Schlumberger?" We'd giggle, of course, and then go into hysterics as we watched our car drive past the next building, which was covered in mirrored glass. It was like a funhouse mirror for cars.
My parents continued to live in Leaside for a total of 25 years, until they sold the house to the favourite babysitter I mentioned earlier.
Fast forward to the year 2004, and my husband and I, with our two-year-old son, had just sold our condo at Summerhill, and wanted to buy a house. After losing out on six houses in bidding wars, we were exhausted and distressed. The next house we went to see was in none other than that row of unusual houses on Randolph Rd. that I'd always loved. There was something about the idea of raising kids in the neighbourhood where I had grown up that felt very right.
Interested in sharing your My Leaside Life story? Send us a Word doc – no more than 500 words long – to . Not all submissions will be used, and they may be edited for length.