With Leaside High School's 75th anniversary being celebrated this year, Leaside Life will be profiling a number of notable members of the school in various positions, as students, teachers, and more, to mark the milestone.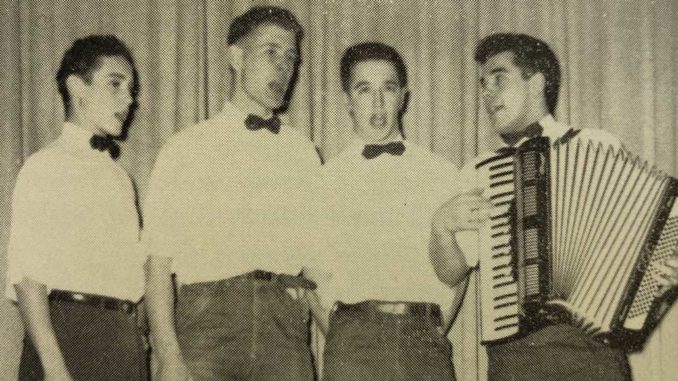 Phil Levitt was one smart kid. In his Grade 11 yearbook, a classmate (perhaps not so) eloquently penned, "A brilliant lad is our Phil Levitt. When it comes to algebra he sure has it." And beside his graduation photo, it was noted that "Philip is our studious classmate who loves to get high marks."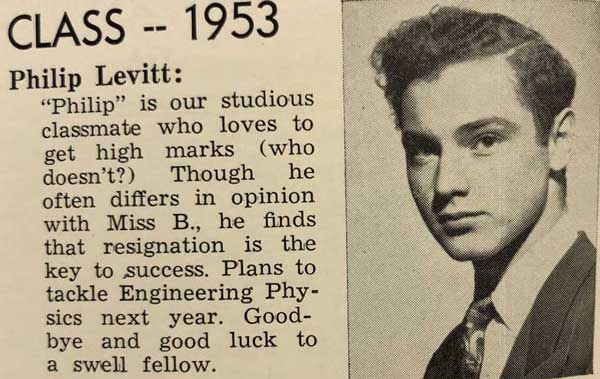 Levitt ultimately did become a high achiever and ended up as an electrical engineer.
But little would he, or his Leaside graduating class of 1953, imagine that Levitt would also go on to become a member of a band that would be inducted into the Canadian Music Hall of Fame.
While he did love math and science, he also developed a love of music at Leaside High. Levitt recalls that in his Grade 9 homeroom, teacher Mr. Bennett would have the students put their heads down on their desks for the first five minutes of class while he played "classic classics," such as Moonlight Sonata.
He was especially inspired and encouraged, though, by his music teacher, Evelyn Wharram, who organized and led choirs and the boys' ensemble. Levitt remembers the excitement of participating with the choir in the Kiwanis Festival in the Eaton Auditorium.
He also recalls with great fondness the day when Wharram, speaking quietly to him, said, "You'll do well, Phil. You'll do well."
Although quite nervous to sing in a quartet in the school's final show in Grade 13, he had nothing to fear as the audience gave him a hearty standing ovation.
In the summer after Grade 13, Levitt and his best friend Stan Fisher visited popular Crystal Beach. One evening while walking home, the two started harmonizing to the tune I'd Rather Die Young, by The Hilltoppers. Four girls ran squealing at them asking them to sing more. From that moment on, the boys were hooked on the attention and harmonized a lot more that summer.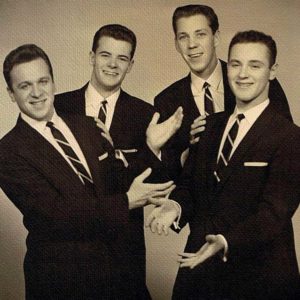 Striking a new chord with The Diamonds
Entering the University of Toronto in the fall of 1953, Levitt met Ted Kowalski, who then introduced him to his friend, Bill Reed. With Fisher as the lead singer, Levitt, a baritone, Kowalski, a tenor, and Reed, a smooth bass, the guys began harmonizing and developing their distinctive sound.
With five songs ready to be performed publicly, the group entered the CBC's Pick the Stars talent show. A CBC sound engineer, David Somerville, heard the group practising nervously in the hall and persuaded them to hold off performing until they had more material to sing. Interested in their talent, he also asked to be their manager. When Fisher ultimately decided to continue with university, Somerville stepped in as the lead singer.
Thus began the career of The Diamonds, the Canadian band that successfully brought rhythm and blues vocal group music to audiences around the world.
With Somerville now singing in the band, The Diamonds hired Nat Goodman as their new manager. Between Goodman's connections and the talent of the band, The Diamonds landed contracts with Coral Records (a subsidiary of Decca Records) and subsequently Mercury Records.
The Diamonds' recordings climbed the charts rapidly. Songs, including a doo wop version of Why Do Fools Fall in Love, and The Church Bells May Ring, earned the group multiple live shows, TV appearances, and nightclub gigs across the U.S. and Canada.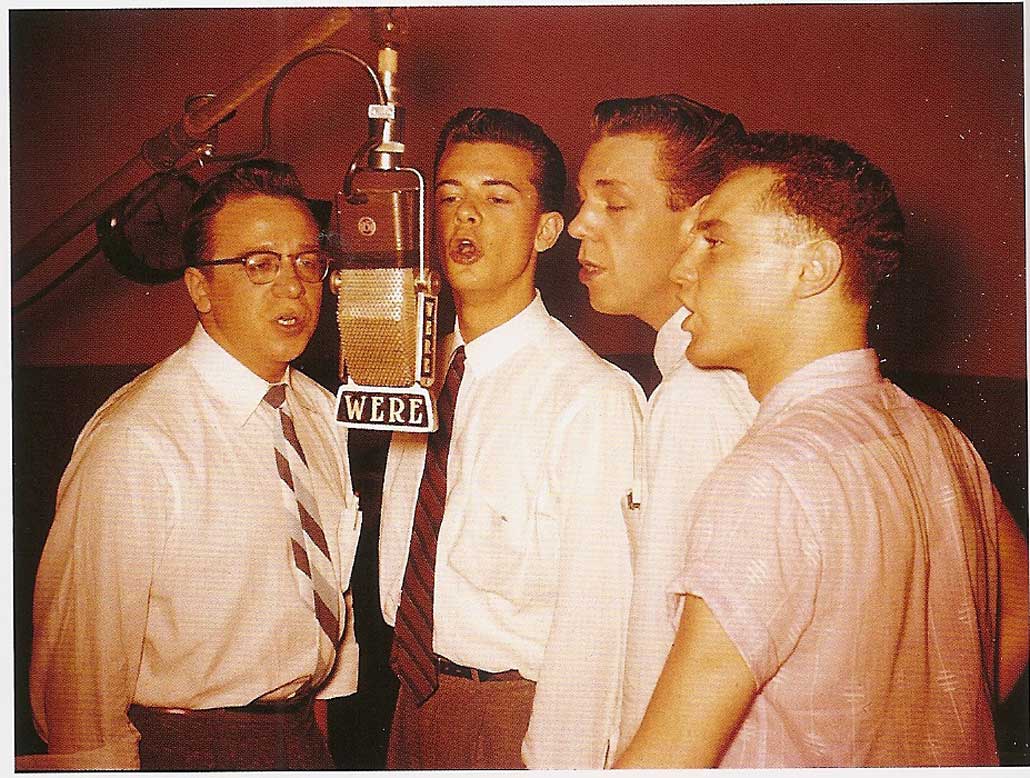 The group's biggest hit came in 1957, with a cover of the Gladiolas' Little Darlin'. The Diamonds' version skyrocketed to No. 2 on Billboard's Hot 100.
By the spring of that year, Levitt's enthusiasm for show business was waning. While he loved the band's success, he was falling out of love with the musician lifestyle. Knowing that he would want to ultimately finish school, Levitt left The Diamonds and returned to university to complete his electrical engineering degree.
In 1984, The Diamonds were inducted into the Canadian Music Hall of Fame, and in 2004, the Doo Wop Music Hall of Fame.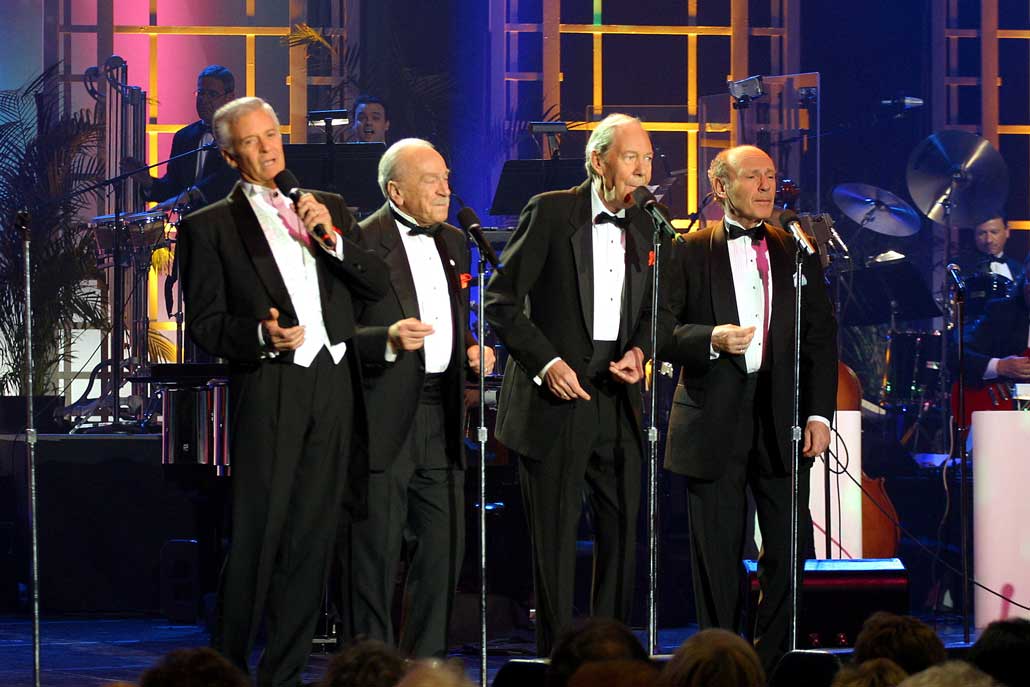 For Levitt, it was one thrilling ride that he would never trade. From the school choir and boys' ensemble, to a standing ovation in the Leaside High auditorium. From four girls' adulation at Crystal Beach, to radio, TV, night clubs, and multiple appearances on billboard charts.
"You'll do well, Phil. You'll do well." Mrs. Wharram clearly had it right.
Tickets for the 75th Anniversary Gala, as well as Leaside Live! are available online at: https://leasidehighschool.com/75th-reunion-events/.