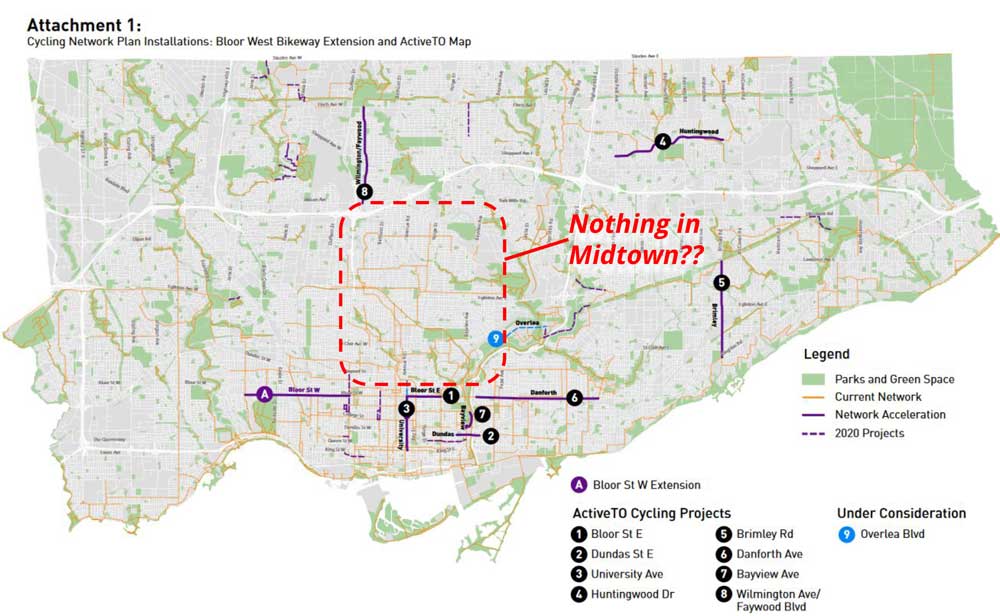 Leasiders hoping to take advantage of the quiet streets, car-free zones and maybe some new protected bike lanes as promised by ActiveTO are bound to be disappointed.
The program, announced on May 6th, is designed to help people effectively physically distance while getting around safely as the city begins to recover. Three strategies were put in place: quiet streets closed to local traffic for more space to walk, bike and roll; major roads next to popular trails and parks closed to vehicles on weekends to relieve pressure; and acceleration of the Cycling Network Plan to encourage safe active transportation, particularly along major transit routes as a "relief valve" for the TTC.
Despite numerous recommendations from a wide range of sources – residents' groups, community organizations, cycling advocates and many, many individuals, ActiveTO is mostly missing in Leaside and other midtown communities. As of mid-June, the only installation nearby is the closure of the curb lane to vehicles on Mount Pleasant Rd. between Moore Ave. and Merton St., near Mount Pleasant Cemetery.
Plenty to cheer about elsewhere
Make no mistake, closing lower Bayview as well as sections of Lakeshore Blvd. to the east and the west to traffic on weekends is fantastic. And 15 km of protected bike lanes running from Dawes Rd. on Danforth Ave. to Runnymede Rd. on Bloor Street as an alternative continuous active transportation corridor that mirrors the Bloor/Danforth Line 2 subway is a game-changer. But if active transportation makes sense on Bloor and Danforth, why not in midtown on Yonge St., the busiest transit route in the city?
The obvious choice is Yonge
The Yonge St. portion of Line 1 carried 450,000+ passengers each day before COVID-19, but as the economy reopens, transit capacity will be greatly reduced to preserve physical distancing. Temporary bike lanes mirroring this route could provide a safe alternative for people heading uptown, downtown and around midtown. Numerous quiet streets connect to Yonge making it easy to comfortably access a Yonge St. bikeway. For those in Leaside, it's only a few kilometres to Yonge on quiet residential roads or through the Mount Pleasant Cemetery. Temporary bike lanes can be installed cheaply and easily and provide the opportunity to test and tweak.
As Mayor Tory said, and the Bloor Street bike lanes proved, "Bikes bring business." With bike lanes on Yonge, retailers and restaurants would have many more potential customers at street level. And to help these businesses recover, Cycle Toronto Midtown (Wards 8 & 12), Cycle Don Valley Midtown (Wards 15 & 16) and Cycle Toronto are running Bikes Love Yonge, a promotional campaign to bring more people to shop and dine by bike.
ActiveTO for real change
People who haven't ridden a bike in years are discovering the value of safe cycling infrastructure as well as joy in getting around under their own steam. ActiveTO holds real promise for real change but we need more for midtown. A Yonge Street bikeway would be a good place to start.