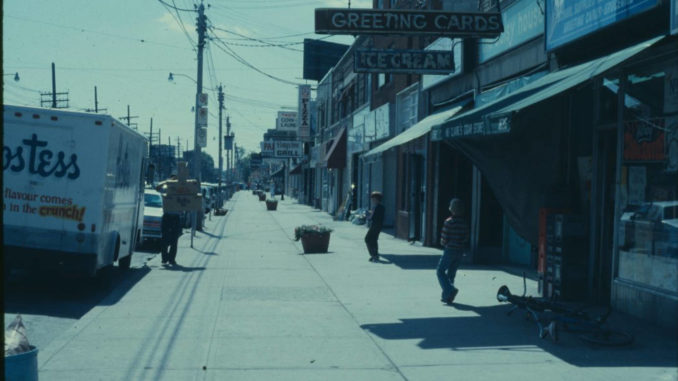 Growing up at the corner of Parkhurst and Donegall ensured that Bayview was a very familiar strip for me. My mother would do at least some of the family grocery shopping on Bayview. She was a dedicated customer of Rawley's Meats and Badali's Fruit Market. In fact, she'd often phone in an order to Badali's rather than walk up to the store. The next day, whether anyone was home or not, Dominic Badali, the friendly hockey-playing son (Dixie Beehives, as I recall), would fetch the house key we'd secreted near our back door, and enter our home with a heavy cardboard box precariously perched on his shoulder. He'd leave it, and the carbon copy handwritten bill, on the counter. That's the kind of customer service that was the standard in our community in the 1970s. I still see Dom now and then when I'm strolling along Bayview. He looks just the same to me.
My twin brother Tim and I made countless trips to what was then called Mac's Milk at the corner of Bayview and Manor Rd., to pick up, you guessed it, milk. My mother's dreaded refrain, "we need more milk," always seem to coincide with the start of our favourite TV programs. But we could make the Mac's Milk run in about four minutes timed with the first set of commercials so we didn't miss too much.
There were other stores on Bayview that Tim and I frequented much more than our mother. There used to be an old fashioned smoke shop on the east side of Bayview just south of Parkhurst – think of it as the corner store – where we'd buy chips and chocolate bars whenever we had a few stray coins in our pockets. Claire's Cigar Store on the west side at Manor Rd. had a better chocolate bar selection but it was a little farther away. You could buy almost anything at Claire's. I remember saving up and buying a hunting knife ($2.50!) in a leather sheath that I wore on my belt in the summer around our cottage. Yes, it's true. As a twelve year old, I bought a hunting knife on Bayview without so much as a note from my parents, let alone a background check. Times have changed.
One of our favourite haunts on Bayview was a couple of doors down from Claire's. Dante's Pizza, long gone now, served some of the best pizza we'd ever eaten. I think it opened when my brother and I were about 14. Back then, we obviously needed a lot of nourishment. Sometimes instead of going directly home after school, we'd furtively slip past our own house and make our way up Bayview to Dante's. We'd proceed to eat an entire pizza and then go home for dinner. In later years, we'd also surreptitiously consume two orders of sweet and sour chicken balls and rice from China Food (Piping hot!) on Millwood before our parents arrived home. Then we'd sit around the dining room table and have family dinner. Our parents were none the wiser even if we were very much the fuller.
Other stores on Bayview I well remember include Norwegian Ski Shop (whose roof was accessible via a sturdy television antenna – and that's all I'll ever say about that), Sweet Talk Beauty Salon where my mother was a regular, McLeish's Drug Store, the barber shop where Joe and Leo cut my hair for years, Leonard's Hobby Shop where I'd salivate over the airplane models, Richardson's for Sports where we'd buy hockey sticks, and the Bayview Camera Centre at Millwood that always had that faint chemical smell when you walked in the door. In fact, each store had its own particular fragrance (sounds nicer than "smell") that we came to know over the years. I think I could identify any of those establishments blindfolded by scent alone. They're all gone now, but I can still see and smell them in my memory's eye and nose.
So much has changed on Bayview yet so much remains the same. Very few of the stores that were around in the 1970s are still in operation today, but there are a few, Badali's among them. There's still a convenience store where Mac's Milk was located and they're still selling milk and what we called back then "sundries." But what has never changed – and I hope never will – is that strong community vibe you get walking up and down the double-wide Bayview sidewalks on a Saturday morning. It still feels the same to me.