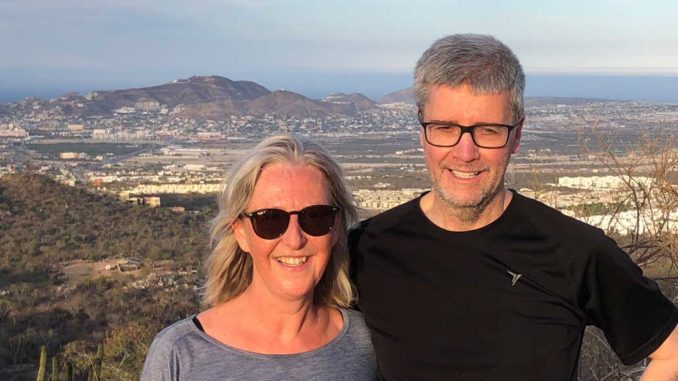 Lives are busy and complex. Residents and neighbours come and go, yet once a Leasider it seems you're always a Leasider at heart.
Susan Smith and George Gutierrez were Leaside contributors for over 20 years at community events, Leaside United Church, and the tennis club. They were the type of neighbours who'd be there in a flash to pitch in, often hosting and always joining in block parties.
What first attracted them to Leaside? "We moved to Leaside in February, 1996. We were searching through different communities in Toronto in late winter 1995. As we drove though Leaside, two ice skating rinks were full. It looked like a scene from a Norman Rockwell painting – we were hooked," said Susan. Now she and George live in a very different environment – Penticton, BC.
"It's just under two years since we free spirits packed up our things, said goodbye to family and friends and headed west," Susan said. "Excitement and uneasiness were familiar emotions but our conviction to transition our lives in a different direction never wavered. However, the question which hovers in the air is why did we choose to leave our community, the city life, the place we raised our daughter Danielle to move across the country to a place so remote to our fellow city dwellers? Our answer is as simple as, why not?"
The traffic congestion, Eglinton Crosstown, high-rise construction, and increased air pollution did factor into the big move. But more importantly, it just felt right to make a move.
"We arrived in Penticton in late November and settled into my sister's house to search for housing and community. When moving to a small city, ensure you have temporary housing planned in advance because the housing shortage exists right across the country."
Key to making the transition has been getting involved in their new community. "When you move somewhere new without kids or a dog – get involved. George joined the tennis club, of course, I joined a book club, volunteered locally and we started enjoying Penticton's outdoor life. Most importantly we found a beautiful condo home and exchanged our view of Trace Manes Park for a close-up view of Lake Okanagan."
In many ways, Susan said, Penticton feels bigger than Toronto. "It doesn't have hundreds of small communities like Toronto. At every outing in Leaside, we would meet people we knew. George and I miss the Leaside where your children are known, dogs are recognized and familiar faces greet you on Bayview. Yet, we are 'Pentictonites.' Every day we wake up, look around at our beautiful mountains, lakefront and can't imagine being anywhere else. George has a new group of tennis buddies and I am the managing director of the Naramata Centre, a spiritual retreat and education centre. The tradition of starting over continues!"