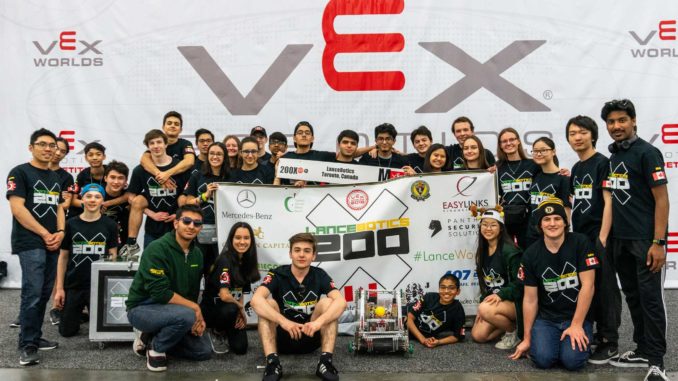 The Leaside High robotics team was the only TDSB representative among the 584 teams from 64 different countries that took part in the Vex Robotics World Championships in Louisville, KY from April 24 to 27.
This was the second trip to Worlds in three years for the Lancebotics team, whose name is derived from the school mascot "Lance." Their experienced staff advisor is Vincent Lu, assistant curriculum leader for computers, technology and business. Throughout the year, he works with a club of some 40 members divided into four different teams.
This Worlds team, known as "200X," has 15 members from Grades 9 to 11. Another 17 students went along to help out and gain valuable experience for the future. Their robot, affectionately known as Unjanky, took four wins and a tie, placing 62nd after 11 matches.
This year's game, called "Turning Point," was played on a 12 x 12 sq. ft. field by two "alliances" comprising two teams and their robots. The object of the game was to score points by gaining control of various caps, flags and parking platforms during the back-and-forth action of each two-minute match.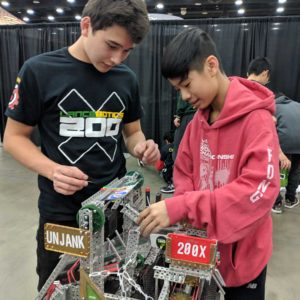 Each year the game for the following year is announced at Worlds. For 2020 it will be "Tower Takeover." The teams then purchase the game, parts and equipment. The Leaside group immediately starts planning, designing, building, programming and testing for the coming year.
During the summer, they do research online for design ideas, build prototypes at their houses, view matches online from Asia, and take part in online chat groups. By the fall, the teams start to take part in scrimmages with each other and teams from around the province, while continuing their research and fine-tuning their robots.
Needless to say, these highly committed students put in countless hours after school and on weekends. As Mr. Lu says, all of their work is "a great application of learning outside the classroom and learning much more, such as team dynamics, networking and communication skills." Their enthusiasm has led to an increase in the number of students taking technology courses.
In addition, the students seek out sponsors with an interest in projects related to STEM (science, technology, engineering and mathematics). Funds are required for the game, parts and materials, registration in, and travel to, events, and promotional materials. This year's list of sponsors includes the TDSB, CIK Telecom, RoboEDU, EasyLinks Financial Inc., Mercedes-Benz and Mucho Burrito.
The team took part in several qualifying events in order to improve their chances of going to the provincial Championships at the end of February. There they qualified for Worlds by winning the "Think Award," which, according to team driver Shashank Ojha, was awarded for "our capability of thinking outside the box for our robot and its integrated programs."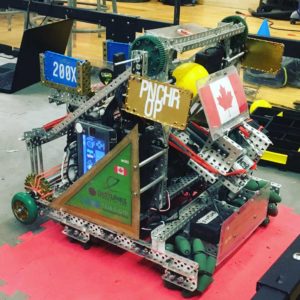 Ojha also commented that it was "an honour to represent Canada" and that the trip was a "great experience, which increased our connections with other teams and made our group stronger."
Mr. Lu was very proud of the team and their outstanding efforts. He noted that the team "has created a space at Leaside where students interested in STEM have found a home where they can be themselves and pursue their passions."