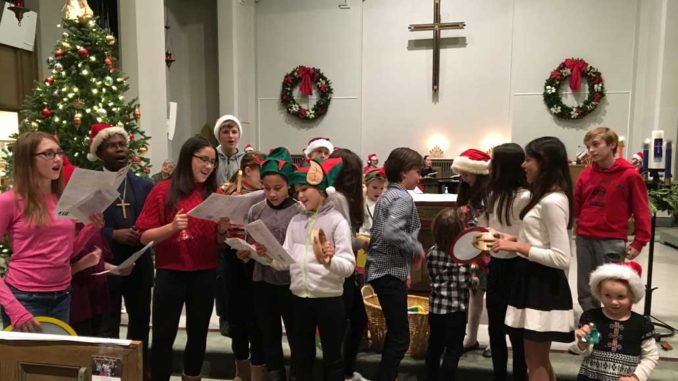 Carols with Friends at St. Cuthbert's
A long-standing tradition at St. Cuthbert's, Leaside is Carols with Friends – this year on Mon., Dec. 16, starting at 7 p.m. in the church. For many, this evening is a special part of their Christmas celebration, gathering with friends and neighbours.
The church choir is aided and abetted by a few extra "ringers" for the evening, and Music Director Gary Forbes leads the singing. The choice of which Christmas carol or popular Christmas song from the song sheet appears in which order is up to those in attendance – with the emcee, Chris Vyse, deciding whose choice is next. There are stories told too, sometimes with the assistance of the children present and some "musical" instruments. It's a night for wearing a favourite Christmas sweater or a Santa hat! But there is solemnity too during the hour. Wait for all the candles to be lit, the lights turned down, and join in singing Silent Night in the darkness.
After the singing, everyone gathers in Lamb Hall for warm apple cider, Christmas cookies and conversation.
Freewill donations go to the Flemingdon Food Bank. 1399 Bayview Avenue.
Caroling in the Pines at Northlea United Church
Caroling in the Pines beside Northlea United Church at 125 Brentcliffe has been an annual Leaside tradition since 2006. This year's caroling takes place on Sun., Dec. 8, starting at 7 pm. Chief Elf Laura Jarvis will make sure there are song sheets if you don't know all the words of the carols and popular Christmas songs, there will be musical accompaniment by the Metropolitan Silver Band, and hot chocolate. Candles too, but it may be easier to bring a flashlight to juggle.
Dress for the weather, and have some money with you to donate to Youth Without Shelter, the designated charity for this year's event.
If you are bringing children – know that Santa Claus makes an appearance at the end of the hour-long sing-along.
The event has never been cancelled, but did move inside one year when it was pouring rain. A year when gentle snow falls, and you are protected under the pines, is always special.
Lee-Ann Ahlstrom, a Recognized Designated Lay Minister and part of the Leadership Team at Northlea, welcomes the whole community to this evening of seasonal joy.