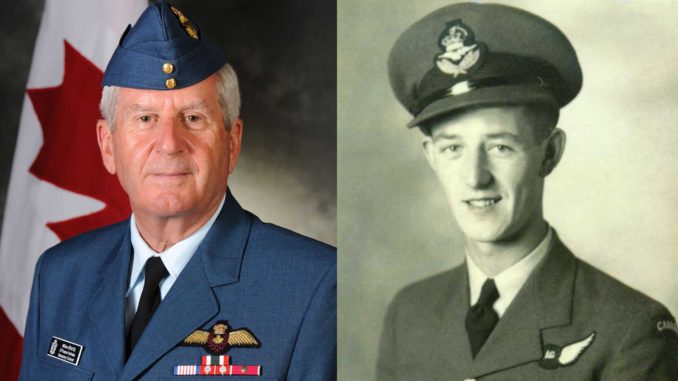 Ninety-nine-year-old Al Wallace sits in a chair at the Sunnybrook Veterans Centre and recounts that as a pilot fighting in World War II, one never knew "whether a mission would be a one-way or a return trip."
For 15 missions, Wallace made return trips. But on the night of May 13, 1943, he, along with six crew members, was en route to Duisburg in Germany's Ruhr valley when their plane was shot down. What followed was a harrowing two-year experience for Wallace as a prisoner of war.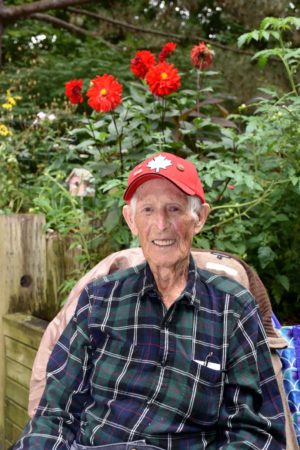 Originally a member of the Queen's York Rangers, Wallace joined the Royal Canadian Air Force (RCAF) soon after the war broke out and undertook his training in Canada. Graduating in 1942, he was promoted to pilot officer and joined an RAF bomber squadron in northern England from which he, as a gunner, and his crew would fly missions.
On the night Wallace's plane was struck by enemy fire, he and four of his crewmen made it out of the plane, parachuting from a height of 12,000 feet. Landing in a farmer's field, he was apprehended by the landowners, who turned him over to German soldiers. After 10 days in solitary confinement in a town jail, Wallace was transferred to the Stalag Luft III camp near Zagan, Poland, where he would remain for the next two years.
The camp was surrounded with double barbed wire fences and watched closely by armed guards. Food was scarce, and barracks were overcrowded and cold. Prisoners were allowed to send three letters and two postcards each month and could receive two parcels per year. In his two years in the camp, Wallace had no meat or fruit. He firmly maintains that the Red Cross parcels which arrived sometimes weekly, sometimes only monthly, contained multiple items, including dried fruit and biscuits, which were both morale boosters and "life savers."
Wallace landed in Hut 104, famous from the movie The Great Escape, when 76 men attempted to flee. As a newcomer to the hut, Wallace initially had no knowledge of the plans made by the other prisoners. Although he had no intention of attempting to escape the camp by tunnel or other means, he helped the diggers on a few occasions by acting as a "penguin" – someone who would disperse sand from the tunnel around the camp. The daring escape of March 24, 1944 ended with 50 of the men dying at the hands of the Germans, three making it back to the U.K., and the rest captured and placed in solitary confinement.
In January of 1945 when the Germans learned that the Russian army was approaching, the soldiers evacuated the prisoners from the camp and marched them through the countryside in harsh winter conditions, sometimes sleeping on the floors of farms, sometimes in fields, and eating infrequently.
On the morning of May 2, 1945, the prisoners awoke in farm stables to find that the German soldiers had disappeared during the night. An armoured car had arrived with a British soldier. "The war," says Wallace, "was over."
After the war
Upon his return to Canada, Wallace rejoined his old place of employment, Loblaws, eventually rising to vice president. He and his wife Mary raised four daughters, one of whom, Barbara Trendos, has written Wallace's life history in a book entitled Survival: My Father's War as an Air Force Gunner and POW.
Wallace also spent six years as assistant manager of the Leaside Arena (though he admits he never did skate), where former Councillor Jon Burnside, as a teen, remembers seeing him walk through the arena in his suit and tie keeping things running smoothly during the Friday night skates.
Wallace has shared his story countless times over the years at high schools, including Leaside, for newspapers and television, and through the government's Memory Project.
For over 25 years, Wallace volunteered at the Sunnybrook Hospital Veterans' Centre, a place he calls "a real centre of excellence." It was, in fact, only at the age of 97 that he gave up the job and became a resident.
On Nov. 11th, Canadians around the world will stop to remember and thank those who risked their lives to maintain our freedom. Al Wallace is one of those heroes. Strong and courageous – he is a man we should always remember. Thank you, Al.
A distinguished career
It's often said that heroes walk quietly among us, not looking for recognition, not broadcasting their successes.
Such is the case with Leasider Major-General (Retired) D. Fraser Holman, CD. A humble man, Holman enjoyed an exceptional and inspirational career as a fighter pilot, educator, leader, mentor, and executive.
After completing studies at the Royal Military College of Canada (RMC) in 1965, Fraser became an instructor pilot on T-33 trainers at Moose Jaw, Sask. He then flew the CF-104 Starfighter with a four-year tour as a reconnaissance pilot in Germany. He was appointed Commander of CFB Bagotville in Saguenay, Quebec where he oversaw pilots and CF-18 Wing fighter aircraft. Holman later returned to Germany as the Deputy Chief of Staff Operations at the Fourth Allied Tactical Air Force. In these roles, Holman accumulated over 3,600 hours of pilot-in-command time.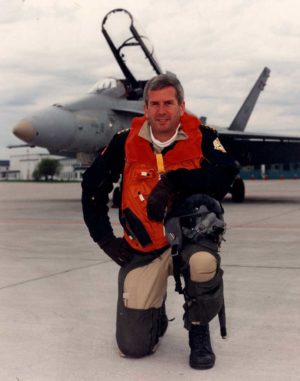 His work with the North American Aerospace Defense Command (NORAD) took him to Colorado Springs where he served as Vice-Director of Plans, then Deputy Commander of the Cheyenne Mountain Operations Center, before being promoted to major-general and becoming the J-3, Director of Operations. (The J-3 assists the Chairman of the Joint Chiefs of Staff as the principal military advisor to the President and Secretary of Defense). While executing his various military roles, he also completed an MSc in Mathematics and Operations Research, and an MA in International Relations.
His other leadership roles have included 14 years as a senior facilitator and mentor at the Canadian Forces College, Director and Chairman of the Board of the Canadian Institute of Strategic Studies, as well as a Director of the Atlantic Council of Canada. He is a member of the Strategic Studies Working Group of the Canadian International Council, the Aircrew Association in Toronto, the Royal Canadian Legion, the Royal Canadian Military Institute, the Conference of Defence Associations Institute in Ottawa, the Air Force Association of Canada, and the Canadian Air and Space Museum in Toronto.
Holman is a firm believer in the need for veterans to support each other in retirement. He has spent more than five years volunteering at the Sunnybrook Veterans' Centre, where he transports residents in wheelchairs to programs, therapies, and appointments within the centre and hospital, all the while sharing stories, camaraderie, and friendship.
Thank you for your service, Fraser Holman.