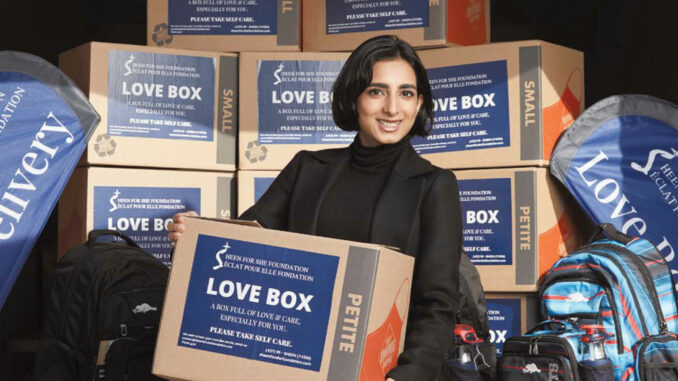 International Women's Day is March 8th, an annual globally recognized celebration focusing on the social, economic, cultural, and political achievements of women and girls and the challenges many continue to endure. The Canada.ca website confirms Women's Day was first officially celebrated in Canada in 1975 but it took another six years before women's rights were finally enshrined in the Canadian Charter of Rights and Freedoms, in 1981.
Along with government agencies, many charitable organizations are dedicated to addressing challenges faced by women. One registered charity, Sheen for She Foundation, on Esandar Drive, provides self-care workshops, self-defence training, healing circles and aesthetics for women facing significant life challenges.
Co-founders CEO Mary Hawk and Managing Director Sophia Hawk were inspired to launch the foundation after noticing a gap in charitable services for women. "We noticed that when it came to tackling weighty issues like homelessness, domestic abuse, and addiction, self-care was rarely part of the conversation," says Mary. "The focus tends to be on rehoming, financial stability, and employment. These are all critical issues that other organizations are focusing on that make meaningful contributions to women's lives. Our focus is based on our belief that for a woman to move forward, self-care around personal hygiene, grooming and safety are prerequisites for wellbeing and building confidence."
She adds that "the Foundation was started in 2018. As a young entrepreneur and university student, I was content to see it grow slowly. Then, at the start of the pandemic the numbers of at-risk women isolated at home or vying for shelter beds was rising. We launched our Love Boxes. The kits included body lotion, tooth and hair brushes, feminine hygiene products, nail files, and to lift spirits, lipstick, facial masks and a few treats for children. Thousands of our self-care kits were delivered with the assistance of our tireless volunteers, predominantly Leaside students."
Sheen for She's Instagram has many expressions of appreciation from event attendees, kit recipients, and staff at Robertson House, Scott Mission, Fred Victor Mission, Ernestine's and other women's shelters and agencies.
The foundation relies on grants and donations from generous individuals and organizations, including the Red Cross, Leaside businesses such as Home Depot, Healthy Planet, Mary Brown's Chicken, and even the Beer Store, which donates gift cards that can be used at fundraisers.
As Jason Koonin, CEO at Bluebird Self Storage, says, "Bluebird was thrilled to partner with Sheen for She when they approached us to assist them in scaling their Love Box project. Their volunteers were assembling thousands of self-care kits outside during the winter. We saw the benefits of the foundation's mission and services for women. We donated several large, climate-controlled storage units at our Esandar location in Leaside and will continue to support the foundation as it grows."
Watch for news from the foundation about a fundraiser in March. Details will be posted on their social media platforms soon.
To learn more:
https://women-gender-equality.canada.ca/en/commemorations-celebrations/international-womens-day.html
https://www.instagram.com/sheenforshe/
https://www.facebook.com/SheenforSheFoundation/