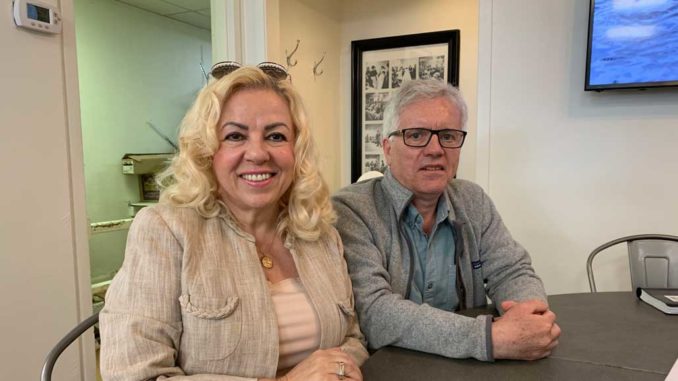 In April, I wrote about Leaside's city-calculated "neighbourhood equity" score. I posed the question: what do you think we should measure in order to make a general assessment of Leaside's condition? In response, retired teacher Bertha Knox said that "connecting with people [is] an excellent way to add great benefit to my life…and can be done through organizations or by personal initiative." She noted that a 'PROBUS Club' started in 2017 at St. Cuthbert's Church. She joined immediately and couldn't be happier. In fact, the East York Probus Club (EYPC) was so popular it signed 172 members at its inaugural meeting, far surpassing its maximum, and has had a waiting list from Day 1. A strong and proactive senior community is an incredibly valuable asset for a neighbourhood. Unaware of the club, I set up a meeting with the EYPC's president, retired accountant Dina Papadopoulos, and the club's head of activities, retired engineer Paul Magowan.
PROBUS is an acronym for PROfessional and BUSiness. It is a non-profit, non-sectarian, non-political, non-commercial club designed specifically for active retirees. Originally formed in England in 1966, it aims to provide retired professionals with a way to get together for fellowship, friendship and fun. Worldwide there are now more than 4,000 clubs with over 400,000 members and growing rapidly. The first PROBUS club for seniors in North America was established in Cambridge, Ont. in 1987. The club has since grown to 244 clubs across Canada with 36,000+ members. Members enjoy a wealth of new experiences and the fruits of a greatly expanded social network, all for a modest $45 annual membership fee. According to Dina, the EYPC is a "younger club" with an average age of about 70, with an average turnout of 130 for the monthly meetings, and approximately 75% of the members are from East York, many from Leaside. Recently, the EYPC's membership increased to 230 with 135 still on the waiting list. Despite not specifically being a service organization, members are often active volunteers in many of our community organizations, events and initiatives.
The number of people over 60 is growing faster than any other age group
From their website, "…clubs are organizations for men and women who have retired and want to maintain a social network with others who have similar interests." Paul listed a dizzying 23 active groups at the EYPC including chef's tables, investing, Probus pacers, technology at home, theatre, wine tasting, and euchre. Measured by sheer numbers, the walking group is the largest group in the club, while the dining group takes the cake (pun intended) for the highest participation. There is a currently a two-year waiting list for guest speakers. Paul remains vigilant about who gets the privilege of becoming a member, reminding me several times about the non-commercial nature of the club. There are always other challenges to contend with, too. For example, finding a convenor for the tech-at-home group, which focuses on timely and practical topics such as how to prevent "phishing" (as opposed to the relatively enjoyable task of taking your grandkids fishing).
Last July I wrote about the demographic shift taking place in the workplace, where Millennials have overtaken the number of Baby boomers and will soon do the same to Gen-xers like me. At the opposite end of the distribution curve, it is no secret that the world's population is aging. Indeed, with life expectancy continuing to rise, the 2017 World Population Prospects report suggests that the number of individuals aged 60 years or over is expected to more than double by 2050 and is growing faster than all younger age groups. According to the 2016 Preliminary Neighbourhood Census Profile, there were 1,090 individuals older than 71 years, and 3,795 between the ages of 53 and 71 residing in Leaside-Bennington.
How old would you be if you didn't know how old you are?
An inspiring question posed by Satchel Paige. So, how can Leaside ensure that our growing number of seniors remain a strong and proactive community asset that will continue to contribute to the success of our 'hood in a way that belies the calendar? It's simple: we must recognize this valuable group as just that, an asset. As such, we need to invest our time and attention to assist, enable and include this growing segment of our population so they remain welcomed by us and actively engaged. We must make the effort to reach out and establish meaningful connections. I like to think of it as a two-way street because there is a tremendous wealth of skills, experience and wisdom that can benefit us all if we just take the moment to include this group in the thinking that goes into our community building, policies and programs. One final thought, building on Paul's comment, "the strong membership surge at the inaugural and the immediate waitlist is an undeniably strong indication of need" – seems like it's time for someone to take the initiative of chartering a Leaside (or nearby) PROBUS Club to complement the East York Club. The demand is certainly there and growing.
Do you have ideas or resources that could benefit our senior community? Would you like to join a local PROBUS Club? Would you like to start a new PROBUS Club in Leaside? Let us know at .