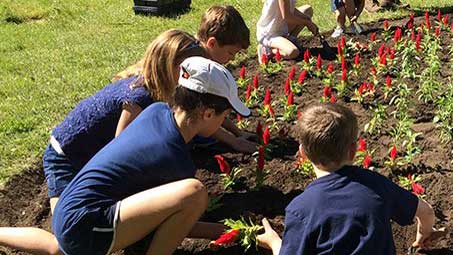 If you ever wondered why vanilla is so expensive, it might interest you to know that almost all vanilla produced today is pollinated by human hands. What's more interesting, is that the technique for doing so was invented in 1841 by a 12-year old boy named Edmund Albius.
If you found that interesting, let me tell you about Emma Biggs, a 13-year old girl who is on a mission to teach other kids that gardening is fun. Last year she grew more than 100 different tomatoes varieties, co-authored two books on gardening for kids, has a blog, gives garden talks (including the one last month at the TBG) is the co-host of The Garage Gardeners Radio Show and hosts kids gardening videos on You Tube. Yes, Emma is a horticultural super star and what I find most interesting, is how Steven Biggs (her father, co-author and co-host) made the garden an educational playground for his kids.
Children don't know that soil contains microbes that help to strengthen their immune system. They don't why being with nature improves their focus to make them alert and curious or why plants make them feel so happy.
But the Leaside Garden Society knows how gardening benefits the physical, mental and emotional well-being of children and that's why for the past twenty years, they've been helping kids connect to nature with their Junior Garden Program.
One project is in partnership with the Toronto Botanical Gardens in the spring or fall when they take two or three classes from Thorncliff Public School to spend a half day at the TBG teaching garden. Here children are guided by a nature expert to learn about nature by being with nature.
Another project happens in early June when grade 3 students form Bessborough, Northlea and St. Anselm, head out to plant up twelve community garden beds with 2000 annuals.
I've seen pictures from last year, showing these kids digging into Trace Manes Park and Father Caulfield Parkette (just to name a few) and it's so easy to see their energy and joy.  According to Rick Hutchings," you can hear their enthusiasm from blocks away!"
Rick is the LGS Junior Garden Program director and has been for the past six years. He's a horticultural pro bringing a wealth of experience from his own landscape company, as head   landscape designer for Sheridan Nurseries and lead gardener for the City of Toronto Parks/Rec East York. Rick is a busy guy yet he still looks forward to these junior plantings every June because "it's so much fun!"
I asked why all Leaside school weren't involved with a gardening program. Shouldn't all kids have this opportunity? Apparently, it hasn't been without trying and Rick explained that "it seems to be up to the individual teacher to tie gardening into the curriculum and without the dedicated teachers from these four schools, this program couldn't happen."
There is overwhelming evidence to show that students who are exposed to outdoor learning with nature can perform better academically. That school gardens are a learning tool and should be an important part of the curriculum to promote better nutrition, overall well-being and environmental stewardship. Garden-based learning is important in many ways, for every student from JK to high school and beyond. Yet I'm aware of only one teaching garden at Thorncliff Park Public School and that Blythwood Public School is now a Bee School with their own pollinator garden.   Am I wrong?
St Anselm has been a long time participant of the Junior Garden Program and is currently planning a new playground. Their plan includes "natural elements for imaginative play" and I'm not exactly sure what that represents but I hope they mean a school garden.
I'm sure the Leaside Garden Society hopes so too because they are dedicated to helping the youth in our community succeed by working with nature. This year, in honour Edna Beange (a founding member of the LGS) they will be offering their first $1,000 scholarship to a post-secondary student pursuing a horticultural-related program. Candidates must meet the eligibility criteria and submit their applications between May 1 and June 30. All of the information along with an application form can be found on the Leaside Garden Society web site.
Leaside is so lucky to have the Leaside Garden Society and I think most of us don't realize how much these members do to help our community flourish. As for the school gardens? Rick told me that he and the LGS is 100% behind this initiative and said "this type of project benefits the wellbeing of our kids and we would be willing to sit down and discuss a course of action with any Leaside school willing to start one."
Music to my ears!
Here's to school gardens in Leaside!