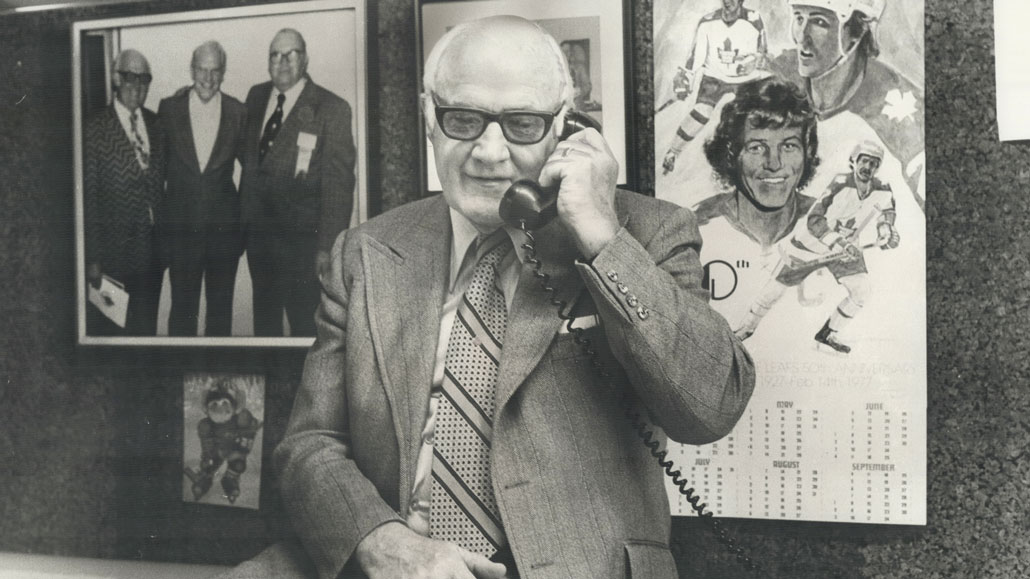 Last month, many Leasiders were again crushed when the Maple Leafs failed to advance in the playoffs. Despite the disappointment, we can take comfort knowing that our community has been home to many great hockey players in the past – including Peter Mahovlich, Terry Caffery, George Armstrong and Paul Gardner.
One Leasider many believe belongs in that group is Bob Davidson (1912-1996).
Bob was born in Toronto and lived in Leaside much of his adult life – at 27 Astor Ave. He joined the Toronto Maple Leafs in 1934 and stayed with them his entire career – first as a player (1934-1946) and then as coach and head scout (1946-1977).
As a player, Bob participated in two Stanley Cup winning championships, including the famous 1942 series against the Detroit Red Wings when the Leafs overcame a three-game deficit by winning four straight games to take the Cup. He was also team captain when the Leafs again won the Cup in 1945.
After hanging up his skates in 1946, Bob was named the team's chief scout in 1951. Considered one of the best scouts in NHL history, he is credited with helping to build the great Leaf hockey dynasty of the 1960s. Frank Mahovlich, Carl Brewer, Dave Keon and Borje Salming are among the talented players he recruited during his 26-year tenure.
Throughout his hockey career, Bob remained connected to Leaside. As a young Leafs player, he formed his own contracting company, painting neighbourhood houses in the summer to supplement income. At a time when a typical salary for professional hockey players was about $3,500-$5,000 (Cdn), this was a wise move. As a house painter, Bob proved so popular among Leasiders that the Globe and Mail showcased him and his partner, fellow Leaf Gus Bodnar in a major 1946 article.
Bob really excelled as a coach, mentor and administrator. In the late 1940s, he taught hockey to young players at the Leaside Lions hockey school. He also served as Leaside's Sports and Recreation director during much of the 1950s and 1960s. His responsibilities included not only junior hockey but also overseeing activities like curling, swimming, badminton, seniors' clubs and arts & crafts. Bob even managed summer events like the annual "Big Splash," which every year drew hundreds of kids to the Millwood Park wading pool for prizes, games, food and fun in the water.
Bob's dedication to Leaside did not go unnoticed. In a 1955 column about the Leaside Hockey Association that praised Bob and others, Globe sports columnist Bobbie Rosenfeld wrote: "It gives you a warm feeling to know that there are people in a community, who will do something real and practical for kids, sacrificing evenings, leisure and ease not only for the sake of trying to develop good athletes, but to direct the thoughts of youth in the proper direction." Bob Davidson was one of those people.
This article was guest contributed by Ted Dewelles, Leaside Heritage Preservation Society.