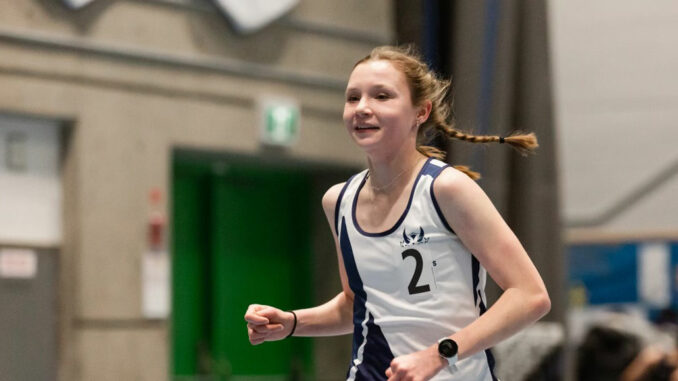 As Eleanor Voykin sits across the screen on a Tuesday evening, she snuggles with her dog while effortlessly braiding her hair and exuding an air of calm and laidbackness.
But put her on a field, a track or a cross-country course and she is determined, prepared and committed to her performance. And she is crushing records across the board.
Voykin is a 14-year-old Birchmount Park Grade 9 student, a Northlea graduate and the youngest in her active family. Both her siblings are runners, while her mother, Christine, has run multiple marathons, including Boston.
As a rep level soccer player with the North Toronto Nitros, Voykin practises year-round and in 2022 qualified to play with the Ontario team.
The agility, speed and endurance she needs to be a provincial level soccer player are all skills which she uses in both her track and cross-country running.
Voykin began running with the kilometre club at Northlea School in kindergarten, joined the school's cross-country team in Grade 1 and in Grade 5 joined the Blue Devils Athletic Club where she continues to train to this day.
Blue Devils Athletic Director and Head Coach Ben DeVito describes Voykin as "chatty and positive," while dedicating herself to hard work, determination and a committed sleep schedule. "Eleanor's ability to recover between races and do just the right amount of "hard work," he notes, "helps her to be consistent at practice, which leads to her success."
And her success has been beyond impressive.
In November of last year, Voykin placed first in Cross Country at OFSAA (the provincial finals) in a time of 14:53.24, an astounding over-a-minute faster than the second-place runner.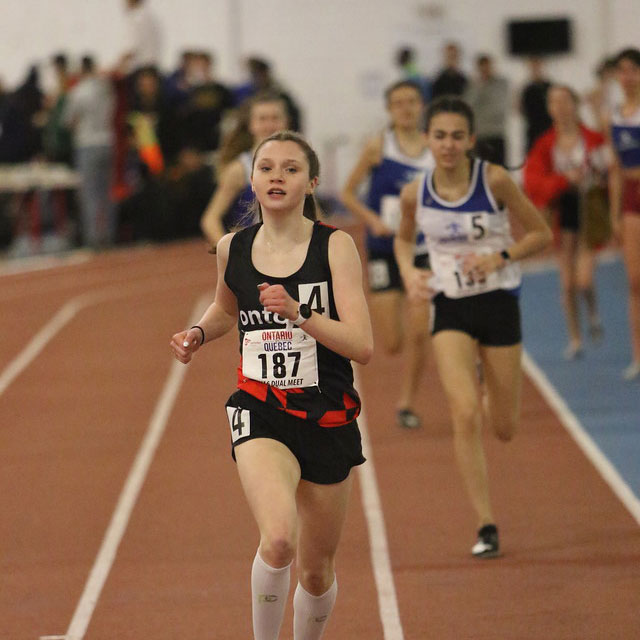 She followed up this astonishing feat with her performance at the National Cross Country Championships the same month, finishing third in the U18 category. Maintaining her composure and determination, Voykin ran as a 14-year-old against girls up to the age of 18.
She not only finished third in the nation in the U18 category, but first in her age group.
On the track, Voykin has been equally successful.
At the 2023 Ontario Indoor U16 & U20 Athletics Championships this March, Voykin smashed the Ontario records in her age group in both the 1200- and 2000-metre distances.
Her winning times in this and other meets qualified her to race in the 1 mile, 2 mile and 3000-metre championships against competitors from across the United States at the Nike Indoor Nationals in New York on the weekend of March 11th.
Racing against top level athletes from North America, Voykin finished third overall in the 3000, fourth in the two-mile and 14th in the one-mile.
Her success also merited a feature in the February 2023 edition of Canadian Running Magazine.
Voykin is remarkably humble and realistic, noting "I have goals but I know I'm not going to get a personal best every time." She is also cognizant of the fact that, as she points out, "everyone improves at different rates."
Eleanor Voykin continues to be one to watch!