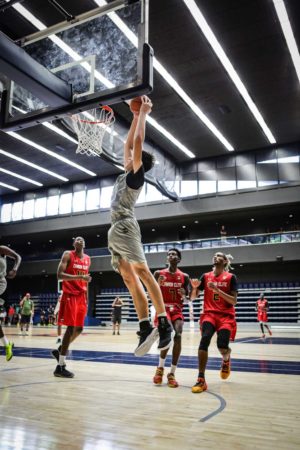 When I last wrote about Leaside basketball phenom Zach Edey in the August 2018 issue of Leaside Life, he was working hard to up his game. See article here.
For the past year and a half, the 7'3″ Edey has played basketball at IMG Academy, the world's largest multi-sport training high school, situated in Bradenton, Florida.
Edey has been training four hours a day, five days a week and has gained (in addition to 40 lbs. of muscle weight) a firmer knowledge of the game and an ability to read the play. The center is now not just the tall guy under the net, he's a dominant force in the paint.
Edey's dedication and hard work have provided such outstanding results that in September of 2020 Edey will be donning the gold and black of the University of Purdue Boilermakers in his freshman year of university.
Being granted a scholarship at a prestigious university with a basketball team that went to the Elite 8 last season is a massive accomplishment. But not only was Edey granted a scholarship at Purdue, he also received offers from, among others, Santa Clara, Baylor, Minnesota, Tulane, Western Kentucky, and Seton Hall.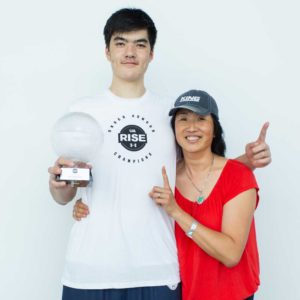 What makes this accomplishment especially astonishing is the fact that Edey signed with Purdue less than two years after taking up the game of basketball. He was originally a baseball and hockey player until Edey's friend's dad offered him a spot on his North Toronto Huskies basketball team. Edey initially declined but felt the game might help as cross training for his other sports. Once he was spotted by coaches of other basketball teams, he quickly rose through the ranks. Six months after picking up the game, in fact, Edey was recruited to Team Canada.
So why choose Purdue over the other schools?
Edey says that after meeting with coaches of various universities, he felt that Purdue had high academic standards, a great family feel, and a head coach who was going to challenge him to earn his playing time with the team.
Coaches from other schools, Edey notes, were promising him playing time right off the bat, but in order to better his game and to bring it to the ultimate level, he felt that Purdue's head coach, Matt Painter, was the best person to help him succeed.
Painter notes that one of Edey's strengths is the fact that "he can move, and that's going to be something that's really going to help him initially, his ability to move at that size."
Purdue assistant coach Steve Lutz comments on the first time he saw Edey play. "I was in awe of his ability to move at his size. I was also very impressed with his ability to pass the ball and his soft touch on his shot. It is a rare combination of size and skill."
Edey's parents, Julia and Glen, have already mapped out the drive from Leaside to the Purdue campus in West Lafayette, Indiana (approximately 8½ hours) and plan to attend a lot of games next fall.
With Edey's drive, skill, and determination to improve, his freshman year at Purdue will be the start of an impressive run. As they say at Purdue, "Boiler Up!"