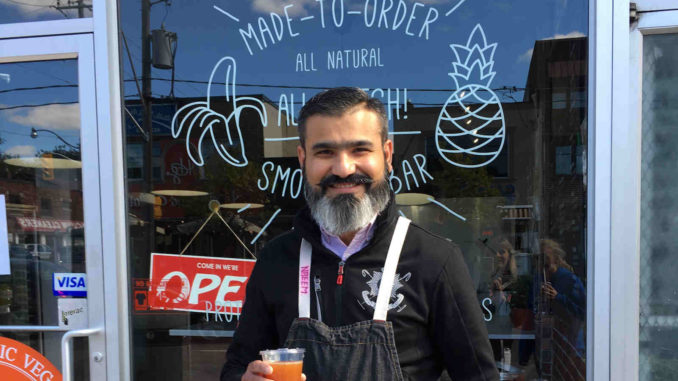 Last New Year I made two resolutions: One was to perfect my forward bend in pilates, and the other was to drink more water. It's now 12 months later, and while my forward bend isn't perfect, it's come a very long way and I definitely drink more water daily. I set two realistic goals for myself and I feel good that I was able to work at them all year, and that's what I think the definition of a healthy resolution is: something achievable. We have a wealth of resources here in Leaside to put you on your own path to health & wellness for 2017. So it's time to put down the shortbread and hit the gym, the mat, or just get outside for a stroll along our gorgeous tree-lined streets.
Pilates & yoga
Pilates is full body exercise that builds full body strength, flexibility, and coordination through mat work or on equipment called a reformer. Karlye Butler, who owns and operates a home studio in Leaside called Studio 22 Pilates, shares how pilates can benefit you. Her top tips? Incorporate 15-60 minutes on a mat or reformer to challenge you to be stronger each day. Move your spine in ALL directions, forward, side extension and rotation because a flexible spine is a happy spine. Take what you learn on the mat with you every day by breathing deeply, engaging your core and moving with purpose. You will quickly feel the benefits in your daily life. www.studio22pilates.com
Also consider:
Gayle Force Fitness – with 32 years at St. Cuthbert's Church, Gayle offers classes Monday-Friday. Her oldest client is 84! www.gayleforce.ca
New to Leaside is Nucleo Fitness, the first studio of its kind combining mat pilates and indoor rowing. Owner Marlene Kadin is a certified Power Pilates and Indo-Row Fitness Expert. Check them out at www.nucleofitness.ca.
Stretching it out for 17 years on Bayview is Big Stretch Yoga Centre. Big Stretch offers Hatha yoga for all ages. Seniors and Students receive a 10% discount. www.bigstretchyoga.com
Core Body Science has a fully renovated space on Millwood providing a range of reformer classes. www.corebodyscience.com
Gyms
If a more traditional workout is your speed, check out the following gyms.
Pure Fitness has been keeping Leasiders healthy since 2007. A full-range gym that offers fitness testing, nutrition, group classes and wellness options including chiropractic and registered massage therapy. Childcare available. http://www.purefitnesscanada.com/
Inside Out offers a personalized gym experience with a full range of health and wellness options, including: personal training, wellness programs and nutritional counselling. www.insideoutstudio.ca
Tennis and racquet sports
We're extremely lucky in Leaside to have one of the top tennis and racquet sports retailers in Toronto right here in our own neighbourhood. Leaside residents Pam and Rob Horwood have proudly owned The Merchant of Tennis for 25 years, so they know a lot about keeping fit.
Pam offers her wisdom for anyone interested in racquet sports. "A great way to stay fit is to participate in a racquet sport. Racquet sports come in different shapes and sizes from badminton and squash to tennis and pickleball. These sports provide the body with aerobic activity while working various muscles in your body. Racquet sports have health benefits and can be a great a social activity. Racquet sports are played with either two or four players at fitness clubs or local facilities. Use this as an opportunity to get your whole family involved and do something fun. Ace the commitment to your resolution! www.merchantoftennis.com
Juice bars & health food stores
Taking care of your body should begin from the inside. At Drink Juice Co. on Manor Rd. East, owner Nadia Kotso believes that juice cleanses can "motivate you, reset and kickstart you into a healthy lifestyle. They remind you how simple lifestyle changes can make a big difference in your health, physically and mentally." Juice cleanses generally run between two and seven days. The Ultimate Cleanse is tailored to you and your specific needs. Don't worry, by day three you can include healthy foods as well. Cleanses range from $50 to $72. Drink Juice has also recently started offering nutritious smoothie bowls. www.drinkjuiceco.com
Also consider:
Refuel Juicery offers a full range of cold pressed juice cleanses, smoothies, protein shakes and nut milks. www.refueljuicery.com
Peaches and Green is a treasure trove of health and wellness. With over 25 years in business on Bayview, it's a destination for many looking for the best healthy options in the city, featuring excellent health food lines, body care and a wide range of nutritional supplements, botanical remedies and homeopathics. www.peachesandgreen.com
For the Kids
Kids need to keep active too. In some cases the cold winter months can turn everyone into couch potatoes. Beside the big toboggan hill at Talbot Park, Leaside has some good options to keep your little ones in shape this winter.
GymKats offers gymnastic classes for kids from 8 months to 10 years old. In the adult and child classes, babies and toddlers will develop coordination and motor skills with their parent or caregiver. Kids will learn gymnastic and social skills on GymKats "Jungle Circuits." GymKats also offers private lessons, birthday parties and Friday night gym parties, so parents can enjoy a night out to themselves. www.gymkats.ca
Jumping on a trampoline is great physical activity. Did you know you can burn up to a thousand calories with just an hour of jumping? Skyzone indoor trampoline park is a popular Leaside spot for fun and fitness and a great way to escape the cold and keep active. www.skyzone.com