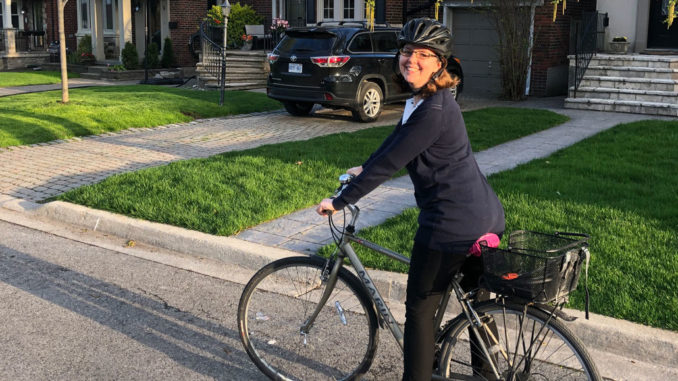 At this time last year, I was preparing an article about spring cycling, blissfully unaware of what was heading our way. Like so many community groups, Cycle Don Valley Midtown, the local chapter of Cycle Toronto for Ward 15 and Ward 16, had a list of plans and priorities for 2020 that were soon blown right out of the water. Full disclosure, I am co-chair of this group, along with Leaside Life Saving Old Leaside columnist Geoff Kettel, Najia Zewari, representing Thorncliffe Park and Flemingdon Park, and Richard Nelson, covering Ward 16.
Despite a dearth of technical prowess, we made the switch to gathering together online. And even with other challenges brought on by the pandemic, we got a lot done – campaigning for a "complete street" (designed to be safe for all users) on Yonge in Midtown, working with residents for safety improvements to the E.T. Seton Park road, supporting the Women's Cycling Network Bike Match program (LL November 2020), and collaborating with Bayview Leaside BIA for additional bike parking and a Bike Share station. Many of our most active members reside in Leaside and here's what they will be up to in 2021:
Mount Pleasant Cemetery Xing
Always popular with Leasiders for walking, running and biking, Mount Pleasant Cemetery also connects to the Beltline Trail. Yet the access on Bayview near Sutherland isn't always safe or convenient, especially for those with mobility issues, and parents with kids. Phil Oliva (LL December 2018) is putting his efforts into a pedestrian/cyclist crossing near the Bayview entrance so everyone can get there safely.
Developer encroachment
Laird in Focus involved extensive consultation with Leasiders and includes a re-imagined Laird Drive with wider sidewalks and protected bike lanes, and a greenway route on Vanderhoof Avenue to the Don Valley trails. But developer appeals of the Laird in Focus plan threaten the approved vision. Orlando Soler brought in Cycle Don Valley Midtown to join with residents and the Leaside Residents Association in supporting the plan and opposing these appeals.
Road safety review of Bayview
Carmen Jones (LL May 2020, June 2019) cycles to her job at Princess Margaret Hospital via Bayview Avenue, which she says is the most dangerous part of her commute. Carmen is working on getting Leaside's input on a Vision Zero In-Service Road Safety Review of Bayview Avenue recently brought forward by the City.
Eglinton Connects streetscape
When the construction on Eglinton Crosstown LRT wraps up, a new streetscape will be in the works that promises an enhanced pedestrian and cycling experience right across the city on Eglinton. Geoff Kettel and I follow this project closely and we understand that community consultations on detailed design will commence later this year. [A demonstration segment is already under construction between Avenue Road and Yonge Street.]
To learn more, email . Or follow us on Twitter @doncycle and on Instagram @doncycle1, where Leasider Kris Langille shares our news and views.