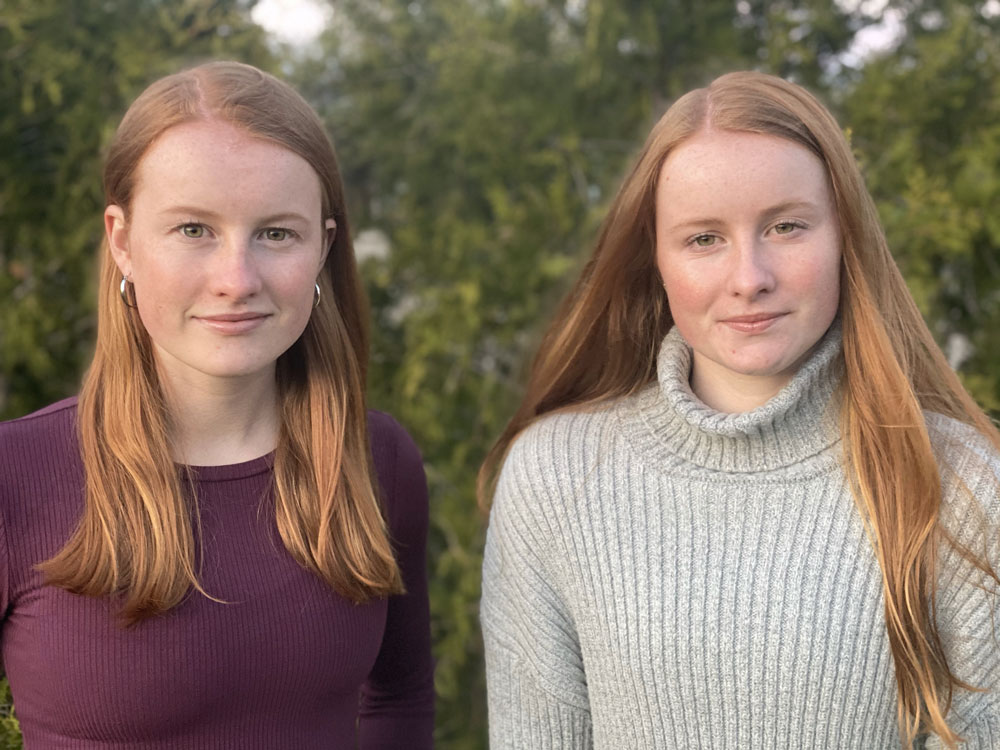 Even with the pandemic restricting their training and racing, Leaside twins Chloe and Sophie Coutts, nationally ranked middle-distance runners graduating from Leaside High School, have received athletic scholarships to the University of Western Ontario.
Their interest in the sport dates back to Grade 2 at Rolph Road School where, as Chloe says, "cross-country was a popular sport and the parent community was very supportive." Their father, Duncan, who ran in high school himself, volunteered as their relay coach and they won several city championships. They then took their talents to Bessborough and joined Central Toronto Athletic Club (CTAC) in Grade 6.
But that was just the start. In high school, the girls achieved faster times and won individual and team medals in both cross-country and track for LHS and CTAC. Sophie won two silver and bronze medals in cross-country and four in track at Ontario Federation of School Athletic Associations (OFSAA) championship events. In 2019, the most recent year for national races and rankings, she finished sixth in the U18 cross-country race and is ranked third in the U17 1500m.
Chloe was part of OFSAA gold and silver medal teams in cross-country and won a bronze in 3000m. She is ranked sixth in the U17 3000m and eighth in the U17 1500m. She was also chosen senior athlete of 2020 at LHS.
All of these accomplishments require hours of training and dedication. The sisters' routine includes running six days a week with three workout days, three easy runs and strength training, all guided by their CTAC coaches. Chloe says they love being part of the CTAC community where everyone is very encouraging and passionate about running.
Their coaches are very impressed with the girls as well. Dave Christiani appreciates the fact they are highly motivated with "ambitious performance goals," and Amanda Lampard notes their "dedication to achieving excellence," calling Sophie a "fierce competitor" on the track and highlighting Chloe's "quiet determination" over longer distances.
While the twins have found it challenging to stay positive and enthusiastic these days, they feel lucky to have each other as running partners. Their mother, Susanne, says, "As identical twins, they push each other in everything they do from school to sports. They know that if one of them can accomplish a goal, then the other one can, too. They keep setting the bar higher."
This year, Chloe also served as a co-captain of her CTAC team, planning several activities such as individual and team challenges and the virtual banquet. She especially enjoyed organizing a Christmas food drive for the Thorncliffe Food Bank, and Sophie also helped with this rewarding project.
With their excellent running records and marks in the high 90s, the twins were approached by some American universities, but have chosen to attend Western for a five-year program that offers a dual degree in medical science and business at Ivey. Sophie says they are "excited to be in this program and to be part of the Western Mustangs with their excellent athletes, coaches and facilities."
Their ultimate goals are to be on national teams – maybe even the Olympics – and pursue careers combining medical science with business.