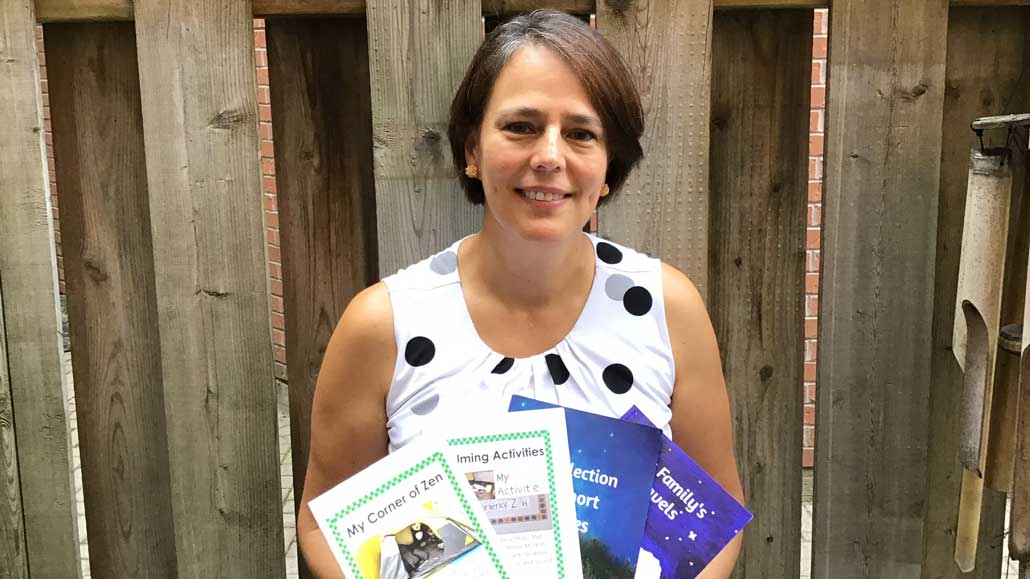 A gifted Leasider has won the prestigious 2020 Elementary Teachers' Federation of Ontario Anti-Racist and Equity Activism Award.
The students in the Literacy Enrichment Academic Program (LEAP) at Thorncliffe Park Public School are fortunate to have Diana Hernandez as their teacher.
Diana's love of teaching began early when, as a child in Colombia, she would assign homework to the neighbourhood kids. Then, armed with her university degree, she started actually teaching. She met her Canadian husband-to-be in Colombia, and the two of them taught in other Central American countries before settling in Canada. Since 2006, Diana has been at Thorncliffe, but maintaining her love of volunteering in other parts of the world for a year or so every few years. Most recently, now on her own, she worked in Zanzibar, training teachers for the Ministry of Education, and in Kuala Lumpur, Malaysia, where she taught English as a Second Language (ESL), mostly to refugees from Myanmar.
Back at Thorncliffe in 2017, she was itching to try some of the techniques of self-regulation she had been practising in Malaysia. Her opportunity came when the LEAP teacher retired, and her principal offered that class to her. The children in the LEAP program are mostly refugees and/or victims of PTSD, around 10 years of age, with little earlier formal schooling. "The kids need to manage their feelings, be able to unwind so that they can be ready to learn," says Diana.
How to do that? "One method is 'My Corner of Zen' – a tent, with a mandala, pillows, stuffed animals, electric candles, reading materials, sand paintings – where students can come on their own for up to an hour at a time as they need." Another fixture is a "Calming Corner" – equipped with manipulatives – squishy balls, spinners, sand pictures, a blanket, music. The "Calming Corner" morphed into "Calming Boxes" – one of which resides in the Vice-Principal's office, and now, in most classrooms in the school. It costs about $50 to equip a box. As well, smaller versions are making their way home with students so they can use them at home when they feel the need.
Diana is pleased to share her knowledge and methods with other staff at Thorncliffe, as well as doing workshops and presentations with another teacher at OISE, the Early Childhood Education program at Ryerson, and recently, online for other teachers.
One day she was showing pictures to her students, one of which featured a class and teacher outside. There is a courtyard at Thorncliffe adjacent to her classroom. A child asked, "Why don't we do that?" So, they started cleaning up the debris. Many of the kids had gardened in their earlier lives and were proud to tap that experience as they started planting.
This sort of activity costs more than regular school budgets can handle. The students, with Diana's help, started writing letters to a number of companies and possible funders. They were ecstatic when TD Friends of the Environment offered financial support to enable them to purchase interlock paving and octagonal tables for that first garden. They are still on the lookout for funds and volunteers (once COVID-19 regulations permit), since there are another seven unused courtyards at the school.
This past winter, the class entered an "Entrepreneurial Partnership" and joined with BMO in a program to develop a product and sell it, with the students learning such skills as marketing and accounting. The intention was to make and sell fabric bags at the mall. They were off to a great start, when the pandemic closed it all down. Even though it hasn't been completed, Diana judges the initiative a success – the students were enthusiastic and committed and bonded with their mentor from BMO.
Asked if she had plans for heading off for another volunteer stint soon, Diana's reply was an emphatic NO. "I love what I do. …These kids have made me a creative teacher."