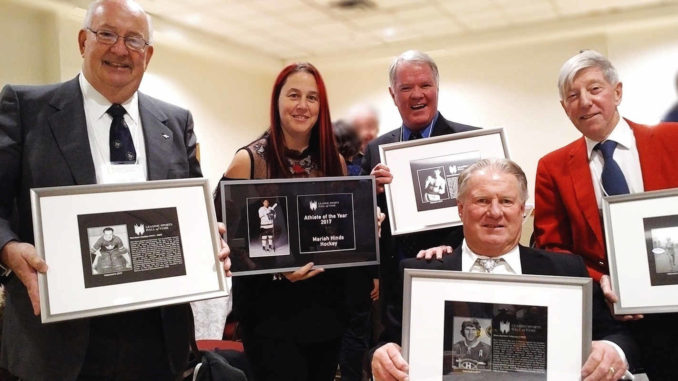 Members of Leaside's various sports communities joined the family and friends of the inductees and athlete of the year in the William Lea Room at the arena on Friday evening, Nov. 17, for the fifth annual induction ceremony of the Leaside Sports Hall of Fame.
The honourees or their representatives are, from left to right: Graham Stein, son of inductee Phil Stein, who was the Town of Leaside's first recreation director and also the first manager of Leaside Gardens; Zelda Sadler, mother of hockey player Mariah Hinds, Leaside's 2017 Athlete of the Year; inductee Shawn O'Sullivan, who grew up in Leaside, playing baseball and hockey here, and flourished in an outstanding amateur and professional boxing career, including winning a silver medal at the 1984 Olympics in Los Angeles; inductee Dave Gardner, whose NHL hockey career included 350 games for the Montreal Canadiens and four other teams; and inductee Robert Moore, a distance runner with four top-10 finishes at the Boston Marathon, among many other notable accomplishments.
Several former inductees were on hand for the evening: Teri Black-Calleri, Howard Birnie, Terry Caffery, Tom Kalweit, Cathy Lansdowne, Christine Pellerin, Dr. Sidney Soanes and Dr. Ron Taylor. Speakers included Councillor Jon Burnside and MP Rob Oliphant, who presented a special citizenship citation to Leaside Sports Hall of Fame chair Kathleen Mackenzie. Leaside sports personality Anthony Regan acted as emcee for the evening and produced the video tributes to each of the five honourees. Guest speaker was former boxer and journalist Charles "Spider" Jones.