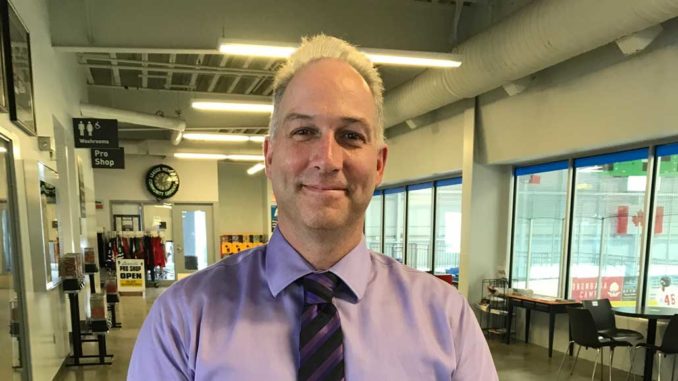 I am the ultimate rink rat.
But until I met Scott Greenfield, the thought of keeping an arena and all its moving parts running seamlessly had never entered my mind.
For the new general manager of Leaside Memorial Gardens, the scope of his job is immense.
Not only is Greenfield the manager of one rink, but his responsibilities cover two rinks, a pool, a snack bar, a banquet space, and the grounds. He is the person in charge of overseeing the day-to-day management and administration of one of the most prized spaces in Leaside.
Among his various roles, Greenfield works with the facility's various employees and the board of the Gardens. He reports to and makes recommendations to the board on the centre's financial status. He oversees the Garden's operations, programs and services, repairs, maintenance, and renovations. He is responsible for creating work schedules for full-time and part-time maintenance, operational, and snack bar staff for the arena, auditorium and pool. He prepares payroll reports, determines the need for work on the facilities, works with contractors and suppliers, and ensures all operating objectives set out by the City of Toronto are met.
Greenfield comes to the job with an impressive background in the field. Having most recently worked as the chief operator and environmental manager of the Hershey Centre in Mississauga, Greenfield also has over 25 years of facility management, operations, and supervisory experience at other locations.
And he has an ambitious, energetic, and enthusiastic outlook on life and the job. It's important, Greenfield notes, "to try to make incremental improvements every day."  Bringing that notion to the facility, Greenfield will engage with user groups and the community to see what value can be added.
As Janice Ivory-Smith, the chair of community relations and operations on the Gardens board, notes, "Leaside has a great deal of pride of ownership in the arena." The board, she adds enthusiastically, has "a lot of confidence that Greenfield will be a good addition to the community."
While he knows that so much hard work is the mandate of the Gardens team – staff, the board, and volunteers – "it's the customers," Greenfield notes, "who bring life to the building." And when activity gets going this fall, he is excited to meet more and more people in the community…and especially the rink rats.