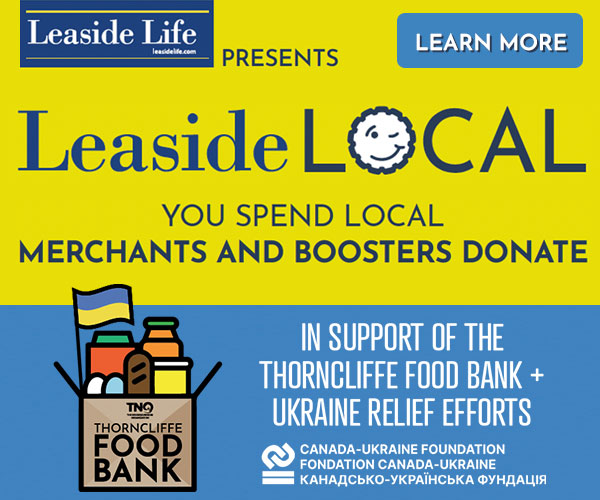 The simple act of shopping local has a profound impact on our community. When you support local businesses, your money recycles in our community, creating a circular effect that helps create more local jobs and supports the merchants who choose to call Leaside home. Local owned and operated businesses also tend to contribute more to local charities and fundraisers than their national counterparts. Commencing on April 1st, Leaside Life, in partnership with local technology innovator the Hope Factory, is relaunching the shop local campaign now known as Leaside Local.
This past December Leaside Life partnered with Toy Drive Local to create a unique local cause marketing program to allow local merchants and businesses to create meaningful connections with new customers, encourage repeat visits from loyal shoppers and drive sales and ultimately raise donations for a worthy cause. We were thrilled that this local initiative helped raise an additional $10,000, which was donated to the Leaside Toy Drive.
The inaugural program was such a success for all parties involved that this time the Leaside Local campaign has decided to support two very important causes.
Fifty per cent of the funds raised will go to The Thorncliffe Food Bank, which has been a lifeline for our neighbours in Thorncliffe Park and Flemingdon Park who experienced increasing food insecurity during the pandemic.
The other half of the funds raised will be directed towards the Canada-Ukraine Foundation, which is supporting relief efforts in Ukraine. As Russia continues its vicious assault on Ukrainian civilians, the need for humanitarian aid grows every day.
The program works in this way: when consumers spend at participating local merchants, the merchant and other local booster businesses donate a portion of the transaction to support the two designated causes.
The campaign's goal is to raise $25,000.
We need your help.
The powerful platform the Hope Factory has developed is fully secure and runs through the Visa and Mastercard networks. Once you register and use your credit card to make purchases at participating merchants, those merchants and boosters will do the rest and automatically make the donation.
Visit leasidelocal.com to find out more and register to participate.