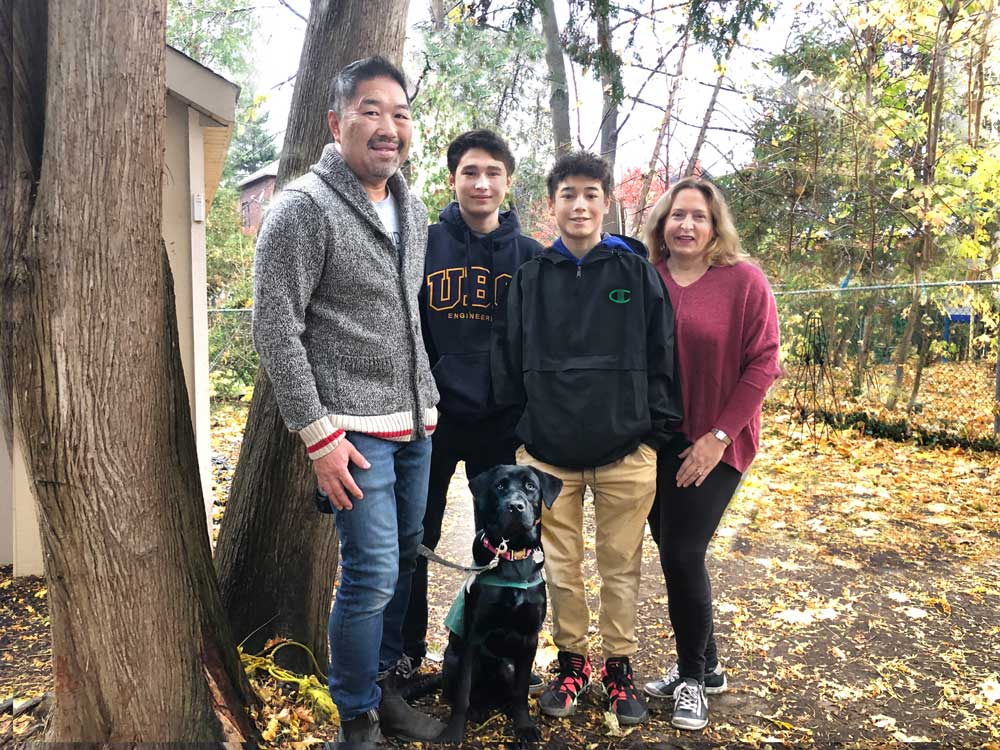 A book Karen Schmidt read when she was a girl – Elizabeth Heppner's Inky: Seeing Eye Dog – was such a powerful influence that a few decades later, writers take note, she decided to act on the author's message. She and her family foster service dogs through the Lions Foundation of Canada Dog Guides program.
Karen's youngest, Manny, also influenced the family's decision to become service dog foster parents with his relentless, "Can we get a dog? When can we get a dog?" After extracting a doggie chores commitment from him, the family set off on their guide dog adventure.
"First we researched extensively," says Karen of her journey to join the Lions Foundation of Canada Guide Dogs fostering program. "They weren't easy to find. So, I phoned and they provided an application, which we completed. Within a few weeks a house visit was arranged and we were approved. It was a few months later that a new litter of puppies was available and we were assigned Hawk, our first Labrador puppy.
"The next few weeks were a whirlwind of adjusting to our puppy and coordinating new duties. The Lions provided extensive guidance and encouragement. To our surprise the boys stepped up to the plate in a big way. They walked, fed, played with, cleaned up messes and treated Hawk with tender, loving care. With Ralph, our second and current guide dog, Manny is doing the lion's share of the chores as Julian, now a university student, is immersed in his studies."
Asked about the challenges of fostering a future guide dog, Karen reveals mainly joys. "Get ready to expand your local community everywhere you go. At movie theatres, hockey games, restaurants, transit even grocery stores, complete strangers will stop and chat. Many will mysteriously know your dog's name. A few will learn yours. Additionally, Leaside has a number of guide dog fostering families, and we share tips and find approved dog-sitters on our group website."
Elegant attire for Karen now includes heading out the door with a well-worn treat pouch on her hip. Her new "alarm clock," she adds, delivers a soggy toy every morning. "And take note, the dog can only be left alone for a maximum of three hours, so get ready to take them everywhere and keep your date nights short."
Once Karen was teaching Ralph to ride an escalator. "He was understandably nervous. I made many attempts: watching others ride, carrying him up, stepping forward, but he continually resisted. It took many tries, yet when he finally mastered it, patrons at a coffee shop, who had been watching, applauded. That made my day!"
Karen is passionate about guide dog etiquette. A future guide dog wearing a green coat is in training. A red coat means the dog has graduated and is working. It's always best to ask the dog handler's permission for the best way to interact with the dog. This may also offer an opportunity to teach others about safe and respectful interaction with dogs.
When asked about giving up their dog, Karen laments, "It is hard. We truly enjoy our dogs, but the disabled rely on their guide dog. We're so pleased that Hawk graduated and is working as a hearing dog guide. Her new family provides regular updates on Hawk's achievements and antics. If Ralph doesn't succeed as a guide dog, he may be selected for the breeding program (temporarily on hold)."
For more info: Lions Fdn. of Canada Dog Guides – https://www.dogguides.com/foster. Guide Dog Calendar Fundraiser: https://www.superpupcalendar.ca/thepursuers.