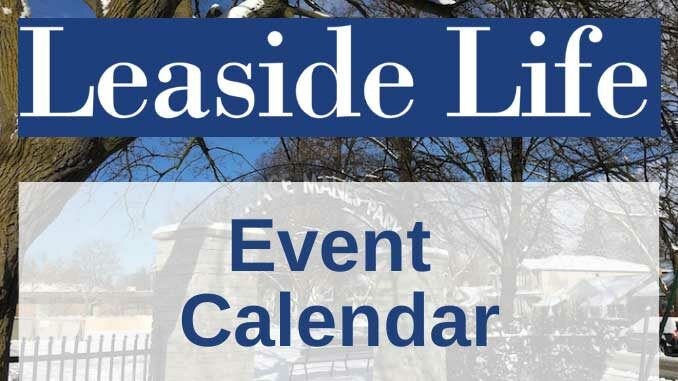 The 3rd Annual GEORGE TURRELL MEMORIAL FOOD DRIVE
for the TNO Food Bank in Thorncliffe Park is happening Sunday, March 26th from Noon to 5:00 p.m.
70th Anniversary Cake and Beverages will be served from 2:00 to 5:00 p.m.
We look forward to our community's enthusiastic participation.
Leaside Branch Public Library
165 McRae Drive, 416-396-3835
Adult board games
Tuesdays, March 7, 14, 21 & 28 – 6:00-7:30 p.m.
Come and join us for a night of fun at the Leaside branch! Bring your friends or come make some new ones as you battle it out over board games. No registration required.
Monthly art exhibits
We are pleased to feature free monthly art exhibits in our community room. Each exhibit is by a different artist and reflects the cultural diversity of Leaside and Toronto as a whole. Please visit www.tpl.ca/leaside and view "All Branch Programs and Events" for more information on the current exhibit.
Button making workshop
Wed., March 15 – 2:00-3:00 p.m.
Join us for a fun button making program. Express yourself through creative buttons. Design your own buttons using your imagination, catchphrases, or a collage of images. All materials will be provided. Drop-in. No registration required.
For more details on current and future Leaside branch programs and activities, including Baby Time, Toddler Time, Needleworx Knitting and Crocheting Group and March Break programming, visit www.tpl.ca/leaside.
CFUW Leaside-East York – IN PERSON
Four Pillars of Water Sustainability
Speaker: Dr. Romila Verma, Environmental Geographer, Professor of Hydrology at the University of Toronto and Brock University. March 16, 7:30 p.m. Northlea United Church
Leaside Garden Society
The Society will continue their speaker series with Zoom meetings on March 9. Our special guest is Sean James. The topic is "Proud of my Pruning." The meeting will commence at 7 p.m.
The Leaside Garden Society always welcomes guests and new members to join the Society for our meetings. Visit our website: http://www.leasidegardensociety.org or email:
LEASIDE WILDCATS MARCH BREAK MADNESS TOURNAMENT
March 10-12, 2023
Toronto Leaside Girls Hockey Association 42nd annual tourney! Tournament headquarters: Leaside Memorial Gardens: 1073 Millwood Rd.
St. Cuthbert's, Leaside
1399 Bayview Ave. 416 485 0329
TAI CHI
Tuesdays 1:30 – 2:30 p.m. Donation: $4
Northlea United Church & Leaside Presbyterian Church
125 Brentcliffe Rd. 416 425 5252
WORLD DAY OF PRAYER
Friday, March 3 at 1:30 p.m. for 2 p.m. service.
Service prepared by the women of Taiwan. All are welcome.
Agnes Macphail award ceremony
Sun., March 19 at 2:00 p.m.
East York Civic Centre
850 Coxwell Ave.
Honouring 2023 recipient Shakhlo Sharipova
All are welcome.
Community consultations for local developments (VIRTUAL)
1779-1787 Bayview Ave.
Wed., March 1, 6-8 p.m.
1840 Bayview Ave. (Esso station)
Tuesday, March 7, 6 – 8 p.m.
2-20 Glazebrook Ave.
Thurs., March 9 at 6-8 p.m.
For more information and to register: https://www.toronto.ca/community-people/get-involved/public-consultations/city-planning-consultations.