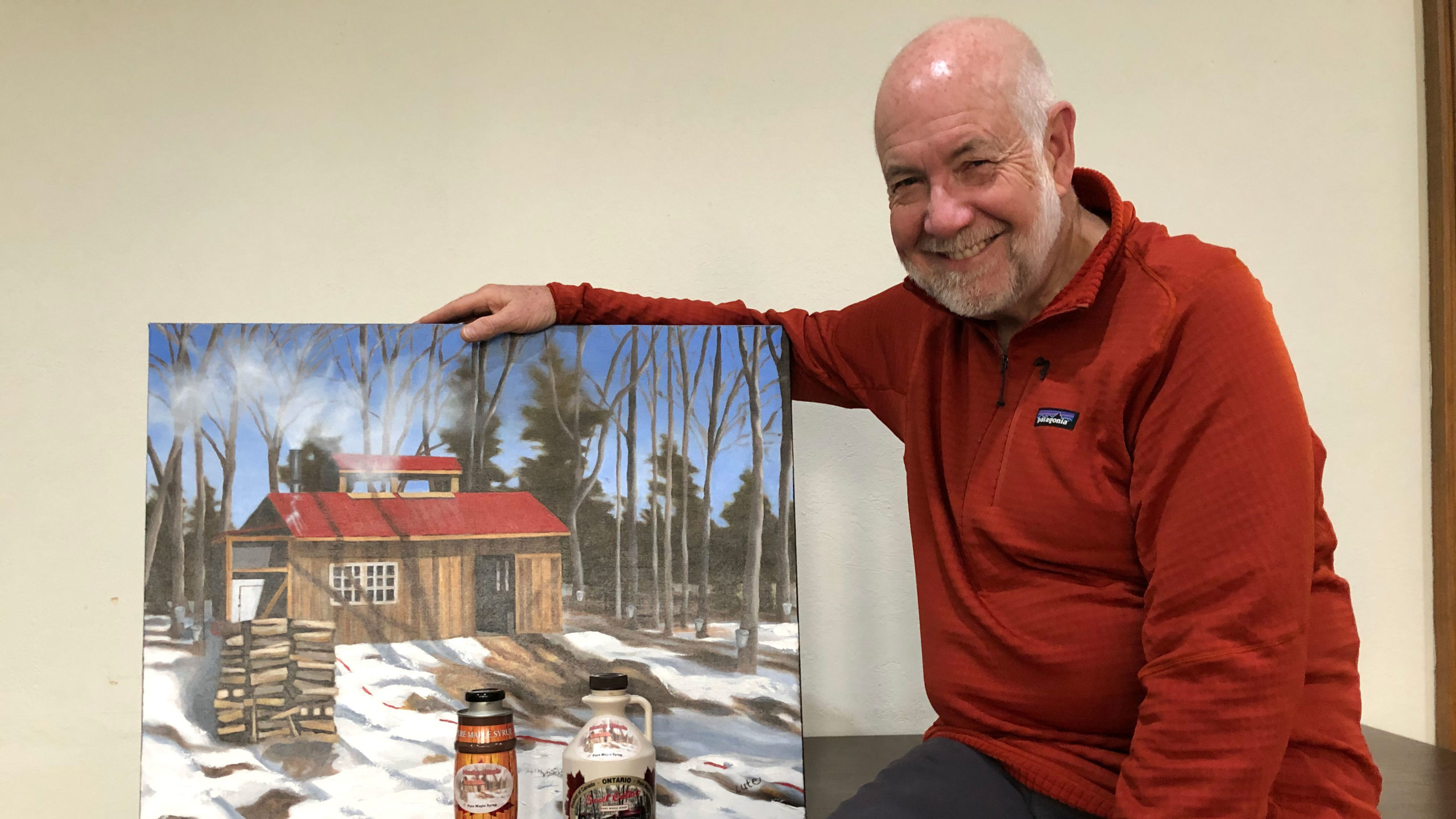 For a few weeks this past February, one stately Leaside maple tree was sporting a shiny bucket. A local resident with an interest in urban farming thought it would be a "fun experiment" to tap the tree for sap collection. She had some luck, harvesting enough sap to make small servings of maple syrup for her family to enjoy with their French toast. But recently, she learned there is a bylaw prohibiting tapping city trees and had to shut down her experiment. She could have continued tapping, however, if the tree had been in her backyard.
Luckily, another local, Larry Allcorn, a seasoned veteran in the maple syrup field, faces no such restrictions on his wife Emily Mosher's family farm in Algoma, east of Sault Ste. Marie. When Larry first visited the farm in the late 1970s, he fell in love both with it and maple sugar production. He was happy to take over the operation himself in 2012 after retiring from the software business and when his father-in-law, Cameron, turned 86. Emily says her parents were "thrilled by his interest" and "impressed by his modernization" of the operation. Anyone who has attended a Pancake Supper at Leaside United has tasted Larry's maple syrup, which he donates to the church, where he is the chair of the stewardship committee.
In general, the sugar season lasts about four to six weeks in March and April, from the time the temperature falls below freezing at night and rises to above freezing the next day, so that the sap starts rising in the thawing trees until the buds appear. When Larry took over the operation, he expanded from 100 buckets to 500 taps connected by a plastic pipeline which runs from tree to tree and delivers the sap to a central collection tank.
Once the sap is collected, it's pumped to the evaporator in the sugar shack where it's boiled down into maple syrup at a temperature of 219.2 degrees Fahrenheit. Then the sap is filtered and bottled. It takes 40 gallons of the stuff to produce one gallon of syrup.
Larry compares himself to a small craft brewer with his "Mosher Maple" operation producing 200 to 250 litres per year. While he does most of the work himself, his father-in-law still provides advice, and his relatives and a Leaside friend, Graham Lute, help out during the busy season. Graham says it is "complicated and hard work, but the reward is wonderful home-crafted maple syrup."
Larry sells the syrup by word of mouth at their cottage, at Leaside United, and at Michael Garron Hospital where Emily is an anaesthesiologist. The syrup has an unlimited shelf life if it is stored properly, and both the 500ml and litre containers feature Graham's painting of the sugar shack. All of his stock sold out last year.
It is worth noting that Mosher Maple is a natural product which contains many nutrients and antioxidants such as zinc, potassium, magnesium and calcium, and it can be used as a replacement for other sweeteners in baking and cooking.
Larry comments that the learning process is one of his favourite parts of running the operation. In their regular discussions, Cameron, now 94, shares wisdom gathered from his years of experience and Larry shares new practices gleaned from his reading, networking and seminars. He also enjoys being outdoors and doing manual labour, including building the sugar shack and working on the land in the fall to prepare for the spring. His passion for the sugar season is obvious: "I spend eight to 10 hours a day inside my sugar shack watching the snow melt and the arrival of spring, while producing something that tastes 'pretty damn good'."