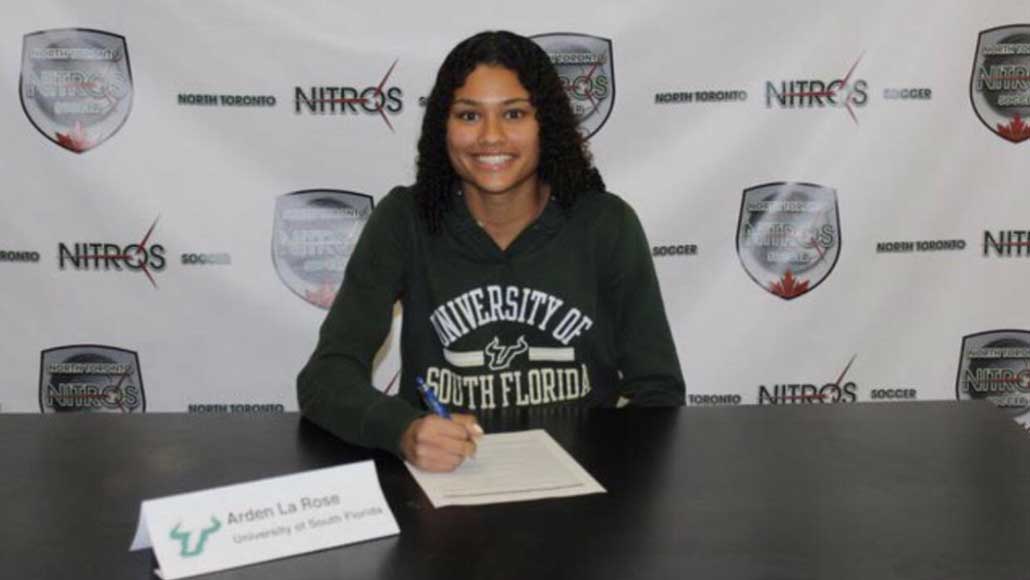 Playing multiple sports as a young person has scientifically-proven benefits. Developing various muscle groups, avoiding burnout by not focusing on one sport, and developing a multitude of physical skills are keys to strong physical development.
But when it comes to playing sports in college or university, it's almost always the case that kids must choose one sport to focus on.
Rare is the university coach willing to share an athlete with another coach, or to risk their players injuring themselves while participating in another sport.
Sometimes, though, an athlete comes along who is hard to pass up because of a multitude of talents.
Leaside High School's Arden La-Rose is one of those.
In 2021, 17-year-old La-Rose will attend the University of South Florida to run track AND play soccer with the Division 1 Bulls.
While she received offers to compete in one sport for other schools, La-Rose was determined to continue with both of her chosen sports. And USF knew they couldn't pass up on such a talented athlete.
La-Rose has always been a multi-sport athlete. At a young age, she says, she "fell in love with sports" and "played every sport (she) could."
In grade school, the sports in which she competed included ultimate frisbee, badminton, basketball, competitive acrobatic gymnastics, and, of course, soccer and running.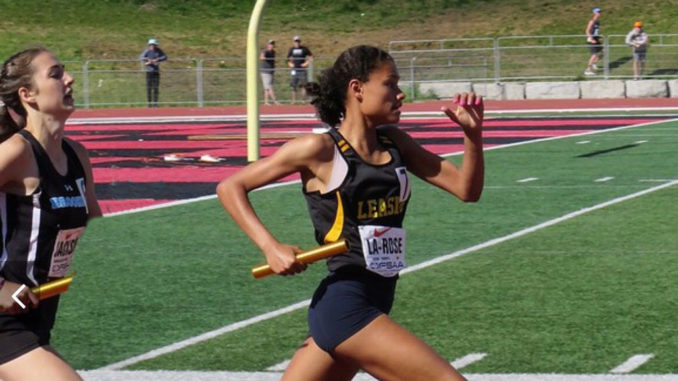 While she greatly admires the athleticism and achievements of soccer players Christine Sinclair and Hope Solo, as well as runners Usain Bolt and Neil de Grasse, for La-Rose, athletics is in her blood. Her father, Kevin, and his entire family were runners. Her grandfather, Winston La-Rose, in fact, is still a sprinter at 83, and has been the Canadian and Ontario Seniors champion for 100m, 200m and high jump.
Her aunt, meanwhile, was a successful soccer player.
La-Rose's athletic achievements are outstanding. In only three years of high school athletics, La-Rose obtained 50 (FIFTY!) medals from the TDSB in her combined sports. Most recently, she was the lead runner on the Leaside gold medal cross country team at OFSAA 2019, ran on the bronze medal 4 x 400m track team at OFSAA 2019, and ran on the silver medal cross country team at the nationals.
She is also a dynamic, agile, and dominant goalie who has played competitive soccer for the past nine years.
Playing at the highest level of competitive youth soccer in Ontario (the Ontario Player Development League), La-Rose's team won the league championships in 2018.
Always looking to work on her skills, La-Rose played striker with her high school team in order to improve her foot work.
She runs with the Central Toronto Athletics Club (CTAC), a club well known for its dominant runners.
CTAC coach Dave Christiani comments that "Arden is an outstanding athlete who demonstrates a mature and responsible attitude towards her sport. Her love for athletics can be seen in her energetic approach to new training methods and in her ability to rise to new challenges."
Balancing two sports along with her studies in exercise science will indeed be a challenge. But it's one that Arden La-Rose has been training for her entire life.