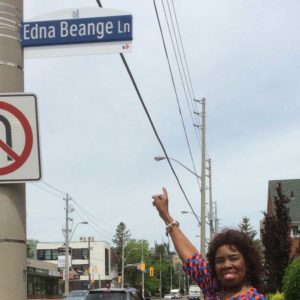 The City of Toronto has officially named the lane mostly parallel to Bayview between McRae and Airdrie, to honour Leasider Edna Beange, who died in January, 2019, at the age of 98. The location is particularly relevant, as the lane ends at SAHIL (Stay at Home in Leaside), the building where Edna had lived since its establishment.
The inspiration to name this lane after Edna, and the necessary permissions required by the City of Toronto, were done by another Leasider, Pancheta Barnett. Pancheta has some background in lane naming – as she sits on the Toronto and East York Community Preservation Panel, a volunteer committee appointed by the City of Toronto as the Vice-Chair, East, and Chair, Committee for Honorific and Ceremonial Street and Lane-Naming.
Pancheta was pleased to be able to let Edna know before she died that this honour was coming her way.
There will be a longer profile of Edna in our August issue.