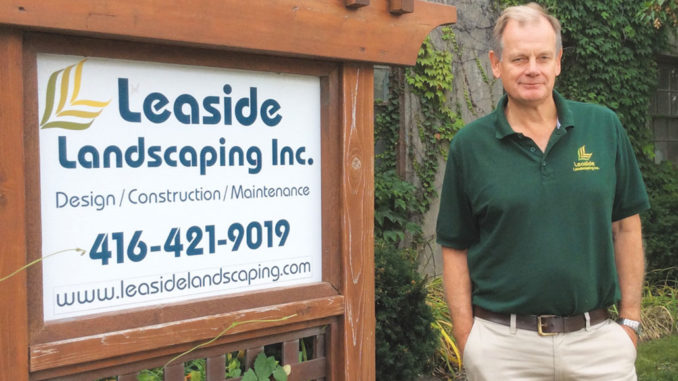 Owning a landscaping business wasn't on Simon Stevenson's list as a young man. He really didn't have a list – but thought that maybe becoming an architect or a veterinarian might be interesting, so off he went to the University of Toronto's Erindale campus. 
He lasted a year, then headed to Alberta to find his fortune, but it was the wrong time of year in the oilfields, so instead he found work in Edmonton. Next, he was accepted by Royal Roads, then part of the Royal Military College – thinking he "might follow my father's footsteps" – his father being Col. Michael Stevenson, who had a distinguished military career in Britain and around the world, before ending up in Leaside, where he and his wife Judy still live.
Finally, the penny dropped. He liked sketching and drawing, had enjoyed helping in his grandmother's garden since the age of 10, and was drawn to a landscape technology program at Ryerson.
During those summers, he worked for a friend's lawn-cutting business. The friend even sold him the route he worked, and that was the genesis for Leaside Landscaping. He considered whether to name the company after himself, but preferred a name that would carry on beyond him. Plus, he intended to work locally, so Leaside Landscaping it was. That was 1982, and Simon and Leaside Landscaping are still together 37 years later. He is thinking he might try to make it to 50.
Now, he is joined at work by his wife Della in the office, Della's brother in charge of maintenance scheduling, and one of his two sons currently working on a crew. Both sons have been involved in the business off and on since they were teenagers, starting by cleaning trucks.
The business has evolved too. Originally, most of the jobs were maintenance contracts. Now, the focus has shifted to design and construction. Landscaping involves a number of skills, including working with live materials, irrigation systems, stones and boulders. And there is the odd surprise – like the hidden well in the middle of a Leaside backyard. Some of his workers are seasonal crew – especially with students in the summers – but many of his employees have been with him for years. 
Simon still takes pride when he drives past a property he landscaped years before and sees how the trees and plants have matured.
Simon's top tips on working with a landscape contractor:
1. Interview a few contractors "to find someone you feel comfortable working with – and that has to work both ways."
2. Plan your budget. Landscaping can be a large investment. The old rule of thumb for costing an extensive front-and-back-yard project is to consider a budget of 10% of the house value (before the rise in Leaside house prices these past few years). 
3. Plan ahead. It really doesn't work to phone a landscaping company on the first warm day in March to initiate a spring project. Nor does it make sense to phone the morning of the first snowfall to see if a crew can come to clear the drive.