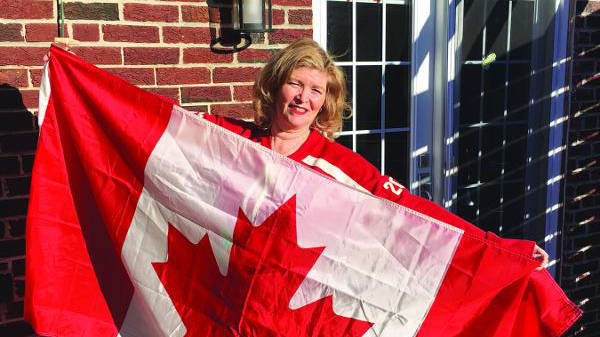 One of Canada's most enduring literary icons is Lucy Maud Montgomery, known for her Anne of Green Gables series of novels as well as a myriad of other works. Interest in Anne never seems to wane as is evidenced by the most recent CBC series.
Leaside has its own connection to Montgomery in the person of her granddaughter, Kate Macdonald Butler, who runs the company Heirs of L. M. Montgomery Inc., from her office on Commercial Rd. On top of her extensive duties as president of the family business, Kate has been chosen as a Canada 150 Ambassador to promote events celebrating Canada's 150th birthday on social media platforms.
As president of Heirs of L. M. Montgomery, Inc., Kate oversees and supports all groups pursuing projects related to her grandmother and Anne, and feels it is "important to look after this legacy." This involves the ownership and regulation of trademarks related to the works and name of Lucy Maud Montgomery, which enables the heirs, as stated on their website, to control the use of the author's "name, titles and other elements of her creations… in association with products, events and services."
In addition, the company handles publishing and film rights to Montgomery's works, and new adaptations and editions are always being proposed. Recent examples are an opera to be performed by retired singers in Japan in 2018 and a young adult novel called Maud based on Montgomery's teenage years. The Heirs have also combined with the province of Prince Edward Island to form the Anne of Green Gables Licensing Authority, which regulates all merchandising activities.
Kate acts as an executive producer of the Breakthrough Entertainment film L. M. Montgomery's Anne of Green Gables, starring Martin Sheen and released last year. In fact, she recently returned from a trip to Japan to promote the release of the first instalment of the film in 60 theatres there. The movie will also be released on Netflix in the coming months.
Kate is also involved in plans for a new museum proposed for Norval, Ont., where her grandmother lived when her husband was the Presbyterian minister there, and had a meeting regarding an Anne of Green Gables house and gift shop while she was in Japan. In her spare time, Kate is revising and expanding an Anne cookbook for children, originally published in 1984, which is to be released in September.
As if this weren't enough, this year, she is also serving as one of the Canada 150 ambassadors, whose job is to promote, participate in, and report on, Canada 150 events on social media. The group consists of athletes, musicians, artists, scientists and others who are well known in their fields, and includes such notables as Lawrence Hill, David Johnston, Alex Trebek, Roberta Bondar and Milos Raonic. Some events suggested for the ambassadors to date revolved around Flag Day, National Film Day and Earth Day.
Kate plans to take part in events on National Aboriginal Day on June 21, Multiculturalism Day on June 27, and Canada Day itself. A special highlight for her will be the opening of Mosaicanada 150/2017, a giant plant sculpture garden in Gatineau, on June 30. It promises to be the biggest horticultural event in Canada, and will reflect 150 years of history, culture, values and art in 40 different exhibits. Not surprisingly, a sculpture of Anne of Green Gables herself will greet visitors to the garden in Jacques-Cartier Park.
Kate also has plans to visit many of Canada's national parks using the Discovery Pass, which provides free admission to all of our national parks during 2017 and is available on the Parks Canada Agency website. In fact, Kate has largely kept her summer open in order to enjoy various Canada 150 events. "I feel totally honoured as a Canadian to be selected as an ambassador," she says – a fitting role for the granddaughter of one of our most beloved writers.