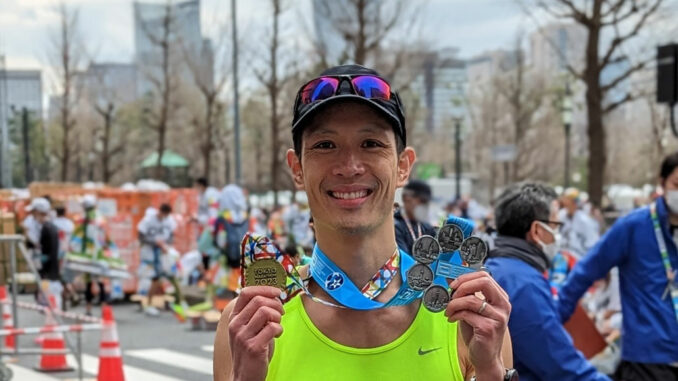 Justin Pang is a goal-setter.
While his 5-year-old kid proclaimed that "my dream is to live at home with my family and friends forever," years ago dad Justin committed to a somewhat more athletic aspiration.
In March of 2023, Pang achieved his herculean goal of becoming a Six Star medalist for super marathoners.
Pang wasn't always into running. In 2008 while working with a non-profit in New York, he remembers watching the marathon in the city and thinking that the runners were crazy but inspiring.
As a child, he had no interest in running but in 2010 decided to take it up casually as a way to stay fit.
When his job took him to Tanzania he continued running and in 2012 while studying for his MBA in London, was convinced by a classmate to run his first marathon.
He notes that he didn't take that first marathon in Paris very seriously even though he ran it in a decent time: three hours and 45 minutes.
Then he got hooked.
"What if I trained a bit more?" he wondered.
Returning to New York for work, Pang joined the New York Road Runner club and registered for the New York marathon.
Pang has now completed an impressive 10 marathons, two of which he completed in under three hours.
While he notes that there have been several ups and downs in his running career, including developing an eating disorder from which he has now recovered, he has kept his love of the sport alive.
For Pang, most of his runs are done alone in nature, which he finds to be "meditative and restorative."
As he completed more and more marathons, his goal turned to attaining the Six Star medal by completing the six major marathons: New York, Chicago, London, Boston, Berlin and Tokyo. With Paris and New York under his belt, he moved on to Chicago in 2014, New York (again) in 2015, London in 2016, Boston in 2017, Berlin in 2018 and then?
Covid.
As with many other events, marathons were cancelled and Pang was unable to complete his Six Star goal. At least not then.
But with the encouragement of his wife Jennifer and his two young kids, he ran virtual marathons around Leaside during the pandemic.
And when the world reopened, the Tokyo Marathon was rescheduled. Thousands of runners flocked there, including 3,000 in pursuit of their Six Star medal. The large number of athletes receiving their medal was a Guinness World Record in itself.
Among those athletes was Justin Pang. On March 5th, he reached his ultimate goal of finishing the sixth major marathon.
He is still on cloud nine over his massive achievement, but is looking forward to a slightly less intense approach to running.
Pang still runs downtown to work once a week and plans to continue running casually. He might compete in half marathons or 10 km runs but will take on a far less demanding schedule.
He has also restarted playing hockey and joined the Leaside Tennis Club to spend more time with his wife.
And he will continue to, as he notes in his Twitter profile, "stay curious and keep exploring."