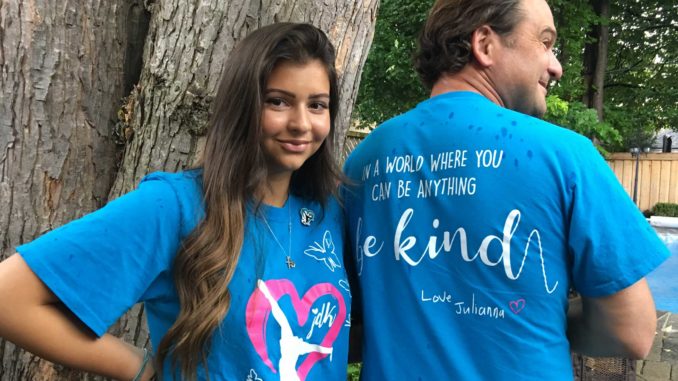 Kindness and caring go hand in hand, and both appear to be in ample supply in Leaside.
Tragedy brings pain and suffering yet one Leaside family has transformed their pain into a precious gift honouring and celebrating the life of 10-year-old Julianna Despina Kozis, their beloved family member who lost her life in the Danforth shooting rampage last summer.
Julianna's cousin, Leasider Anastasia Kanellakis, and her family were devastated by the horrifying events of that July day in 2018. But instead of standing still in their grief, later that year, Anastasia approached her dad Steve and wondered what could they do to encourage kindness in the face of all the violence. Steve embraced the idea.
They got busy organizing, with three guiding goals. "The core of Julianna was kindness, so one of the most powerful tributes is ensuring her bright light continues to shine, inspire, and bring hope to the lives of others who most need it," said Anastasia. "This entire event will feature kindness. We'll paint kindness messages on rocks and place them where they may inspire others to Just Do Kindness. The second goal is to manifest Julianna's spirit of fun with a slime booth – she loved slime – jumpy castles, face painting, a silent auction, and food, lots of Julianna's favourite food."
Steve added, "The third goal was to raise funds for a worthy cause, in Julianna's memory. And did we ever. We'd hoped to cover our costs, yet the proceeds of the event and the kindness t-shirts and pins we sold exceeded $25,000."
Anastasia recalled, "As the plan emerged, we reached out to a few people asking for donations." Added Steve, "We were overwhelmed with gratitude for all the offers we received. Family and friends stepped up. The Markham community where Julianna lived opened their hearts and wallets, offering a multitude of volunteers and all the necessary elements, including Markham's Mayor Scarpitti's ensuring Fincham Park, which backs onto the school Julianna attended, was theirs for the day."
The beneficiary of the funds raised is Dr. Jay Children's Grief Centre, to commemorate Julianna Kozis. It offers grieving families and children respite and community with other families suffering profound loss. The funds included additional donations after the event, including generous gifts from family and caring friends. On Oct. 1, 2019, the JDK Foundation presented a cheque for $75,000 to Dr. Jay Children's Grief Centre, enough to run the Kindness Camp for three years and provide a small seed fund for future initiatives. Most of the $75,000 was raised the day of the event.
"We can all honour Julianna and celebrate her life by being kind, so that kindness becomes an instinct and ripples everywhere," said Anastasia. Hand-painted Just Do Kindness rocks have shown up in places as far-flung as Thunder Bay, Fiji, Venice, Lake Louise, Mexico, Tuscany, Fenway Park and one at the bottom of a lake, placed by a caring young swimmer, his kind message rippling through the water.
To learn more:
Visit the Just Do Kindness Foundation on Facebook https://www.facebook.com/justdokindness/ or on Instagram at @justdokindness.
Dr. Jay Children's Grief Centre's Camp Kindness: https://drjaychildrensgriefcentre.ca/the-jdk-foundation-camp-kindness/
.