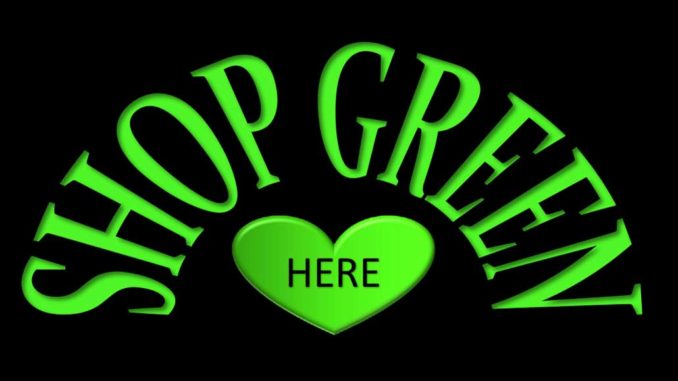 Leaside has more businesses that cater to our green living needs than any other neighbourhood in Toronto. …At least that's what we think from our own research. And with such a tremendous variety of products and services to choose from, these businesses are making it a lot easier for us to be green.
But we wondered if Leasiders are aware of how many green options we really have in our neighbourhood.
As consumers, we're becoming more conscious of what we buy
We made up some Shop Green signs hoping to identify every business in Leaside that provides us with eco-options. With a list of about 20 green businesses in hand, we set out to do two things. First, to thank these businesses for their green efforts, and second, to help us as consumers know where our green options are.
We are thinking more about our health and the health of the planet
One of our first stops was George at Peaches and Green on Bayview because he's a green pioneer and for 30 years has been providing Leaside with natural health and wellness products, organic foods and even locally made (Lainnir) natural cleaning products.
For us, it was the pride we felt from George as he accepted his Shop Green sign because being acknowledged for his efforts was like receiving an award. We shared a wonderful conversation on the importance of green living and he gave us the fuel we needed to continue.
Now there are more than 30 Shop Green signs in store windows throughout Leaside (with more to come), and many are in businesses that you might not have expected because it's not just about our wide variety of organic and ethical food choices.
Did you know you can get that hard-to-find organic cotton t-shirt at Cornflower Blue? That The Smokin' Cigar carries organic tobacco? Or that Perri & Palmacci Hair Company uses organic hair dye?
We have Davenport Garden Centre that brought us neonic-free plants and pre-started organic herbs and vegetables so we can grow our own food, and Bloom Beauty introduced us to natural cosmetics and beauty products.
And there are so many more.
But how many of us think about the shops that cater to maintenance, resale, repair, restoration, alterations and reuse? These are the businesses that keep our products out of landfill for as long as possible.
We're thinking more about the amount of waste we produce
Need a new chair? Mac Fab can reupholster your old one and it will be better than new. We can get our shoes fixed or dyed a new colour at Millwood Shoe Repair & Skate Exchange. Why buy a new toaster if Fix It Again Sam can repair it? Irene's Studio transformed a mother's wedding dress to become her daughter's wedding dress, and Pagnello's Antiques resells and restores antiques and vintage pieces to live on for another generation or two. We have shops that repair bicycles, jewellery, watches, clocks, lamps, furniture and more – and they are all right here in Leaside.
We're hoping these Shop Green signs will show us how easy it is to find eco-products and services in Leaside and, at the same time, give a nod to our many businesses helping us to be greener.
If you're a Leaside business offering an eco-option and would like a Shop Green sign, let us know at , and if you have a favourite Leaside green business, there's still time to nominate that establishment for a Green Heart Award.
The next time you're out shopping local, keep an eye out for the Shop Green signs because that's where the green hearts are!
Here is a list of the current Shop Green stores with the products and services they provide: https://leasidelife.com/shop-green-here-leaside-participants.
The Leaside Green Awards will be announced in the April issue. There's still time if want to nominate one of your green heroes. The deadline is March 6 and details can be found at: https://leasidelife.com/leaside-green-introducing-the-leaside-green-heart-awards.