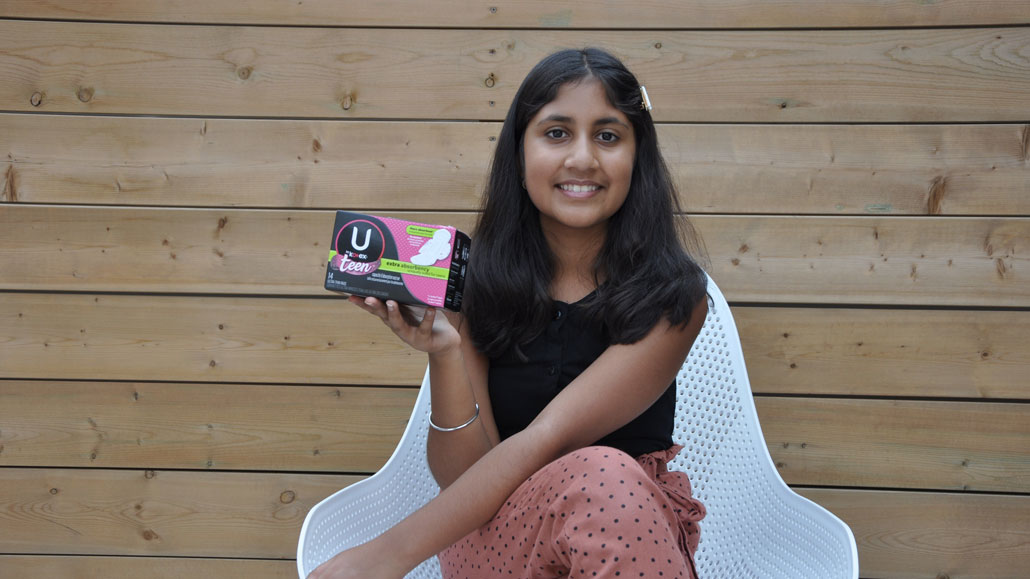 When 10-year-old Bani Arora heard from a classmate that she had to wait until she went home to change her feminine hygiene product, it got Bani wondering.
How many students were too embarrassed to ask to go to the washroom to change their products? How many were too shy to go to the school office to ask for a pad or tampon if they didn't have one? Did students even know that products were available to them at school?
So, the Bessborough student put these, and other questions into a survey – "Menstruation Accessibility at Bessborough" – and had it distributed online to all girls in Grade 4 and above via their teachers.
With 59 responses, Bani's survey revealed the following:
• 89% of the respondents indicated that they are concerned about access to menstrual products while at school.
• 67% of the respondents thought it would be helpful not to have to ask for a pad/tampon in an emergency.
With these responses in hand, Bani met with the administration to discuss the findings.
She would like to spread the word to students that feminine hygiene products are available at the school.
As many girls might be embarrassed to ask for a pad or tampon, she would also like products to be accessible in a discreet spot. These could include drawers or cupboards in both the school office and classrooms.
She would like to see education about menstruation delivered to both boys and girls.
With two brothers, Bani notes that "it would be easier if boys knew."
According to Sanjay Wijesekera, UNICEF's former Chief of Water, Sanitation and Hygiene, "Meeting the hygiene needs of all adolescent girls is a fundamental issue of human rights, dignity, and public health."
Bani agrees, pointing out that if schools are required to provide essential hygiene items such as soap and toilet paper for students, they should also acknowledge that feminine hygiene products are essential too.
Recognizing there are many girls and women in the city who might not have access to feminine hygiene products, Bani would like to organize drives to collect menstrual supplies for other schools, food banks, and women's shelters.
And as a reminder, Bani is TEN years old. Says her mom, Ruby Singh, "I'm blown away by this little girl, but she's always had a big heart."
When a 10-year-old casually rhymes off names such as Viola Desmond, Ruth Bader Ginsburg and Malala Yousafzai and points out that she's inspired by "anyone who fights for equal rights," there's a good chance this is a girl who will do great things.