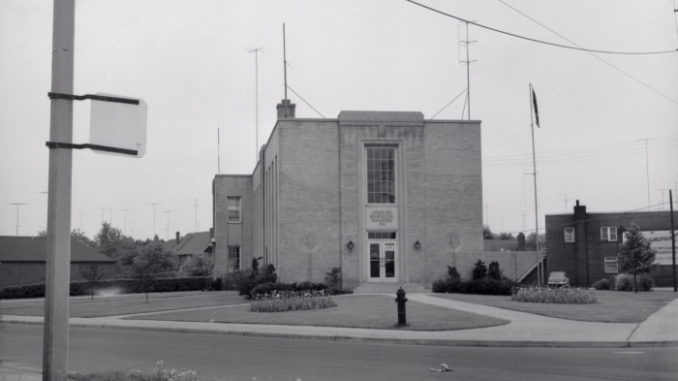 As you know the Toronto Official Plan currently designates land east of Laird and south of Eglinton as the Leaside Employment Area. But do you remember when Leaside had its own official plan?
That was a time when we were actually able to control what was built in our own community. The Leaside Official Plan designated what is now called the Leaside Employment Area, as the Leaside Industrial Area. At that time the Leaside Industrial Area was truly a manufacturing centre that not only created employment but allowed the residents of Leaside to enjoy the lowest property taxes in what was then Metropolitan Toronto.
If you do remember those days, you will also recall that the south-east corner of Eglinton and Laird was the site of Sagamo's nine-acre plant, employing almost 1,000 people, producing electric meters and motors shipped to 36 different countries around the world. Today it is the site of a Canadian Tire store and three other retailers.
In 1972 George Goldlist, whose company built the two 43-storey apartment buildings in Thorncliffe Park, proposed to build similar apartment buildings on this site. But because at that time we were actually able to control what was built in our own community, East York Council killed the Goldlist proposal.
You may recall as well, when Regal Cards printed greeting cards on the south-west corner of Eglinton and Brentcliffe where Steve Diamond wants to build a 34-storey residential condo building. Across the road on the south-east corner, now the site of Staples and three other retail stores, Phillips Industries manufactured tubes for television sets.
Do you remember when Corning Glass, that made the first heat resistant glassware in Canada, and Honeywell Controls, that manufactured the thermostats that turn on and off our heating and air conditioning systems, were located in the Leaside Industrial Area on land now occupied by a large number of townhouses and three high-rise residential apartment buildings?
You may recall that made-in-Leaside varnish produced on Canvarco Rd. by Canada Paint and Varnish was sold from coast to coast in Canada, or that the E.S. and A. Robinson plant on Esander Dr. sent its products around the world.
Perhaps you may also remember when Industrial St. was home to both Apco Industries, the manufacturer of solvents, and Canadian Bitumuls that made the asphalt used to pave our roads.
At that time 1 Laird Dr. wasn't a self-storage warehouse but the Corrrugated Box Company that actually manufactured the boxes now merely stored on the premises. Further north on Laird the Pease Foundry manufactured gas furnaces and the Leaside Iron and Ornamental manufactured office furniture.
Fortunately, the arc-welding manufacturer Lincoln Electric and the paint maker Tremco are still located on Wicksteed Ave., but another manufacturer, Metals and Alloys, is long gone from that street while Parkhurst Knitwear will soon be gone from Research Rd.
I am sure you remember that Canada Wire and Cable use to manufacture cable for Ontario Hydro and fibre optics for Saudi Arabia where the big box retail stores of SmartCentre One stand today. But perhaps you don't remember that the Javex Company used to make disinfectant and bleach where the big box retail stores of SmartCentre Two will soon be built.
If you really do remember when the Leaside Industrial Area was a true manufacturing centre, then you must also remember a time when, unlike today, we the residents of Leaside were actually able to control what was built in our own community.
According to Walter Hines Page, "There is one thing better than good government, and that is government in which all people have a part."