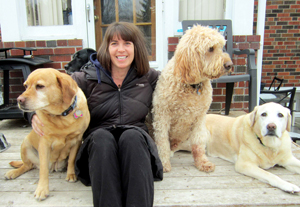 Leaside dog walker Becky White, who started a dog blog last year and is now read in 28 countries, recently asked neighbours to help find dog collars for an organization called Pattison K9 Rescue Team. She had four business days, she said, to get the collars to someone from the team on the way to Mexico. Here is the story of what happened from her blog, dogstwentyfour-seven.wordpress.com.
I shared my desire to collect both new and gently used collars on Facebook, Twitter and by word of mouth. I mentioned my cause to the families whose dogs I walk, friends with dogs, and to my dog walker community.
I even told people I know at the dog park of my little venture, which unfortunately was quite a time crunch.
Magic soon started to happen; I was so thrilled.
By the second day 25 collars had been passed my way. People left them on my front doorstep, in my mailbox etc. Dog walking friends would pull them out of their dog pouches and say that they were from their clients.
One dog-walking friend had collars for me and both of us realized that we would not be at the park at the same time. I suggested she leave them in the tree where walkers hang their leashes. Thankfully, they were there when I went to pick them up!
Not one person wanted the "glory" of being a contributor – it was all anonymous. I started piling the collars onto a counter in our dining room. At the end of each day I would look at them and pick them up wondering what stories each collar could tell.
One simple faded blue nylon collar caught my eye. It had a small clump of dog fur on it and I actually got choked up (I cry easily). It obviously had been around for a few years but was in perfect shape without a rip or loose threads. The buckle was in wonderful condition and will serve a needy dog well.
By the last day of my plea to dog lovers almost 90 items sat on my counter. There were brand new collars with sparkly jewels on them, leather ones, funky fabrics and patterns, and dozens of well-loved canine neck bling. Brand new leashes and body harnesses were donated along with everything else.
One of my dog clients sweetly wrapped two collars and a leash in a ribbon and simply wrote on the donation, "For a dog in Mexico, Love Shuga," their dog's name.
I put a note on one of our favorite collars that Abby used to wear, saying best wishes from Toronto. Our family unloaded all our puppy collars we had kept for sentimental reasons and a collar from our handsome Chocolate Labrador Chip who is no longer with us.
I must admit I had a twang in my heart passing it on but love the idea that it will help out a dog in need elsewhere.
Julia, the (the Pattison K9) volunteer, came to my house to pick up the haul. It was great meeting her and hearing about the trip… Julia mentioned that, with the collars I collected, she will have 200 to take to Mexico!
Special thanks to my dog loving friends in my community and to my dog walker buddies – Ann Brown of Wiggan's Pack, Deborah Lynch of Scamps Pet Care, Alexandra Sleightholm of Care of the Dog, Nafisa Noorani of Dog Walking and Jennifer Ego of Pawsitively Pets for putting out the word and gathering awesome donations.