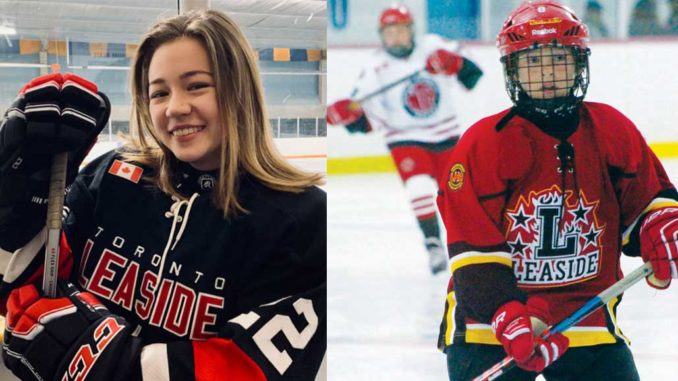 Every year, early in November, my mind and memories turn to house league hockey at Leaside. After the last 18 months of Covid, safely returning to boys and girls hockey at Leaside is a small light at the end of the pandemic tunnel. We're not there yet, but we're on the right path with more than three-quarters of Ontarians with at least one vaccination dose (October numbers).
As I wrote in this space before some years ago, my twin brother Tim and I played house league and occasionally Select (then called All-Star) hockey at Leaside from the time we were about nine years old until we went off to university. Then when our sons, who were born just a few days apart (cue the twin jokes), were old enough to play, we coached them in house league and cheered them on in Select until they went off to university. The circle of life in Leaside. So, I'm thrilled for the kids who are returning to the ice.
I remember being so excited and a bit anxious every Saturday morning as we donned our hockey gear in our basement. Then our dad drove us over to the arena with just our skates left to put on when we got there. It took Tim and me a few years to understand that the cool kids always dressed at the rink, not in their basements. One year, our dad forgot to ask the convenor to put us both on the same team. That meant spending twice as long at the arena – except when we played each other. From then on, we were always on the same team. Our coaches invariably put us on the same line, Tim at centre, and me at right wing, believing that twins would have an innate sixth sense of where the other was, which would surely lead to tape-to-tape passes and lots of goals. Alas… no. Not even close. Seemed like a good theory, but it generally failed on the ice. When Tim did happen to hit me with a perfect no-look pass, he was usually shooting and missing the net by such a margin that it looked like a pass.
But we loved every minute of it. I remember turning on the boyish charm and selling raffle tickets door-to-door. If we sold all three books of tickets we'd been assigned, we earned ourselves a colourful Leaside Hockey Association jacket. I had two over the years. My first was green, followed later by a red one. We just felt on top of the world wearing our hockey jackets to school like the really cool kids. A few months later, we returned to the same people who had kindly bought raffle tickets and sold them tins of peanuts to finance our All-Star team's trip to a hockey tournament in Boston, a highlight of our Leaside hockey career. I seem to recall my parents bought a few cans (or maybe cases) of peanuts to ensure we "sold" our quota. It got us to Boston.
Saturday mornings were filled with hockey-related rituals. Neither Tim nor I could ever eat much for breakfast on hockey days, and that continues to this day. Every second week, the legendary Peter Mahovlich Sr. would sharpen our skates in his little booth near the Zamboni bay. We'd sit in the dressing room as our dad tied our skates while we'd anxiously eye the door waiting for our best player to arrive. It was always a relief when our star hustled into the room. If we won the game, and sometimes even if we lost, the parent who drew the short straw would eventually enter the dressing room carrying a wire tray of sorts bearing a selection of soft drinks, one for each player. Almost as good as winning the game.
So, at this time of year, particularly after what we've been through and are still battling, I'm thinking about the kids (and the parents) as another season gets underway at Leaside Gardens. Playing house league hockey was a big part of my childhood. I still miss it.