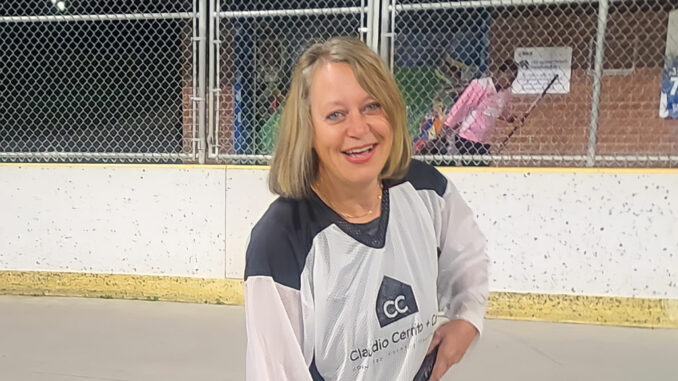 Love sports and are looking for ways to engage with like-minded people in the 'hood? Need encouragement to get moving or to try a new sport? Want to read interesting articles about movement and nutrition?
Pamela Haines has your back.
The energetic Leasider has founded the "Leaside Active Women's Group," on Facebook.
Haines is what you might refer to as a multi-multi-multi-sport athlete whom her friends call "a machine." The dietician and real estate agent has what she calls "boundless energy."
Perhaps you've seen her cross-country skiing through the neighbourhood. But skiing is only one of her many activities.
Her sports include swimming, tennis, ultimate frisbee, squash, curling, hiking, rowing, walking, hockey, skate-ski, ball hockey, paddle boarding and daily HIIT (high intensity interval training). Phew, I'm tired just writing this list.
During the lockdown, Haines keenly missed the interaction she enjoyed on a tennis court or in an ice rink.
With the majority of restrictions lifted, she was eager to reconnect with other likeminded folks. And what better way than through sports?
In her introductory post, Haines described the Leaside Active Women's Group as "a forum for bringing great bodies and minds together to discuss, challenge, engage and recommend how to stay physically and/or mentally active. This group can also be a springboard for actually meeting up and engaging with others physically and mentally through sports and leisure activities."
Women in the Facebook group have already organized and met up for runs, paddle boarding excursions, bike rides, hikes and walks/runs on the dreaded, yet awesome stairs at Talbot Park.
There is also a regular Monday evening walk, which occasionally ends with a well-deserved libation at a local establishment. And if you don't have the time to meet, the site is a great place to read articles on nutrition, the benefits of movement, and ways to begin or return to being active.
Women have also shared links to classes, sales on sports equipment (high fives to those who purchased their paddle boards on sale!), and provided tips on great local spots to hike or bike.
Sports have a way of bringing people together. And the Leaside Active Women's Group on Facebook is a terrific spot to meet neighbours virtually, arrange to join them in person, and learn about nutrition and movement.