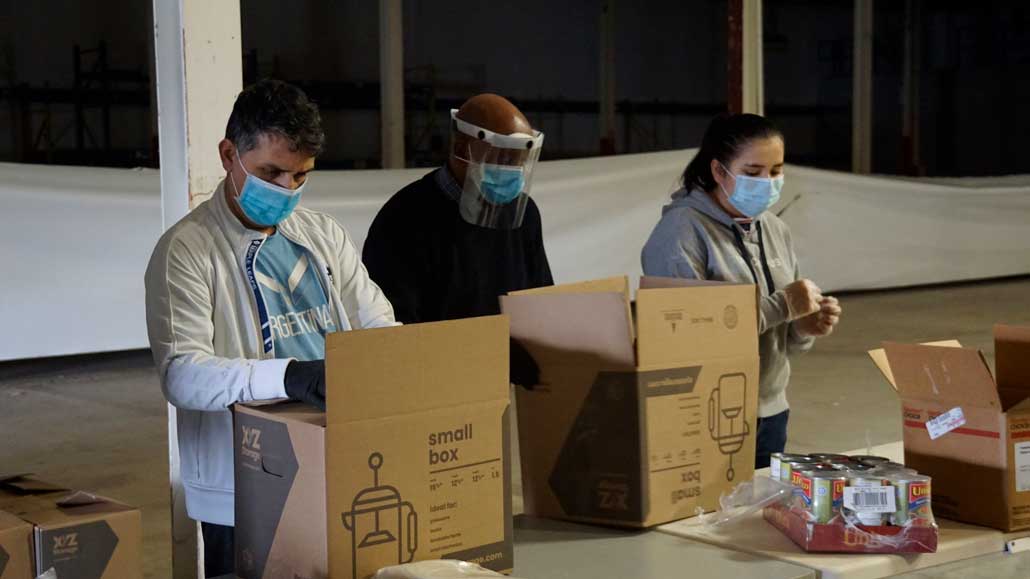 Thorncliffe Park is a dynamic and vibrant neighbourhood of 30,000 people, with 64 per cent of the households consisting of immigrants.
The neighbourhood celebrates its multicultural pride through community fairs, markets, and the ever-popular Neighbours' Night Out.
Unfortunately, it's a neighbourhood with almost 46 per cent of households living at, or below the poverty line, and 53 per cent of kids living in low income families.
With the onslaught of the COVID-19 pandemic, families in Thorncliffe Park have been profoundly affected by the loss of employment and lack of access to meal programs for kids at Thorncliffe Park School.
With the need at such high levels, The Neighbourhood Office (TNO) in Thorncliffe rallied employees and volunteers to feed neighbours through an emergency food bank.
Staff quickly realized that the TNO's existing office space was too cramped for a food distribution program, especially for adhering properly to the social distancing recommendations. The loan of the Masjid Darus Salaam by the Islamic Society of Toronto at 20 Overlea Blvd. was a greatly appreciated gift.
Susan Wright from summerlunch+, whose company has provided lunches for the TNO summer camps for the last five years, offered her assistance to help set up the distribution centre and to reach out to Second Harvest, which now supplies weekly produce for the program.
With a plan in place, a space from which to work, and an enthusiastic crew to take on the work, TNO is now delivering free food boxes to 600 families and seniors.
The boxes are filled with non-perishables, as well as fresh produce, milk donated by Coca-Cola, eggs supplied by Braeburn, and other items from multiple generous donors.
TNO Executive Director Ahmed Hussein, notes that, "due to COVID-19, there is so much food insecurity. TNO felt the need to respond to the situation by appealing to the neighbouring community and donors to address the need."
When Leasiders became aware of the program through Facebook posts and email chains, the response was instant and immense. Coordinator of the food bank, Aamir Sukhera, was "blown away" by the generosity of the Leaside neighbourhood.
The Leaside Toy Drive lends support
The Leaside Toy Drive group also threw in their support and donated $5,000, set up a GoFundMe page, arranged for fridges to be loaned to the centre, and contacted several food companies which have donated a massive amount of food.
XYZ storage has donated all the boxes required to make deliveries, while Andy Elder, owner of Grilltime, collected $750 in donations at his store and generously matched that amount for a $1,500 donation to the program.
TNO plans to keep delivering food boxes as long as they can.
Food items can be dropped at 20 Overlea Blvd. (the parking lot is behind Tim Hortons). Donations are accepted Mon.-Fri. from noon until 4 p.m. Contact Aamir Sukhera when you're en route to let him know you're coming: (416) 346-3000.
Food items requested: vegetable oil (3l), rice (basmati 4 kg), all-purpose flour (2 kg), pasta (900 g bags), sugar (2 kg), tomato sauce (1.36 L), kidney beans (540 g), mixed beans (540 g), chickpeas (540 g), canned tuna (170 g), lentils (5 kg), mung beans (5 kg), oatmeal (1 kg).
The Toy Drive GoFundMe page can be accessed at https://ca.gofundme.com/f/thornecliffe-park-food-drive.
The TNO is accepting donations through Canada Helps https://www.canadahelps.org/en/dn/14733 (which offers tax receipts). In the message section, note that you'd like your donation to go to the food collaborative.
To learn more: https://tno- toronto.org/donate.