Food can be a great comfort in times of need. There is something about a hot, home-cooked meal that warms the belly as much as the heart. For those who are finding difficulty with shopping, commuting and cooking, a good meal often falls by the wayside in favour of something fast and easy.
East York Meals On Wheels (EYMOW) has been serving Leaside and the surrounding area since 1969 to help locals eat well. You may remember the Meals On Wheels commercials from back in the day, but many may not know that the organization is still helping neighbours today.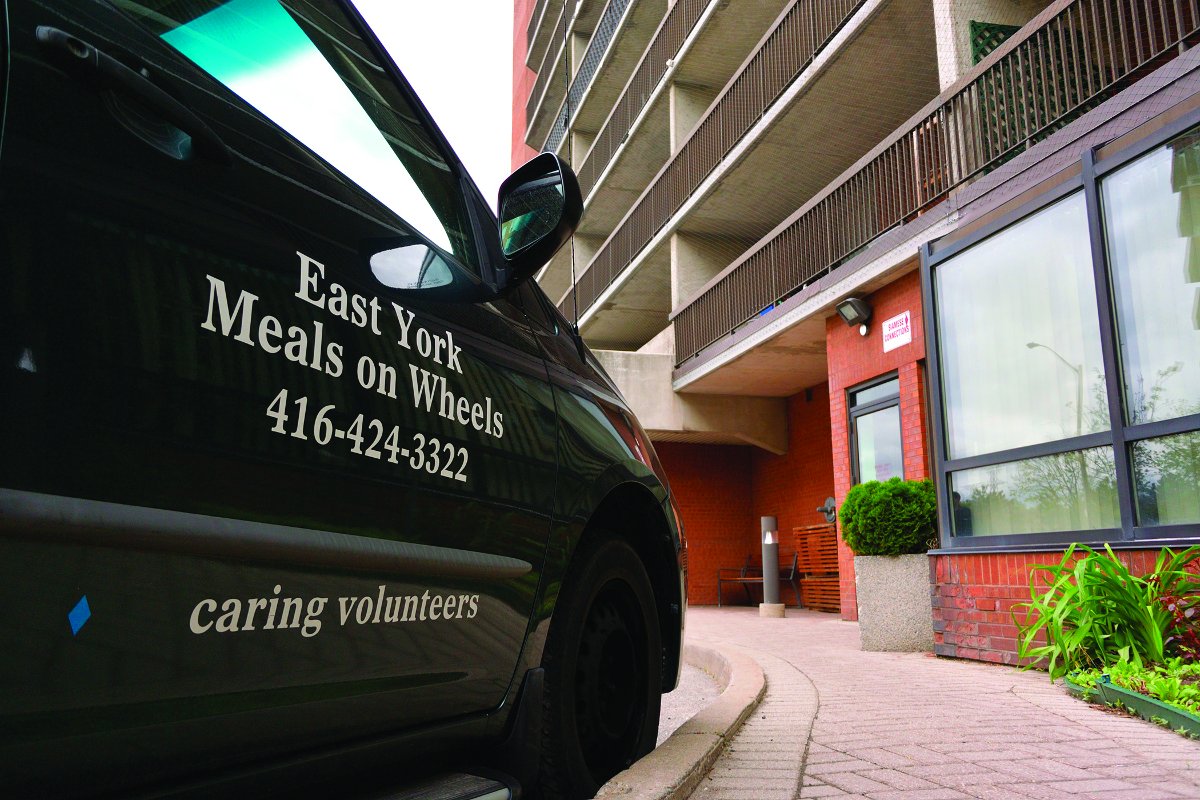 Currently, EYMOW has 100 volunteers who donate their time either to drive or run the food into the client's home. The staff cater to more than 200 people in East York, and Anne MacNeill, executive director of East York Meals on Wheels, said they're always looking for more volunteers. Whether to drive or to socialize with the clients during drop-off, the connections these volunteers make with clients is priceless on both sides. The volunteers get to connect with community members, stay active and involved. For the elderly or disabled who use the service, the service provides an invaluable social interaction they may not have enjoyed otherwise.
MacNeill said drivers usually take an hour or two driving to 12-14 clients, and it's usually the same people, so there is an opportunity to build relationships. If you're thinking about volunteering, know that even if you have time only once a week or once a month, they'll make it work and would appreciate the help.
So what makes EYMOW so special? MacNeill said, "Our services are very human. We personalize service and are extremely responsive. Our volunteers and staff care about the people we serve. Our bottom line is people, not profit."
EYMOW is a non-profit organization, and that's why they depend so heavily on donor generosity and the support of their volunteer base. According to the Ministry of Finance population projections, the number of seniors in Ontario is estimated to more than double from 2.2 million (16%) of the population in 2015 to more than 4.5 million (25%) by 2041. With changing demographics and rising number of seniors in Ontario, MacNeill said she wants to make sure that people know East York Meals On Wheels is there for those who need it. Although "there are now more for-profit delivery services that people can use, they are much more expensive than we are."
EYMOW has hot and frozen entrées or meal packages on offer. Clients choose how many they need and how often the meals should be delivered. Need a low-salt meal, they have you covered. Low-fat? They can do that too. Minced? Puréed? Diabetic? No problem. The menu rotates on a 28-day schedule and offers western meals as well as Chinese meals that are well-rounded and nutritious. Each meal includes two slices of whole wheat bread or rolls with margarine, a cup of soup, a main course with protein, starch, vegetables and dessert. Here's an example: Lentil soup, roasted turkey with gravy, scalloped potatoes, yellow beans, two pieces of whole wheat bread and lemon pudding for dessert.
EYMOW hopes to increase clientele in 2017. The plan is to "reach everyone who could benefit from our services and to attract enough volunteers and donors to ensure that our services are sustainable."
If you'd like to join EYMOW as a volunteer, donor or client, visit www.eastyorkmealsonwheels.org, email