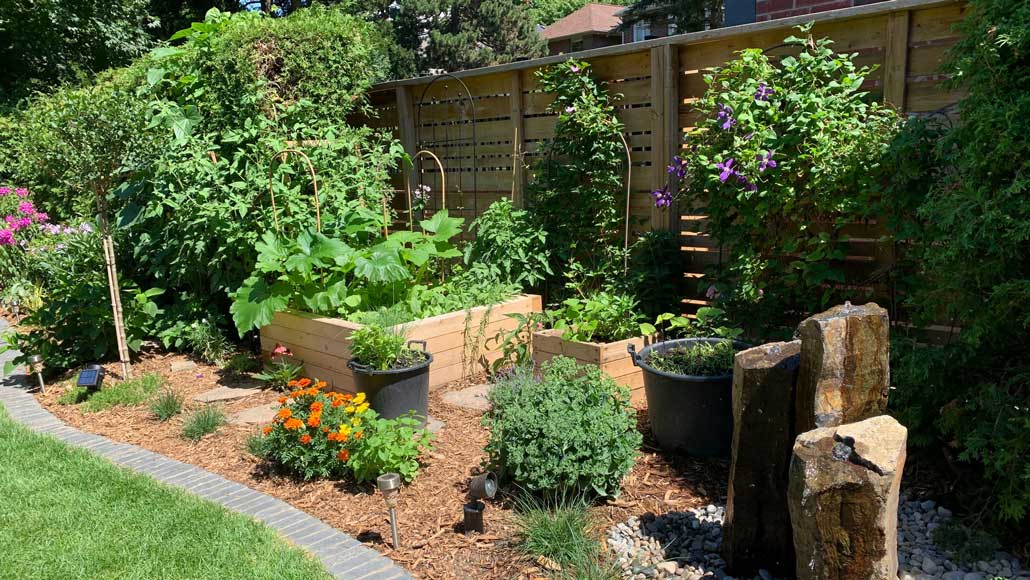 Spring is just around the corner and every Leaside gardener I know is itching to dig in. But this year, let's take a quick look back first.
It was a year ago this month that we entered our first lockdown and suddenly everything changed. How we work changed, how we shop and even how we gardened.
Last year, the sales of native plants, pollinator plants and drought tolerant plants were the highest they've ever been. The sales of seeds, herbs, fruit and vegetables broke records and even exhausted supplies.
But I wonder, was it really the pandemic and lockdown that changed the way we wanted to garden?
We embraced the wild side
I spoke with Karen Keay from keay+summers landscape design inc. to get her take on this. She's a Leasider and a 20 year member of the Leaside Garden Society who really knows her plants and together with her partner Terry Summers, they've been designing gardens to be not only beautiful and functional but environmentally responsible too.
Karen says "Our clients are busy people who are tired of the maintenance required to keep a perfect lawn. They are fully aware of the trend towards native plants and pollinator gardens but don't know how to incorporate them into a cohesive design. They trust our expertise to create a garden design that will work well for them and the environment."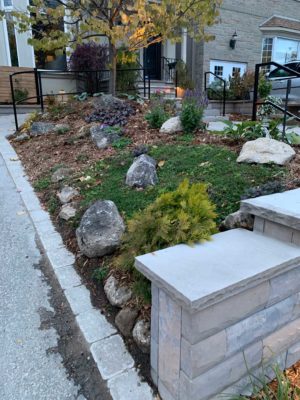 Last year, two of their Leaside clients had their hard-to-keep and dying front yard lawns removed and replaced with heat and drought-tolerant, low maintenance native plants, groundcover and grasses. "These gardens will be spectacular in the spring and summer this year!" Karen went on to explain how more than half of these plants will attract pollinators through the spring, summer and fall. Other plants added will offer off-seasonal interest as well as provide food, shelter and nesting materials for local wildlife.
We grew our own food
"Growing some fruit, veg and herbs is one of the most life-enhancing, practical and enriching things that anyone with a scrap of land can ever do." – Monty Don
Last year, more Leasiders embraced food gardening and some for the very first time.
Another one of keay+summers Leaside clients wanted to update their backyard (as they were spending so much time at home in 2020) to include a veggie garden and pollinator plants.
To complement the existing perennials and crab apple tree, Karen and Terry expanded the planting area to include raised beds for vegetables, a serviceberry and a Clematis for vertical colour and interest. To soften the raised beds, pollinator plants, native grasses and groundcovers were added. To stimulate the area, they inserted a water feature to invite lots of birds, butterflies and bees.
To me, this is a really good example of foodscaping!
Foodscaping
It doesn't matter how big or small a growing space is and there's no need for an isolated vegetable patch. Foodscaping is about growing edibles within and throughout your existing garden and this concept works well for patio and balcony gardens too. Simply mix your fruit, veg and herbs around your flowers and evergreens to make your garden both beautiful and functional.
This will be even easier to do this year with so many new dwarf fruit and veg plants available. Look for dwarf fruit trees (suitable for growing in containers) mini berries and tiny vegetables (for hanging baskets and window boxes) along with the first ever corn you can grow in a container called On Deck F1 Corn. I will definitely be looking out for this one!
Lessons Learned
The pandemic along with supply shortages and extreme weather made gardening in 2020 more than just challenging, it was a nightmare. Yet somehow, Leaside gardeners found new ways to garden and did so with a greater purpose in mind.
How and why we gardened last year will have an effect on how we garden this year and will most likely continue from now on. The Garden Media Group has called this The Great Reset. I just call it great!
Get ready, get set and grow!
For more information about keay+summers landscape design inc. visit their website at keaysummerslandscapedesign.com