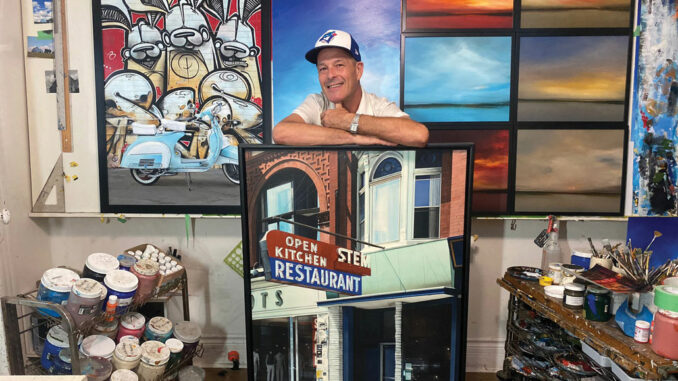 Scott Steele is finally following the path he set out on as a young man.
Now in his 50s, the former Leasider has become a full-time artist. Growing up in what was then small-town Niagara-on-the-Lake, Scott always had an interest in the arts. After high school, his first foray into continuing his education was to study graphic arts at George Brown College in Toronto. That lasted for 18 months until he decided he "didn't like this course."
Instead, he took up employment at Apple Canada in its early days – he was employee 112, not actually interacting with computers, but working in the warehouse. Another 18 months, and he was off again. This time, though, a friend in the fashion business encouraged him to try modelling. This enabled him to travel to Paris, Milan, Japan, South America, but without a lot of money, he ended up spending a lot of his free time in galleries, enjoying magnificent art.
Back in Canada, wanting to return to school, he worked as a bicycle courier while attending and graduating from the International Academy of Design and Merchandising. With his then-girlfriend and future wife, Judy Petersiel, the two started a business – Petersiel Steele Design. They chose Leaside as a location for the business, and for their home. It had that "great feel of a small town" while also being part of the big city. Leaside turned out to be a place they wanted to stay while raising their two children as well.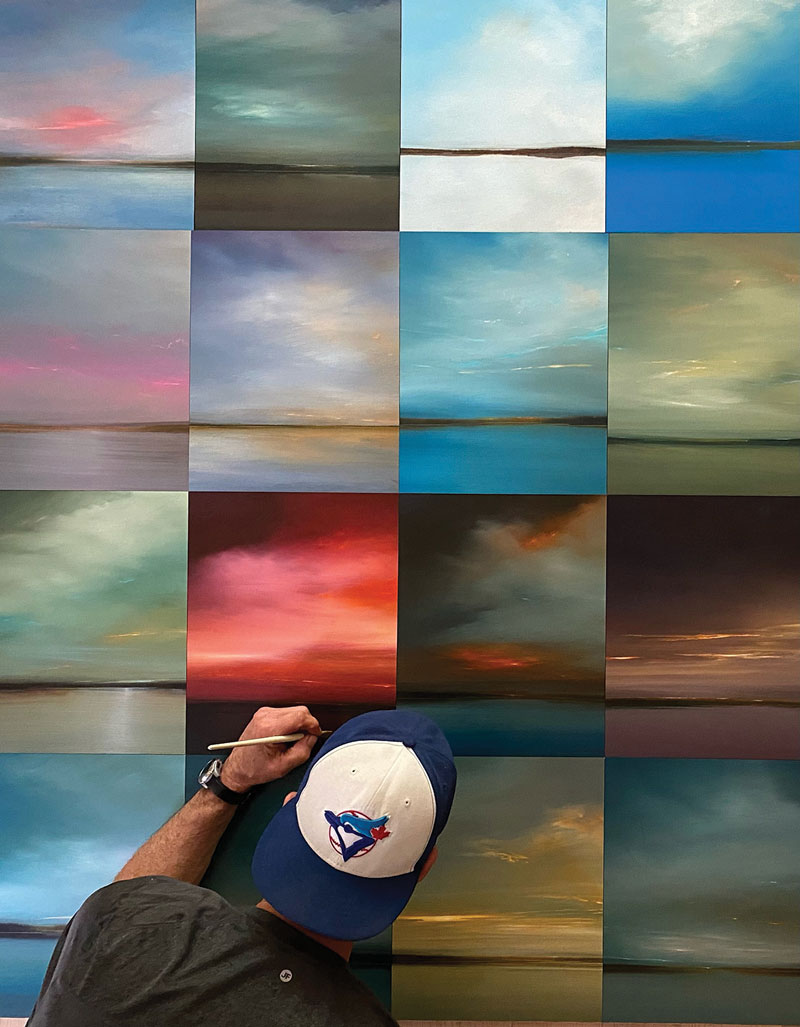 On an outing to the Distillery District, by complete happenstance, Scott acquired the lease for prime space to set up a gallery. His intent was to "create something like an artist commune, but that didn't work out," so after seven years, the time came to let it go. One visitor to the gallery, artist Ken Danby, introduced him to Louis K. Meisel, who owned a gallery on Seventh Avenue in New York City. Meisel asked if Scott would like to show at his gallery. Who could say no to that offer? Those works sold, and were a huge validation of Scott's ability as an artist.
This leads to the next chapter. Two years ago, after painting on the side for all these years, Scott decided the time had come to go full-time as an artist. On the down side, this decision meant ending his marriage and leaving his family in Leaside.
Now he has a home studio in the Annex "with a beautiful view of the backyard." He doesn't rely on natural lighting as he "works all hours of the day and night." His style is realism, with influences from Edward Hopper, Alex Colville and Mary Pratt, among many others. Several of his paintings, he says, are "structures that remind me of my youth and remind me of simpler times." Other paintings, of sunsets, for example, are done with "no direction. I work on them until I feel they give some kind of emotion, lighting effect or simply look pretty."
Where to see Scott's work? Art Interiors on Spadina – https://artinteriors.ca/