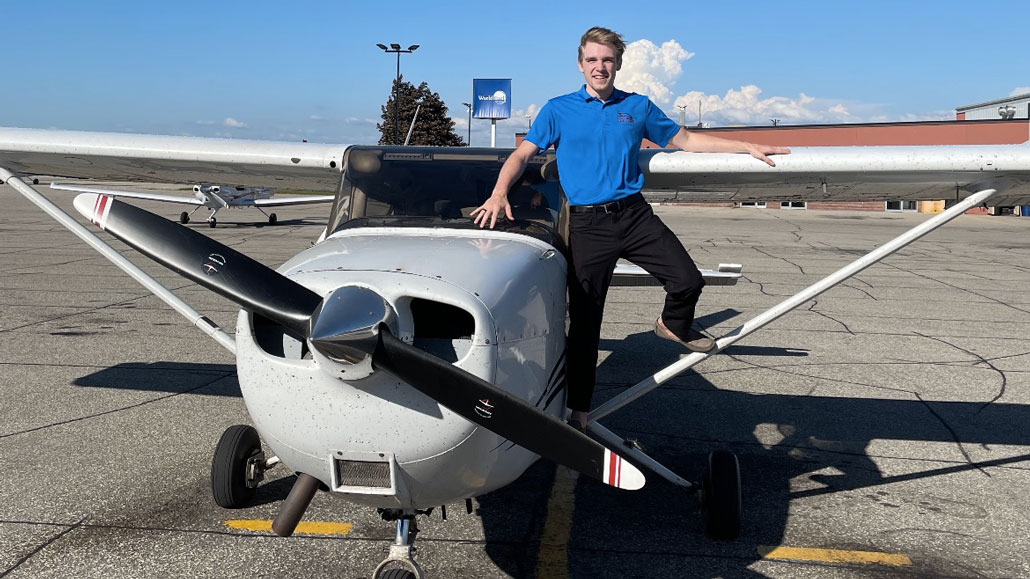 "To most people, the sky is the limit. To those who love aviation, the sky is home." —Jerry Crawford, U.S. Air Force.
The amount of air traffic over Leaside has long been a bone of contention for many residents.
But for 20-year-old Brett Champion, watching planes fly over his house as a child was always a huge thrill.
The graduate of St. Anselm's and Leaside High was fixated on planes from a young age. From LEGO to Play Mobil, from model to paper planes, he couldn't get enough of the flying machines.
Fuselage, rudder, airfoil, and altitude were all a part of his early lexicon.
While he can't quite pinpoint the original source of his love of planes, Champion has been a very frequent flyer since childhood, visiting his grandparents in Nova Scotia.
He came to the realization very early on that he "didn't see (myself) in an office, but thought it would be cool to have an office 30,000 feet in the air."
In 2019, he gained admission into the highly competitive Aviation – General Arts and Science program at Conestoga College, which is a collaboration between Conestoga College and the Waterloo-Wellington Flight Centre.
Having completed all the courses and flight experience qualifications, Champion now holds a private pilot's licence, which allows him to fly solo anywhere in the country.
Elaine Gabber, Champion's main instructor at the airport, comments that "while there are lots of objective ways to measure a student's flying proficiency, my personal gauge is how close to the edge of my seat I find myself sitting, waiting to intervene at any moment. From very early on in Brett's training, I sat all the way back in my seat. Brett has always impressed me with his calm, confident manner when flying."
Champion's ultimate goal is to be a pilot with Air Canada by the time he's 30 – likely a not unattainable goal at the rate he's going.
He already has a 10-year-plan in place to meet the requirements to obtain his commercial licence.
He'll be studying and training to become a flight instructor this fall. With this certification, Champion expects to accumulate approximately 1,000 hours in the air within about a year to a year and a half.
From there, he would like to fly for a smaller airline before moving to his ultimate dream job with Air Canada.
Champion is fulfilling a lifelong dream with his determination and hard work. He's come a long way from a young boy with his model airplane to a young man in the seat of a real aircraft. He is truly setting up a career in an office in the sky.