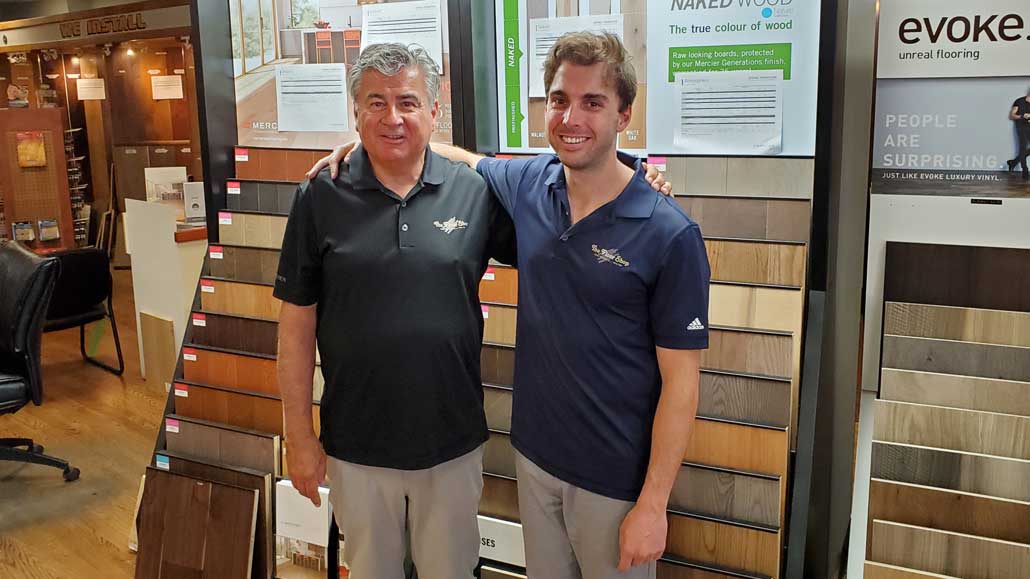 Peter Schultz hasn't always been in the flooring business, but he has spent his entire adult life in retail. Now, he owns 154 Wicksteed Drive, the current home of The Floor Shop, which has been a Leaside landmark for more than three decades.
Many of you know the location – in the second block of Wicksteed east of Laird, where as a driver you have to make a bit of a turn, or you'll end up inside his showroom. It was originally a company called Floorco. Peter went to work for them, and ended up buying the business and the property. It is such a nice location, though, that Peter is in a partnership to redevelop the site into The Innovation Centre. You will have seen it mentioned in Leaside Life by both Geoff Kettel (February, 2019) and Glenn Asano (March, 2019).
This general location in the Leaside Business Park is ideal for a flooring business, according to Peter. For one thing, there's no competition. So, after he decided to redevelop the site, he searched for a local property he could use for The Floor Shop.
As luck would have it, he found something, just down the road at 196 Wicksteed.
He is putting his COVID-19 time to good use – getting the new showroom and warehouse ready for when he can greet customers again. He has the help of his son, returned from Germany and interested in learning the business. Also, during this time, his company is able to continue working on new home and renovation projects that were far enough along that they were allowed to continue, under appropriate precautions.
The Floor Shop now has three locations – one in Etobicoke that is a showroom only and another in Mississauga that is also a showroom and warehouse, but not as large as the Leaside location. Ninety-five per cent of people buying from him also have the installation done by his crews, who are prepared to work not only locally, but far into cottage country as well. They can also give advice on whether resanding and refinishing already existing floors will work, based on the original quality and how often the floors have been worked on. As Peter says, "we don't turn anything down."
While the showroom featured many different hardwoods and hardwood laminates, Peter makes a point of stressing that anyone in the market for a new floor take samples home to see them in the proper light. He used to enjoy asking people visiting his showroom to choose which of two samples of floors he had displayed that they liked best. They always had a favourite. The joke was that the woods were identical – only the light was different.